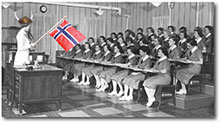 More Class Schedules... Cooking Culture Knitting Needlework Tatting
Call or email to register and for more information... 612 729 9333 classes@ingebretsens.com
Reserve your place in a class with a credit card, check, or cash.
Cancellations must be made one week in advance of the class to receive a refund.
---
Crafts Classes

---
---
All-Levels Sámi Bracelet Class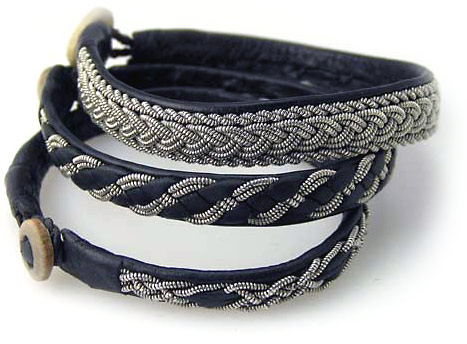 Enjoy the fall colors as you drive to Stockholm, Wisconsin for a class with award-winning jeweler and goldsmith Liz Bucheit. Learn to make a Sámi leather bracelet, a distinctive jewelry style that developed in their northern nomadic culture.
Reindeer are important to the Sámi and the traditional jewelry incorporates softened reindeer leather and sculpted antler.
All levels of skill are welcome at this class. Please be sure to tell the person registering you if you are a beginner or
a returning student so the instructor can prepare accordingly.
Beginning Bracelet Class
Beginners will explore the traditional jewelry techniques of triple braiding, coiled pewter wire, and sewing the finished braid
to a softened reindeer hide strip. A reindeer antler button finishes off the bracelet.
Class fee is $40 and is payable to Ingebretsen's. The materials fee is $95 and is payable to the instructor.
Advanced Bracelet Class
Advanced students will create a wide, multi-braided bracelet with a variety of braids and coils.
The class fee is $40 and payable to Ingebretsen's. The instructor's fee is $125 and is payable to the instructor.
Friday, October 16 10 to 5
This class will be held in Stockholm, Wisconsin at the Samla Rum, N2089 Spring Street.
You can bring a lunch or enjoy a meal in the village. Everything is within easy walking distance, so you give yourself time to explore and, of course, stop by Ingebretsen's av Stockholm!
About the Instructor



Liz Bucheit is the award-winning goldsmith and jeweler of Crown Trout Jewelry in Lanesboro, Minnesota.
Liz holds a Master's degree in metalworking and jewelry from the University of Iowa, Iowa City. She has trained in traditional jewelry techniques in Ireland and Norway.
---
Silver Viking Knit Bracelet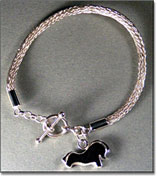 Explore the ancient tradition of chain making with jeweler and goldsmith Liz Bucheit.
You'll use "Viking Knitting," a centuries-old looping technique, to create a beautiful silver bracelet with
a variety of unusual clasps. You'll have the opportunity to complete a bracelet in a single day – no previous experience required.
$30 with a $125 materials fee paid to the instructor.
Friday, October 30 10 to 5
---
---