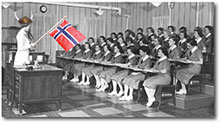 More Class Schedules... Cooking Culture Knitting Needlework Tatting
Call or email to register and for more information... 612 729 9333 classes@ingebretsens.com
Reserve your place in a class with a credit card, check, or cash.
Cancellations must be made one week in advance of the class to receive a refund.
---
Crafts Classes

---
Beginning Saami Bracelet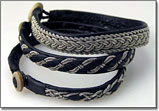 The dramatic landscape of northern Scandinavia is that of the midnight sun, northern lights, and the Saami, a nomadic tribal group that follows the migration of the reindeer. Traditional Saami jewelry incorporates elements of their northern landscape – softened reindeer leather and sculpted antler. In this class we'll explore the traditional jewelry techniques of triple braiding, coiled pewter wire, and sewing the finished braid to a softened reindeer hide strip. A reindeer antler button finishes off the bracelet. Class fee is $30 and is payable to Ingebretsen's. The materials fee is $85 and is payable to the instructor.
Saturday, June 1 10 to 4

About the Instructor



Liz Bucheit is the award-winning goldsmith and jeweler of Crown Trout Jewelry in Lanesboro, Minnesota.
Liz holds a Master's degree in metalworking and jewelry from the University of Iowa, Iowa City.
She has trained in traditional jewelry techniques in Ireland and Norway.

Advanced Saami Bracelet Class
Expand on your Saami bracelet skills! In this class we will create a wide multi-braided bracelet with a variety of intricate braids and coils using traditional spooled pewter coil. If you loved the single braid style of the Saami bracelet class and want to experiment with different braiding combination, this is your opportunity to individualize your style. All materials are provided. Class fee is $30 and payable to Ingebretsen's. The materials fee is $95 and is payable to the instructor.
Saturday, June 22 10 to 4
---
Decorative Swedish Folk Art Painting




Join us in Stockholm, Wisconsin for an introductory class to the beautiful decorative folk art of Sweden.
The early folk artists of Sweden painted scenes of everyday life, bible stories, and floral designs to brighten the walls in the dark interiors of their homes. You will learn the art form's history, pattern use, basic brush strokes and the special "Swedish" paint effects. The class will be taught using acrylic paints. The project will be painted on your choice of either a wall hanging or a canvas tote.
The instructor, Carol Bender, has taught Swedish Folk Art painting extensively in Wisconsin and Minnesota
for more than 10 years. This class is presented in conjunction with Stockholm's Midsommer Celebration and
is held in the Samla Rum, N2089 Spring Street, Stockholm, Wisconsin. $95
Friday, June 21 from 7 to 9 and Saturday, June 22 from 9 to 3
---