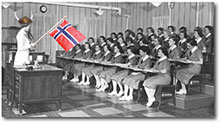 More Class Schedules... Cooking Culture Knitting Needlework
Call or email to register and for more information... 612 729 9333 classes@ingebretsens.com
Reserve your place in a class with a credit card, check, or cash.
Cancellations must be made one week in advance of the class to receive a refund.
---
Crafts Classes
---
---
Dalamalning, Swedish Folk Painting with Carol Bender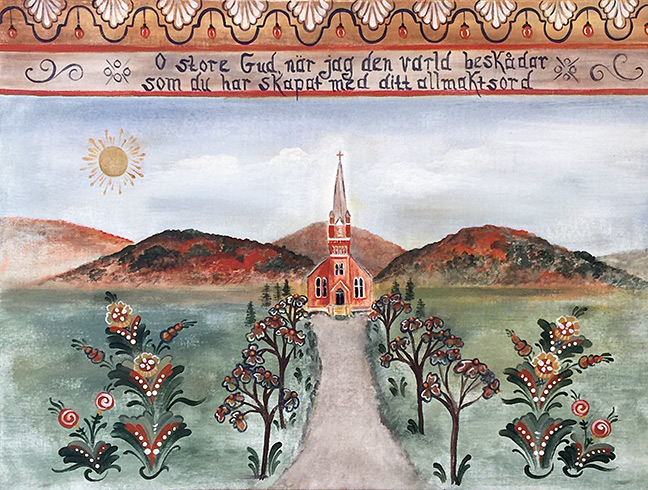 Learn the techniques and stylings of dalamalning as you paint a pattern celebrating the Swedish immigrant heritage and fall beauty of western Wisconsin. Swedish folk art painter Carol Bender created a pattern featuring the Sabylund Lutheran Church near Stockholm, Wisconsin. The words across the top are a line from the old Swedish hymn, "How Great Thou Art." It reads: "Oh Lord, my God! When I in awesome wonder consider all the worlds thy hands have made." The landscape is filled with warm colors, a Midwestern autumn at its best.

You will be painting with acrylics on a 16" x 20" canvas. All materials, including paints and brushes, are provided.
The class is held in conjunction with Stockholm, Wisconsin's Women's Weekend. Your classroom is in a cheery Swedish-style stuga and a lunch of open-face sandwiches is part of the class fee. If you want to stretch your legs during the lunch hour, you are a short distance from downtown Stockholm, where you can enjoy the demonstrations and activities that are part of the weekend.
Class size is limited to 8 people. Sorry, no exceptions.
Class fee is $85 and includes all painting materials and lunch.
Class location is the Samla Rum, N 2089 Spring Street, Stockholm, Wisconsin.
To register, call Ingebretsen's main store, 612.729.9333 during store hours.
Friday, November 4 6 to 9 &
Saturday, November 5 9 to 5

About the teacher:
Carol Bender is a descendent of early Swedish emigrants to the Stockholm and Lake Pepin area.
She is a painter of Scandinavian folk art, specializing in Swedish Dalamalning and kurbit painting and Norwegian rosemaling.
---
Silver Viking Knit Bracelet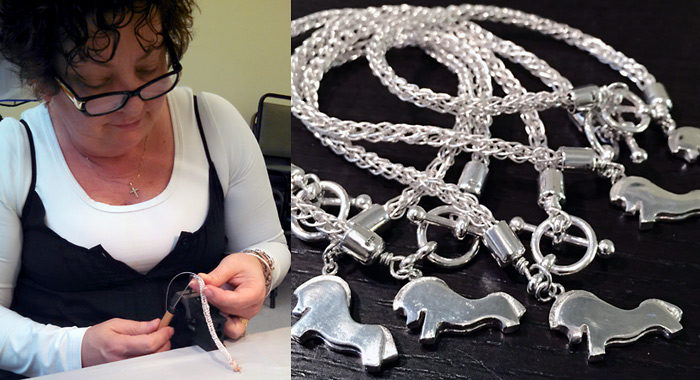 Take a jewelry class with award-winning jeweler and goldsimith Liz Bucheit. Explore the ancient tradition of chain making.
You'll use "Viking Knitting," a centuries-old looping technique, to create a beautiful silver bracelet with a variety of unusual clasps.
You'll have the opportunity to complete a bracelet in a single day – no previous experience required.
$40 with a materials fee of $175 paid directly to the instructor. Charms may be purchased separately.
Saturday, November 12 10 to 4
---
Mixed-Level Sámi Bracelet



Traditional Sámi jewelry incorporates elements of their northern landscape
– softened reindeer leather and sculpted antler.
In this class you'll explore the traditional jewelry techniques of triple braiding coiled pewter wire
and sewing the finished braid to a softened reindeer hide strip. A reindeer antler button finishes off the bracelet.
One-day class - $40 with a materials fee paid directly to the instructor.
Beginner's fee: $95 Advanced fee: $125
Saturday, January 21 10 to 5 This class will be held at Norway House.
---