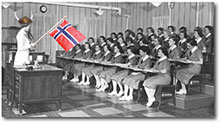 More Class Schedules... Cooking Culture Knitting Needlework Tatting
Call or email to register and for more information... 612 729 9333 classes@ingebretsens.com
Reserve your place in a class with a credit card, check, or cash.
Cancellations must be made one week in advance of the class to receive a refund.
---
Crafts Classes

---
Mixed-Level Sámi Bracelet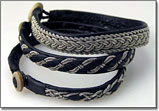 The dramatic landscape of northern Scandinavia is that of the midnight sun, northern lights, and the Sámi,
a nomadic tribal group that follows the migration of the reindeer. Traditional Sámi jewelry incorporates elements of their northern landscape – softened reindeer leather and sculpted antler.
Beginners will explore the traditional jewelry techniques of triple braiding, coiled pewter wire, and sewing the finished braid to a softened reindeer hide strip. A reindeer antler button finishes off the bracelet.
More advanced students will create a wide multi-braided bracelet with a variety of braids and coils.
Class fee is $35 and is payable to Ingebretsen's. The materials fee is $95 and is payable to the instructor.

Sámi Bracelet Class in Stockholm, Wisconsin
(To register, call the Minneapolis store: 612.729.9333)
Held at Samla Rum, N 2089 Spring Street, Stockholm, WI Map...
Bring a sack lunch or enjoy a meal at one of Stockholm's restaurants.
Friday, October 10 10 to 5 Class begins promptly at 10!
Or in our Minneapolis store, Friday, September 26 10 to 5 Class begins promptly at 10!

About the Instructor



Liz Bucheit is the award-winning goldsmith and jeweler of Crown Trout Jewelry in Lanesboro, Minnesota.
Liz holds a Master's degree in metalworking and jewelry from the University of Iowa, Iowa City.
She has trained in traditional jewelry techniques in Ireland and Norway.

---
---