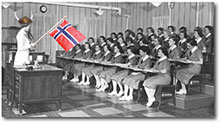 More Class Schedules... Cooking Culture Knitting Needlework Tatting
Call or email to register and for more information... 612 729 9333 classes@ingebretsens.com
Reserve your place in a class with a credit card, check, or cash.
Cancellations must be made one week in advance of the class to receive a refund.
---
Crafts Classes

---
Singlade Balls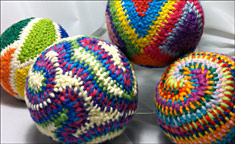 Kate Sterner teaches you how to make singlade (flipped) balls, It's a lovely way to make a toy for a child or a cat that thinks it is your child. and to use those colorful bits of yarn in your stash that you can't quite part with, but you really can't knit with, either.
This rare handcraft is found in Denmark and southern Sweden. Kate learned from her Danish grandfather and has created a website dedicated to preserving and furthering this lovely craft. Join Kate and use your stash in lovely and creative ways while keeping a tradition alive. Bring wool yarn from your stash and a darning needle. $25
Beginning Singlade Balls
Saturdays, February 7 and 14 10 to noon
Advanced Singlade Balls
Saturdays, February 21 and 28 10 to noon

---
Sámi Bracelet Classes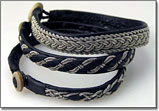 The dramatic landscape of northern Scandinavia is that of the midnight sun, northern lights, and the Sámi,
a nomadic tribal group that follows the migration of the reindeer.
Traditional Sámi jewelry incorporates elements of their northern landscape
– softened reindeer leather and sculpted antler.
Beginning Bracelet Class
Beginners will explore the traditional jewelry techniques of triple braiding, coiled pewter wire,
and sewing the finished braid to a softened reindeer hide strip. A reindeer antler button finishes off the bracelet.
Class fee is $30 and is payable to Ingebretsen's. The materials fee is $95 and is payable to the instructor.
This class is held at our Minneapolis store, 1601 E. Lake Street, Minneapolis, MN.
Friday, April 17 10 to 5
Advanced Bracelet Class
Advanced students will create a wide multi-braided bracelet with a variety of braids and coils.
Class fee is $35 and is payable to Ingebretsen's. The materials fee is $125 and is payable to the instructor.
The advanced class is held at 2089 N. Spring Street, Stockholm, WI.
Friday, May 22 10 to 5
About the Instructor



Liz Bucheit is the award-winning goldsmith and jeweler of Crown Trout Jewelry in Lanesboro, Minnesota. Liz holds a Master's degree in metalworking and jewelry from the University of Iowa, Iowa City.
She has trained in traditional jewelry techniques in Ireland and Norway.
---
---