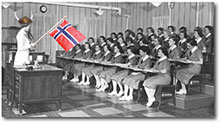 More Class Schedules... Cooking Culture Knitting Needlework Tatting
Call or email to register and for more information... 612 729 9333 classes@ingebretsens.com
Reserve your place in a class with a credit card, check, or cash.
Cancellations must be made one week in advance of the class to receive a refund.
---
Crafts Classes

---
Swedish Decorative Painting - Kurbits Painting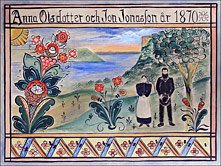 To decorate the walls of their dismal and dark interiors, early folk artists of Sweden painted scenes of everyday life, bible stories and floral paintings on large canvases. Greatly inspired by Bible stories and scenes painted on the walls of their churches, the itinerant artists created their own painted interpretations to decorate their homes. Their interpretation of the Bible story from Jonah 4:6, created the beautiful fanciful, flowering "kurbit" or cucumber vine. These flowering kurbits seem to explode with a profusion of colorful, fantasy flowers.
The project is a stylized landscape scene of Lake Pepin and Maiden Rock, framed by the Swedish kurbits. We will be painting with acrylics on a 16 by 20 inch canvas. This will be a pattern class. All materials are provided and are included in the class fee.
A light Nordic-style lunch of open-face sandwiches will be served. Participants may want to bring snacks and beverages with them.
Please note: This class will be held at the Samla Rum, N. 2089 Spring Street, Stockholm, Wisconsin. $70
Saturday, November 1 10 to 5

About the instructor:



Carol Bender is a descendant of early Swedish emigrants to the Stockholm and Lake Pepin area.
She is a painter of Scandinavian folk art, specializing in Swedish Dalamalning/kurbit painting and Norwegian Rosemaling.
---
Mixed-Level Sámi Bracelet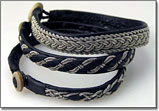 The dramatic landscape of northern Scandinavia is that of the midnight sun, northern lights, and the Sámi,
a nomadic tribal group that follows the migration of the reindeer. Traditional Sámi jewelry incorporates elements of their northern landscape – softened reindeer leather and sculpted antler.
Beginners will explore the traditional jewelry techniques of triple braiding, coiled pewter wire, and sewing the finished braid to a softened reindeer hide strip. A reindeer antler button finishes off the bracelet.
More advanced students will create a wide multi-braided bracelet with a variety of braids and coils.
Class fee is $35 and is payable to Ingebretsen's. The materials fee is $95 and is payable to the instructor.

Sámi Bracelet Class in Stockholm, Wisconsin
(To register, call the Minneapolis store: 612.729.9333)
Held at Samla Rum, N 2089 Spring Street, Stockholm, WI Map...
Bring a sack lunch or enjoy a meal at one of Stockholm's restaurants.
Friday, October 10 10 to 5 Class begins promptly at 10!
Or in our Minneapolis store, Friday, September 26 10 to 5 Class begins promptly at 10!

About the Instructor



Liz Bucheit is the award-winning goldsmith and jeweler of Crown Trout Jewelry in Lanesboro, Minnesota.
Liz holds a Master's degree in metalworking and jewelry from the University of Iowa, Iowa City.
She has trained in traditional jewelry techniques in Ireland and Norway.

---
---