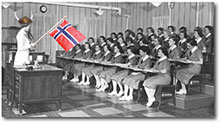 More Class Schedules... Cooking Culture Knitting Needlework Tatting
Call or email to register and for more information... 612 729 9333 classes@ingebretsens.com
Reserve your place in a class with a credit card, check, or cash.
Cancellations must be made one week in advance of the class to receive a refund.
---
Crafts Classes
---
Drop Spindle Spinning



Try your hand at the truly ancient art of spinning yarn on a drop spindle.
We'll explore the history and the science behind making yarn with the modern descendent of one of the oldest tools known to humankind. Fiber preparation, how twist works, learning to draft, ply, and finish the plied yarn will be covered.
There will be plenty of in-class time to spin as well as lecture/demonstration. Students may bring a spindle if they have one, and there will be spindles available for purchase.
Each spinner is different, so we'll have a range of sizes/types to try.
$45 plus a material fee paid to the instructor.
**Please note: we will be using wool fibers for a number of reasons. If this is an allergen, please make arrangements with the instructor for non-wool fibers, or feel free to bring your own to the first class.
Saturdays, February 15, 22, March 1 and 8 10 to noon
---
Mixed-Level Sámi Bracelet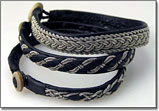 The dramatic landscape of northern Scandinavia is that of the midnight sun, northern lights, and the Sámi,
a nomadic tribal group that follows the migration of the reindeer. Traditional Sámi jewelry incorporates elements of their northern landscape – softened reindeer leather and sculpted antler.
Beginners will explore the traditional jewelry techniques of triple braiding, coiled pewter wire, and sewing the finished braid to a softened reindeer hide strip. A reindeer antler button finishes off the bracelet.
More advanced students will create a wide multi-braided bracelet with a variety of braids and coils.
Class fee is $35 and is payable to Ingebretsen's. The materials fee is $95 and is payable to the instructor.
Friday, February 28 10 to 5

About the Instructor



Liz Bucheit is the award-winning goldsmith and jeweler of Crown Trout Jewelry in Lanesboro, Minnesota.
Liz holds a Master's degree in metalworking and jewelry from the University of Iowa, Iowa City.
She has trained in traditional jewelry techniques in Ireland and Norway.

---
---