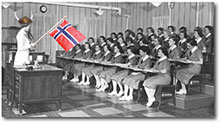 More Class Schedules... Cooking Crafts Culture Needlework Tatting
Call or email to register and for more information... 612 729 9333 classes@ingebretsens.com
Reserve your place in a class with a credit card, check, or cash.
Cancellations must be made one week in advance of the class to receive a refund.
---
Knitting Classes Follow our Nordic Knitting Blog… Ingebretsen's Knits
---
---
Latvian Wristers



Diane Thomson will teach you how to make a wrister, using the design principles used in Latvian mittens.
You will knit a wrister that starts with a cuff of multiple Latvian braid.
You can then knit the hand portion as a solid color or choose to do a color work pattern.
You will need at least 2 colors of sock weight or fingering weight yarn. Suggested needle size is 0 or 1,
in your choice of double point, circle, or magic loop. $30 Yarn & Supplies...
Thursdays, May 15 and 22 6 to 8

To learn more about Diane Thomson and Latvian knitting, click here...

---
Twined Knitting (Tvåändsstickning)



Learn the techniques of traditional Swedish twined knitting, knitting with two strands, with Kristin Knudson. The additional strand allows you to create the intricate patterns characteristic of this method. You will practice how to cast on, create decorative patterns, cast off, knit in the round and how to keep the balls of yarn as tangle-free as possible.
A wristlet will be the first project. After that, you can choose to make the mate or continue on to a pair of fingerless mittens. As a result, this class is suitable for beginning or experienced knitters wanting to try this technique. $50
Materials:
Three to five skeins of Dale Falk or Heilo yarn (worsted weight 100% wool).
A small amount of worsted weight yarn in a contrasting color, if desired.
Size 4 (3.5 mm) double pointed needles, Stitch Markers & Tapestry needle .
You will receive a 10% discount on materials purchased for the class on the first day.
Saturdays, October 18 and 25 9:30 to 12:30
---
Friday Knitting Group
Join us each Friday from 3 to 5 for knitting and camaraderie. Free.
---
Individualized Knitting Instruction



Have a knitting question or want to master a new technique? Need someone to give you the courage and some pointers as you cut your first steek? Individualized knitting instruction is available. Call the store or email classes@ingebretsens.com and tell us what you need to learn. We'll arrange the knitting teacher and you will set the time. $15 an hour.

---
Singlade Balls ​
Join Kate Sterner, who will teach you how to make a singlade ball, a colorful toy for a toddle or spoiled cat. Kate explains,"When our grandparents were children, they didn't have all the toys and gizmos we have today. They played with simple toys, often hand made by a loving parent. Take a normal hand-sized ball, for example. Gather simple and cheap household materials, such as cork, rags and some yarn from your stash, and you can make a beautiful piece of art, as well as a hardy play thing for a child. Only a few generations ago in Denmark and the southern regions of Sweden, there developed a little known craft called a "singlade" ball (literally "flipped" or "tossed") or more descriptively, an embroidered ball. The technique is simple, creative and satisfying. Want to learn how to 'singla' a ball? Join our class!" Materials needed: Darning needle and colorful, worsted weight wool yarn. $25. Saturdays, May 24, 31, and June 7 10 a.m. to noon.
---