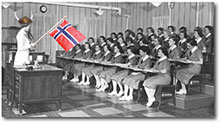 More Class Schedules... Cooking Crafts Culture Needlework Tatting
Call or email to register and for more information... 612 729 9333 classes@ingebretsens.com
Reserve your place in a class with a credit card, check, or cash.
Cancellations must be made one week in advance of the class to receive a refund.
---
Knitting Classes

---
---
Knit a Pull-Over Sweater for Your Dog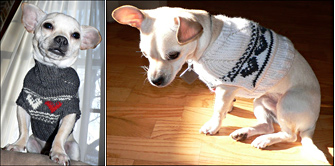 Knitting designer and teacher Paul Robinson shows you how to fit and design a dog sweater.
This project can be an end to itself, or an excellent way to build your skills towards knitting a Norwegian sweater for yourself.
You will learn measuring and shaping, knitting with two colors, modifying a traditional design to fit your patterns, and best of all, how to make your dot cozy all winter. Dachshund owners are especially welcome.
Paul will check in with each student before class begins to answer questions and explain how to take your dog's measurements.
Three 2-hour classes. $35
Thursdays, January 8, 15, and 22 6 to 8

Materials: Yarn of your choice and needles (circular or straight) in the range of US size 3–7; needle size will be determined by the gauge you want to achieve. Materials are available at Ingebretsen's and you receive a 10 percent discount on the first day of class.
---
Convert a Pullover to a Cardigan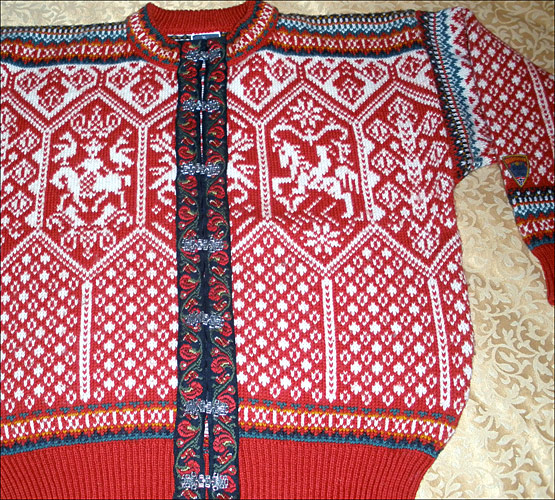 Paul Robinson shows you how to convert a crew neck pullover into a beautiful Norwegian-style cardigan. Whether you have a vintage shop find you'd like to alter or have trouble getting into an old pullover you love, Paul's method is good to know. You'll learn to "steek" an opening at the front of your sweater by machine sewing a set of reinforcing seams then cutting into the knitted fabric. Paul will also teach you to expertly add the colorful woven braiding and pewter buttons and clasps you've seen on Norwegian cardigans. $35
Two class meetings:
Friday, January 16 6 to 8 and
Saturday, January 17 10 to 1

Materials: Braiding, buttons and clasps are available at Ingebretsen's and you get a 10% discount on the first day of class.
Bring a crew neck pullover of your choice and a darning needle and brightly colored contrast yarn for marking your steek.
A small number of portable sewing machines will be provided, but you're encouraged to bring your own if you have one.
Paul will check in with each student before class begins to answer questions about how to choose a sweater to convert.
---
Drop Spindle Spinning



Try your hand at the truly ancient art of spinning yarn on a drop spindle.
We'll explore the history and the science behind making yarn with the modern descendant of one of the oldest tools known to humankind. Fiber preparation, how twist works, learning to draft, ply, and finish the plied yarn will be covered.
There will be plenty of in-class time to spin as well as lecture/demonstration. Students may bring a spindle if they have one,
and there will be spindles available for purchase. Each spinner is different, so we'll have a range of sizes/types to try.
Four 2-hour classes.
**Please note: we will be using wool fibers for a number of reasons. If this is an allergen, please make arrangements with the instructor for non-wool fibers, or feel free to bring your own to the first class. $50 plus a material fee paid to the instructor.
Fridays, March 13, 20, 27, April 3 2 to 4
---
Individualized Knitting Instruction



Have a knitting question or want to master a new technique? Need someone to give you the courage and some pointers as you cut your first steek? Individualized knitting instruction is available. Call the store or email classes@ingebretsens.com and tell us what you need to learn. We'll arrange the knitting teacher and you will set the time. $15 an hour.
---
Open Knitting
Knit two (or six or ten) together. Come relax, knit, chat, and see what other knitters are working on.
It's free, and everyone is welcome! Join us for open knitting on
Mondays from 1 to 3 and Fridays from 3 to 5.

---
---