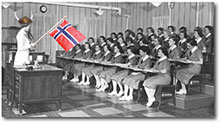 More Class Schedules... Cooking Crafts Culture Needlework Tatting
Call or email to register and for more information... 612 729 9333 classes@ingebretsens.com
Reserve your place in a class with a credit card, check, or cash.
Cancellations must be made one week in advance of the class to receive a refund.
---
Knitting Classes

---
---
Nålbind the Coppergate Sock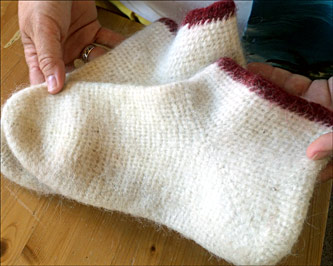 In 1972, construction workers in York, England were digging a ditch and found an entire 1000-year-old Viking village.
(Well, there's a little more to it than that, but you get the idea.) One of the thousands of artifacts unearthed
was a nålbound sock, now referred to as the Coppergate sock.
Its state of preservation is a testament to the strength of good wool and a solid needleworking skills.
Renata Fossett will teach you how to make this historic sock as well as giving you historical context and background on Viking life. Renata is Viking re-enactor with many years of Society of Creative Anachronism (SCA) experience and a teacher who makes the intricate looping of the York stitch easy to understand. $45
Materials needed: 3 skeins of Álafosslopi, nålbindning needle
Saturdays, May 16, 23, 30, and June 6 10 to 11:30
---
Individualized Knitting Instruction



Have a knitting question or want to master a new technique? Need someone to give you the courage and some pointers as you cut your first steek? Individualized knitting instruction is available. Call the store or email classes@ingebretsens.com and tell us what you need to learn. We'll arrange the knitting teacher and you will set the time. $15 an hour.
---
Open Knitting
Knit two (or six or ten) together. Come relax, knit, chat, and see what other knitters are working on.
It's free, and everyone is welcome! Join us for open knitting on
Mondays from 1 to 3 and Fridays from 3 to 5.

---
---