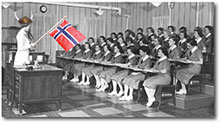 More Class Schedules... Cooking Crafts Culture Needlework Tatting
Call or email to register and for more information... 612 729 9333 classes@ingebretsens.com
Reserve your place in a class with a credit card, check, or cash.
Cancellations must be made one week in advance of the class to receive a refund.
---
Knitting Classes

---
---
Get Color Confidence in Stranded Knitting
Meet visiting Norwegian designer Eline Oftedal and make a cover with flair for your phone, iPad, or other tablet. Eline is the author of Knit Nordic and her designs have appeared in Interweave Knits, Vogue Knitting, and the U.K. magazine The Knitter. She'll inspire the designer in you with this workshop on color pairings in stranded knitting.

Get a short course on color theory.
Learn to distill colors from complex visual settings and bring into your knitting the color combinations you see and love in nature, photos, artworks, or other objects.




Eline's vest and the rosemaling bowl that inspired it.

Learn how to chart and experiment with color before you buy yarn.
You'll get a free design from Eline and start knitting your phone or tablet cover in class with tips that make multicolored knitting easier. A bonus: She'll share stories from her research for a new book on the knitting traditions of Iceland and the Shetland and Faroe Islands.

Materials Needed:
You're encouraged to make your final yarn choices during the class, after Eline's talk and some color exercises. Helpful to have: colored pencils or crayons and yarn from your own stash for experimenting. Ingebretsen's will have yarn and copies of Eline's book on hand to purchase, and a few pencils and crayons available for you to borrow.
Eline's phone/tablet design calls for sport weight yarn,
such as Rauma 3-Tråds Strikkegarn, Dale Heilo, or Dale's superwash Falk.
For the phone cover, one 50-gram skein of a main color, remnants of contrast colors, and double-pointed needles in U.S. size 4 (3.5mm). For the tablet cover, one 50-gram skein of a main color and remnants or skeins of contrast colors, depending on how much color you choose to use; a 16-inch circular needle in U.S. size 6 (4mm) plus one straight needle the same size for casting off.
$40. Includes a $5 coupon toward yarn or books from Ingebretsen's.
This class is held at the Textile Center of Minnesota, 3000 University Ave. SE, Minneapolis
Monday, November 10 6 to 8:30
---
Knit a Sampler of Traditional Skolt Sámi Designs
with Laura Ricketts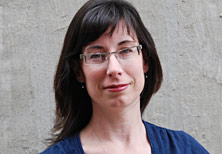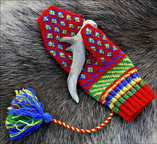 The Sámi are Scandinavia's only United Nations-recognized indigenous people. This class will focus on the Skolt Sámi, whose traditional homeland lies at the junction of Norway, Finland and Russia. Join us in knitting a sampler of symbolic Skolt patterns as we examine their rich tradition in wool.
Skill Level: Adventurous Beginner – Intermediate.
Basic knitting skills (knit, purl) knitting in the round and stranding experience
Students bring: Worsted weight, wool yarn in approximately 25g each in two accent colors, and 50g of a main color (natural). Needles to achieve a gauge of 5sts/in.
I recommend Rauma Vamsegarn knit on US 5 / 3.75 mm. Pattern will be provided in class.
Homework: After swatching to get gauge, using main color cast on 40 sts in the round and knit or rib 1 in / 2.5 cm. Leave on the needles and bring to class. $40
(The mitten shown above is not the class project.)
Wednesday, November 12 6 to 9


Jokkmokk Flowers - A Swedish Sámi Handgarments Class
also with Laura Ricketts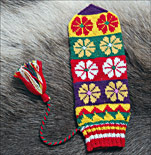 The Sámi are Scandinavia's only United Nations-recognized indigenous people. This class will focus on one town in northern Sweden – Jokkmokk, and one family's interpretation of a common flower motif. Join us in exploring some of the staples of Swedish Sámi knitting and some of the problems inherent to them: how to knit a larger scale, stranded-flower motif, how to handle long floats (three ways!), how to duplicate stitch, how to make the 4-strand rounded braid, and how to make a tassel. Through it all, we will take an in-depth look at the culture and festivals in Jokkmokk, and the beauties and environmental tragedies close by.
Skill level: Requires the basic knitting skills of knitting and purling, knitting in the round and stranding experience.
Students bring: fingering weight, wool yarn in approximately 10g each of four colors. If you purchase the yarn before class to do the homework, please tell the Needlework staff that the yarn is for this class so you can receive a 10% discount on it.
I recommend Rauma's Finnulgarn knit on US 0 / 2 mm. Pattern will be provided in class.
Homework: After swatching to get gauge, cast on 36 sts in the round and work a k2, p2 ribbing for 1.5 inches in whatever of the four colors or striping you wish. Leave on the needles and bring to class.
Class includes full-size pattern for Jokkmokk Flowers mittens, which calls for Rauma Finnulgarn colors red (418), natural (401), bright yellow (4405), soft yellow (4103), green (430), purple (442). The pattern also requires 2 yards of pink. Feel free to use a scrap from your stash, but if needed to purchase, the Finnulgarn color is pink (479). The class meets for one session. $40
Thursday, November 13 6 to 9


Teacher's Bio
Laura Ricketts is a knitter, knitwear designer, teacher and author, and, most recently a TV show host on In the Loop with Laura. A history teacher by profession with a master's degree in education, she has combined that love for history, literature and textiles in her handcraft teaching. Some of her literature-inspired patterns have appeared in Cooperative Press' Defarge book series. It is the beauty and precision of Nordic stranded knitting, however, which has become her passion.
Inspired after teaching and living among the nomadic peoples of Mongolia, Laura was intrigued by the handcrafts of Scandinavia's nomadic peoples, the Sámi, and asked the question, "What have the Sámi contributed to Nordic Knitting?" The answer has turned into a wonderful quest, and has blossomed into visits, friendships and wonderful knitwear.
Interweave's PieceWork magazine has published two of her articles about the Sámi knitting tradition, as well as BÁIKI: The North-American Sámi Journal. After an extensive visit to Sapmi, the Sámi traditional homeland, last fall, she is in the process of self-publishing Beauties from the North: Swedish Sámi, Norwegian Sámi, Finnish Sámi, antique Sámi, and bridal Sámi mitten patterns. She is presenting Sámi Mittens at Finnfest, the Nordic Knitting conference in Seattle and the Vesterheim Norwegian-American museum this fall. She lives in north-central Indiana.

---
Convert a Pullover Sweater to a Cardigan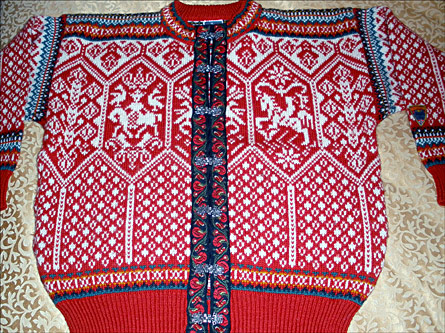 Paul Robinson shows you how to convert a crew neck pullover into a beautiful Norwegian-style cardigan. Whether you have a vintage shop find you'd like to alter or have trouble getting into an old pullover you love, Paul's method is good to know. You'll learn to "steek" an opening at the front of your sweater by machine sewing a set of reinforcing seams then cutting into the knitted fabric. Paul will also teach you to expertly add the colorful woven braiding and pewter buttons and clasps you've seen on Norwegian cardigans.
Materials:
Bring a crew neck pullover of your choice and a darning needle and brightly colored contrast yarn for marking your steek. A small number of portable sewing machines will be provided, but you're encouraged to bring your own if you have one. Paul will check in with each student before class begins to answer questions about how to choose a sweater to convert. $35 Meets twice.
Braiding, buttons, & clasps are available at Ingebretsen's and you get a 10% discount on the first day of class.
Friday, November 14 6 to 8
and
Sunday, November 16 2 to 5
---
Individualized Knitting Instruction



Have a knitting question or want to master a new technique? Need someone to give you the courage and some pointers as you cut your first steek? Individualized knitting instruction is available. Call the store or email classes@ingebretsens.com and tell us what you need to learn. We'll arrange the knitting teacher and you will set the time. $15 an hour.
---
Open Knitting
Knit two (or six or ten) together. Come relax, knit, chat, and see what other knitters are working on.
It's free, and everyone is welcome! Join us for open knitting on
Mondays from 1 to 3 and Fridays from 3 to 5.

---
---