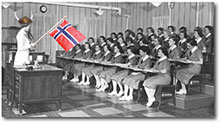 More Class Schedules... Cooking Crafts Culture Needlework Tatting
Call or email to register and for more information... 612 729 9333 classes@ingebretsens.com
Reserve your place in a class with a credit card, check, or cash.
Cancellations must be made one week in advance of the class to receive a refund.
---
Knitting Classes
---
---
Beginning Knitting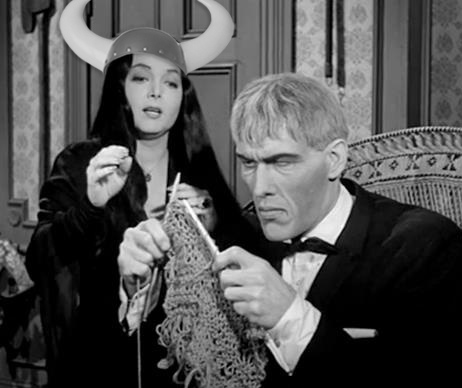 Knitting is easy & fun!
Learn the basics of knitting while making a striped scarf.
Joan Gilbertson will teach this relaxed class in which you will learn to cast on, knit, purl, change colors for striping, and cast off.
Two 90 minute classes. $25
Saturdays, January 30 and February 6 10 to 11:30
---
Nålbind a Headband and Matching Bootcuffs



Step out in style with a headband and matching bootcuffs. Nålbindning creates a stitch that doesn't ravel, so your creations will wear well and look good for many winters to come. Renata Fossett will teach you the Korgen/Mammen stitch, changing colors,
and how to nålbind clothing in the round. $35
Materials: 2 skeins of bulky-weight Alafslopi yarn (100g/109 yards) in contrasting colors,
nålbindning needle, small "spritzer" bottle of water for joining ends (optional).
Two 2-hour classes. Saturdays, February 20 and 27 10 to noon
---
Nålbindning - Make a Korgen-stitch Tomte Hat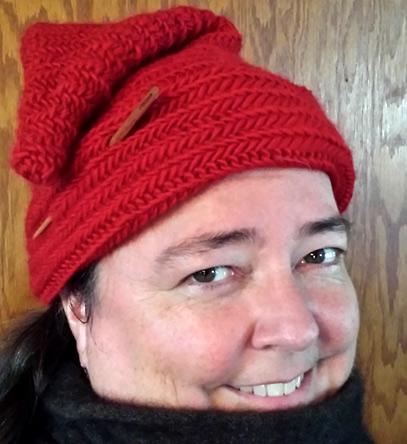 Nålbindning creates a dense, warm fabric that will keep you cozy on the coldest of days and the fabric will wear well for years. Renata Fossett will teach you this ancient, but fun and practical, textile art. If you find that most hats or hat patterns are too small for you, nålbindning is the perfect solution. The hat is worked from the top down and can be made to fit any head. $35
You will receive 10% off all class supplies purchased on the first day of class.
Materials: 1-2 skeins Álafosslopi yarn and a nålbindning needle...
Saturdays, March 12 and 19 10 to noon
---
Fiber Arts and Magic in Norse Tradition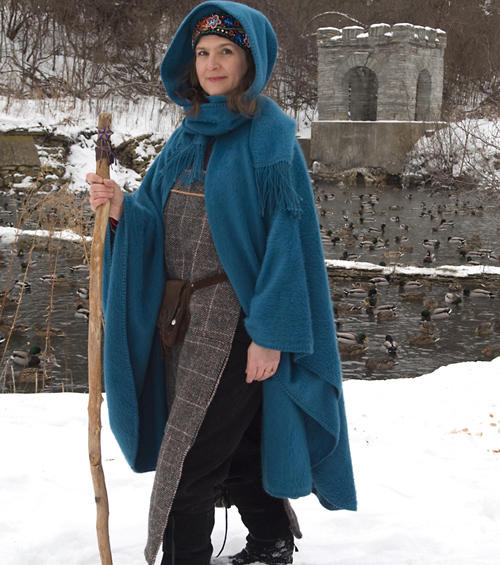 Spindle, shuttle, and needle were more than tools of material creation.
They were used to describe the cosmos and even to manipulate the fibers of the universe. Folk stories, songs, and myths tell us much about the power of fiber arts in the lives of the Nordic people. Kari Tauring illuminates the connections of fiber arts and magic in Norse tradition through these stories, songs, and drop spinning!
One 2-hour class. $20
Saturday, March 26 10 to noon
---
Individualized Knitting Instruction


Have a knitting question or want to master a new technique? Need someone to give you the courage and some pointers as you cut your first steek? Individualized knitting instruction is available. Call the store or email classes@ingebretsens.com and tell us what you need to learn. We'll arrange the knitting teacher and you will set the time. $15 an hour.
---
Open Knitting
Knit two (or six or ten) together. Come relax, knit, chat, and see what other knitters are working on.
It's free, and everyone is welcome! Join us for open knitting on
Mondays from 1 to 3 and Fridays from 3 to 5.

---
---