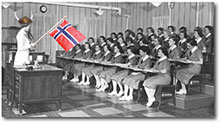 More Class Schedules... Cooking Crafts Culture Needlework Tatting
Call or email to register and for more information... 612 729 9333 classes@ingebretsens.com
Reserve your place in a class with a credit card, check, or cash.
Cancellations must be made one week in advance of the class to receive a refund.
---
Knitting Classes

---
---
Nålbindning: Mittens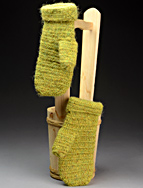 Nålbindning is an ancient form of fabric construction that dates back to the Iron and Bronze Ages,
and was used in many regions of the world. For hundreds of years, Scandinavians have used nålbindning techniques to make hats, socks, milk strainers, and mittens. All you need is a single large needle with and eye and yarn that can be felted. In this class, students learn the Oslo and Korgen stitches, how to nålbind in the round, and how to create a pair of mittens.
Size options are small, medium, and large.
Students will need to work on their mittens outside of course hours in order to finish by the last class.
We will discuss yarn selection for future projects and fulling methods for finishing. $45
Materials needed are Álafosslopi yarn (100g/109yds) and a nålbindning needle.
These can be purchased during the first class and the instructor, Angela Robins, will help you with your choices.
You receive a 10% discount on all class purchases made on the first day.
Saturdays, January 31, February 7 and 14 9:30 to 12:30

To learn more about nålbindning and our instructors, click here...
---
Singlade Balls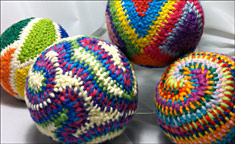 Kate Sterner teaches you how to make singlade (flipped) balls, It's a lovely way to make a toy for a child or a cat that thinks it is your child. and to use those colorful bits of yarn in your stash that you can't quite part with, but you really can't knit with, either.
This rare handcraft is found in Denmark and southern Sweden. Kate learned from her Danish grandfather and has created a website dedicated to preserving and furthering this lovely craft. Join Kate and use your stash in lovely and creative ways while keeping a tradition alive. Bring wool yarn from your stash and a darning needle. $25
Beginning Singlade Balls
Saturdays, February 7 and 14 10 to noon
Advanced Singlade Balls
Saturdays, February 21 and 28 10 to noon
---
Drop Spindle Spinning



Try your hand at the truly ancient art of spinning yarn on a drop spindle.
We'll explore the history and the science behind making yarn with the modern descendant of one of the oldest tools known to humankind. Fiber preparation, how twist works, learning to draft, ply, and finish the plied yarn will be covered.
There will be plenty of in-class time to spin as well as lecture/demonstration. Students may bring a spindle if they have one,
and there will be spindles available for purchase. Each spinner is different, so we'll have a range of sizes/types to try.
Four 2-hour classes.
**Please note: we will be using wool fibers for a number of reasons. If this is an allergen, please make arrangements with the instructor for non-wool fibers, or feel free to bring your own to the first class. $50 plus a material fee paid to the instructor.
Fridays, March 13, 20, 27, April 3 2 to 4

If you'd like to learn more about Drop Spindle Spinning, click here...

---
Individualized Knitting Instruction



Have a knitting question or want to master a new technique? Need someone to give you the courage and some pointers as you cut your first steek? Individualized knitting instruction is available. Call the store or email classes@ingebretsens.com and tell us what you need to learn. We'll arrange the knitting teacher and you will set the time. $15 an hour.
---
Open Knitting
Knit two (or six or ten) together. Come relax, knit, chat, and see what other knitters are working on.
It's free, and everyone is welcome! Join us for open knitting on
Mondays from 1 to 3 and Fridays from 3 to 5.

---
---