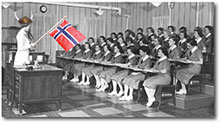 More Class Schedules... Cooking Crafts Culture Needlework Tatting
Call or email to register and for more information... 612 729 9333 classes@ingebretsens.com
Reserve your place in a class with a credit card, check, or cash.
Cancellations must be made one week in advance of the class to receive a refund.
---
Knitting Classes
---
---
Nålbind a Milk Strainer Hat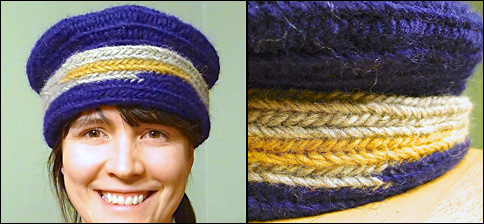 Angela Robbins will teach nålbinding, an ancient textile technique that dates back to the Iron and Bronze Ages and was used in many regions throughout the world. For hundreds of years, Scandinavians have used nålbinding techniques to make hats, socks, mittens and milk strainers. Nålbound milk strainers were a common item, and they actually inspired some hat designs in Sweden. In this class, students will create a warm wool "milk strainer" hat for those cold winter nights. Students will learn the Oslo stitch, the Korgen stitch, and tips on how to freestyle future hat projects. Three 2.5-hour classes. $45
Materials: nalbinding needle, 1 skein Alafosslopi yarn (100 g/100 m), 100% wool (or multiple skeins of Alafosslopi for a multi-colored hat) You receive a 10% discount on all class materials purchased on the first day of class.
Mondays, November 2, 9, and 16 5:30 to 8
---
Individualized Knitting Instruction



Have a knitting question or want to master a new technique? Need someone to give you the courage and some pointers as you cut your first steek? Individualized knitting instruction is available. Call the store or email classes@ingebretsens.com and tell us what you need to learn. We'll arrange the knitting teacher and you will set the time. $15 an hour.
---
Open Knitting
Knit two (or six or ten) together. Come relax, knit, chat, and see what other knitters are working on.
It's free, and everyone is welcome! Join us for open knitting on
Mondays from 1 to 3 and Fridays from 3 to 5.

---
---