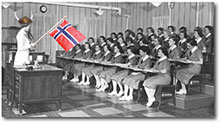 More Class Schedules... Cooking Crafts Culture Needlework Tatting
Call or email to register and for more information... 612 729 9333 classes@ingebretsens.com
Reserve your place in a class with a credit card, check, or cash.
Cancellations must be made one week in advance of the class to receive a refund.
---
Knitting Classes Follow our Nordic Knitting Blog… Ingebretsen's Knits
---
---
Seed Stitch Headband with Cleo Malone



This class is perfect for the knitter who knows knit and purl and is now ready to learn something more complicated than the stockinette stitch. Cleo will teach you to make a seed stitch headband with stockinette diamonds. You will also learn how to read a chart. You will need a DK weight yarn and appropriately sized straight needles. You will receive a 10% discount on class materials purchased at the time to class. $20
Saturday, March 8 2 to 4

---
Drop Spindle Spinning



Try your hand at the truly ancient art of spinning yarn on a drop spindle.
We'll explore the history and the science behind making yarn with the modern descendent of one of the oldest tools known to humankind. Fiber preparation, how twist works, learning to draft, ply, and finish the plied yarn will be covered.
There will be plenty of in-class time to spin as well as lecture/demonstration.
Students may bring a spindle if they have one, and there will be spindles available for purchase.
Each spinner is different, so we'll have a range of sizes/types to try.
$50 plus a material fee paid to the instructor.
**Please note: we will be using wool fibers for a number of reasons. If this is an allergen, please make arrangements with the instructor for non-wool fibers, or feel free to bring your own to the first class.
Saturdays, February 15, 22, March 1 and 8 10 to noon

---
Friday Knitting Group
Join us each Friday from 3 to 5 for knitting and camaraderie. Free.
---
Individualized Knitting Instruction




Have a knitting question or want to master a new technique? Need someone to give you the courage and some pointers as you cut your first steek? Individualized knitting instruction is available. Call the store or email classes@ingebretsens.com and tell us what you need to learn. We'll arrange the knitting teacher and you will set the time. $15 an hour.

---