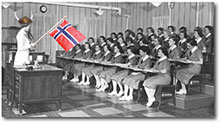 More Class Schedules... Cooking Crafts Culture Needlework Tatting
Call or email to register and for more information... 612 729 9333 classes@ingebretsens.com
Reserve your place in a class with a credit card, check, or cash.
Cancellations must be made one week in advance of the class to receive a refund.
---
---
---
Drop Spindle Spinning



Try your hand at the truly ancient art of spinning yarn on a drop spindle.
We'll explore the history and the science behind making yarn with the modern descendant of one of the oldest tools known to humankind. Fiber preparation, how twist works, learning to draft, ply, and finish the plied yarn will be covered.
There will be plenty of in-class time to spin as well as lecture/demonstration. Students may bring a spindle if they have one,
and there will be spindles available for purchase. Each spinner is different, so we'll have a range of sizes/types to try.
**Please note: we will be using wool fibers for a number of reasons. If this is an allergen, please make arrangements with the instructor for non-wool fibers, or feel free to bring your own to the first class. $50 plus a material fee paid to the instructor.
Four 2-hour classes.
Fridays, March 27, April 3, 10, and 17 2 to 4

If you'd like to learn more about Drop Spindle Spinning, click here...

---
Knit Norwegian Mittens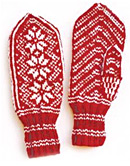 Knit a pair of warm, colorful Norwegian mittens and build a variety of knitting skills at the same time. Paul Robinson will teach you to knit in the round, carry colors, read a chart, and finish a pair of mittens. Three 2-hour classes.
Materials required: One set of size 3 double-pointed needles; a stitch holder; a darning needle; two 50gm skeins of sport weight yarn and one 50gm skein of the contrasting color.
Receive 10% off all class materials purchased on the first day of class. $45
Fridays, March 20, 27, and April 3 6 to 8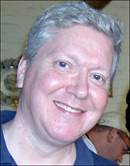 Learn more about Paul Robinson in the Ingebretsen's Knitting Blog...
---
Lovikka Mittens with Wendy Johnson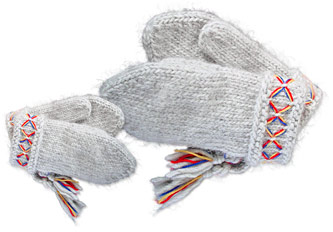 In this 3-hour workshop class you will learn how to knit a mitten in the Swedish Lovikka style. Lovikka is a town located near the Arctic Circle (so they know about knitting for warmth!) with a renowned tradition of this style of knitting with embroidered embellishment around the cuff. This mitten is knit in the round on double-pointed needles using a single ply yarn.
The class will learn about the interesting history of the Lovikka knitting tradition and knit, embroider, and learn how to "full" (lightly felt) a mini version of the Lovikka mitten. (The mini mitten is a young child's size but the pattern provided will also include an adult-sized mitten that may be knit at home.) Making the mini-mitten will give you the opportunity to learn all the skills you need to knit all sizes of Lovikka mittens.

Skill level: The student must know how to knit in the round on double-pointed needles.
Supplies needed: Size 9 double-pointed needles (preferably in a set of 5), small stitch holder (optional), a tapestry needle, and one skein of Àlafosslopi Yarn (two skeins if you'd like to have enough to make a pair of adult mittens afterwards). Traditional Lovikka mittens are white, but students are welcome to use the color of their choice. There is a 10% discount on class materials on the first day of class. The embroidery yarn will be provided by the instructor. $40
Saturday, March 28 1 to 4

About the Instructor: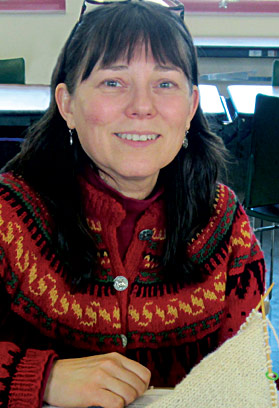 The instructor, Wendy J. Johnson, is a fiber artist, instructor, author,
including Yarn Works: How to spin, dye, and knit your own yarn
Wendy delights in all aspects of her Swedish heritage - including Swedish knitting traditions.
---
Individualized Knitting Instruction



Have a knitting question or want to master a new technique? Need someone to give you the courage and some pointers as you cut your first steek? Individualized knitting instruction is available. Call the store or email classes@ingebretsens.com and tell us what you need to learn. We'll arrange the knitting teacher and you will set the time. $15 an hour.
---
Open Knitting
Knit two (or six or ten) together. Come relax, knit, chat, and see what other knitters are working on.
It's free, and everyone is welcome! Join us for open knitting on
Mondays from 1 to 3 and Fridays from 3 to 5.

---
---