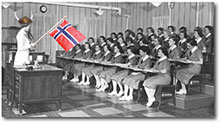 More Class Schedules... Cooking Crafts Culture Needlework Tatting
Call or email to register and for more information... 612 729 9333 classes@ingebretsens.com
Reserve your place in a class with a credit card, check, or cash.
Cancellations must be made one week in advance of the class to receive a refund.
---
Knitting Classes Follow our Nordic Knitting Blog… Ingebretsen's Knits

---
---
Knit a Sampler of Traditional Skolt Sámi Designs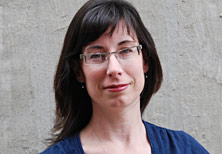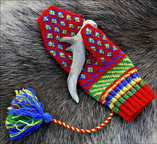 The Sámi are Scandinavia's only United Nations-recognized indigenous people. This class will focus on the Skolt Sámi, whose traditional homeland lies at the junction of Norway, Finland and Russia. Join us in knitting a sampler of symbolic Skolt patterns as we examine their rich tradition in wool.
Skill Level: Adventurous Beginner – Intermediate.
Basic knitting skills (knit, purl) knitting in the round and stranding experience
Students bring: Worsted weight, wool yarn in approximately 25g each in two accent colors, and 50g of a main color (natural). Needles to achieve a gauge of 5sts/in.
I recommend Rauma Vamsegarn knit on US 5 / 3.75 mm. Pattern will be provided in class.
Homework: After swatching to get gauge, using main color cast on 40 sts in the round and knit or rib 1 in / 2.5 cm. Leave on the needles and bring to class. $40
(The mitten shown above is not the class project.)
Saturday, August 9 1 to 4 or Aug. 9 Class Filled
Wednesday, November 12 6 to 9



Teacher's Bio
Laura Ricketts is a knitter, knitwear designer, teacher and author, and, most recently a TV show host on In the Loop with Laura. A history teacher by profession with a master's degree in education, she has combined that love for history, literature and textiles in her handcraft teaching. Some of her literature-inspired patterns have appeared in Cooperative Press' Defarge book series. It is the beauty and precision of Nordic stranded knitting, however, which has become her passion.
Inspired after teaching and living among the nomadic peoples of Mongolia, Laura was intrigued by the handcrafts of Scandinavia's nomadic peoples, the Sámi, and asked the question, "What have the Sámi contributed to Nordic Knitting?" The answer has turned into a wonderful quest, and has blossomed into visits, friendships and wonderful knitwear.
Interweave's PieceWork magazine has published two of her articles about the Sámi knitting tradition, as well as BÁIKI: The North-American Sámi Journal. After an extensive visit to Sapmi, the Sámi traditional homeland, last fall, she is in the process of self-publishing Beauties from the North: Swedish Sámi, Norwegian Sámi, Finnish Sámi, antique Sámi, and bridal Sámi mitten patterns. She is presenting Sámi Mittens at Finnfest, the Nordic Knitting conference in Seattle and the Vesterheim Norwegian-American museum this fall. She lives in north-central Indiana.
---
Knit with Linen: Linen-Stitch Washcloths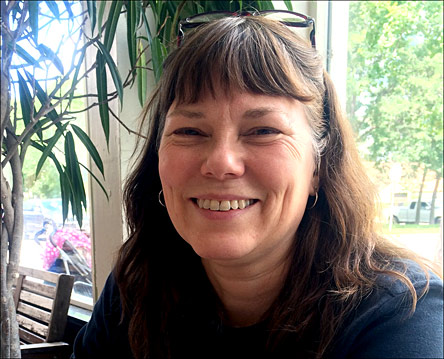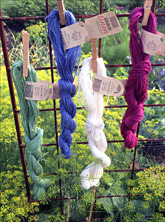 Make long-lasting spa-quality washcloths to use in your skin care routine or as gifts. Wendy Johnson will teach you how to knit the linen stitch and use other techniques suited to pure linen yarn. Johnson is the Minnesota author of the new book Yarn Works: How to Spin, Dye, and Knit Your Own Yarn , a guide to making yarn and choosing the right fibers for your knitting projects. She's traveled through Sweden to learn how beautiful fields of blooming flax are spun into soft, durable yarn, and she'll share stories of Sweden's linen-making tradition.
Materials: One skein of Marks & Kattens Linen yarn, available at Ingebretsen's. You receive a 10% discount on the first day of class. The pattern will be an original design provided by Wendy, and you'll be notified about gauge and needle size in advance of class. $25
Saturday, August 23 10 to 12 or
Saturday, September 20 1 to 3
---
Intro to Lace Knitting: Make a Lace Scarf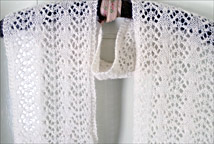 Lace knitting looks hard, but really isn't. Proof? In this beginner's class, you'll knit an elegant Icelandic lace scarf that requires just 5 different stitches. (If you know how to knit and purl, you already have 2 of them mastered.)
Denise Logeland will teach you to read and use lace charts, and do the most essential lace-making stitches.
Read more about Icelandic lace yarn and knitting in our Knitting Blog... $35
Materials: 1 skein of Lopi Einband Yarn . Straight needles or a relatively short circular needle in US size 6 (4mm).
The book Knitting with Icelandic Wool by Védis Jónsdóttir, which includes our pattern for the Strik lace scarf.
You will receive a 10% discount on all class materials purchased on the first day of class.
Thursday, September 4 and 11 6 to 8

---
Nålbinding - Make a Milk Strainer Hat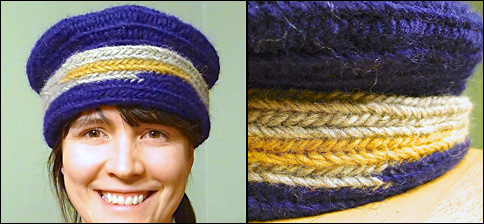 Angela Robins will teach nålbinding, an ancient textile technique that dates back to the Iron and Bronze Ages and was used in many regions throughout the world. For hundreds of years, Scandinavians have used nålbinding techniques to make hats, socks, mittens and milk strainers. Nålbound milk strainers were a common item, and they actually inspired some hat designs in Sweden. In this class, students will create a warm wool "milk strainer" hat for those cool fall nights. Students will learn the Oslo stitch, the korgen stitch, and tips on how to freestyle future hat projects. $45
Materials: Nålbinding needle , 1 skein Alafosslopi yarn (100 g/100 m), 100% wool
(or multiple skeins of Alafosslopi for a multi-colored hat)
You receive a 10% discount on all class materials purchased on the first day of class.
Saturdays, September 6, 13, and 27 9:30 to 12:30
---
Knit an Over-the-Back Norwegian Sweater for Your Dog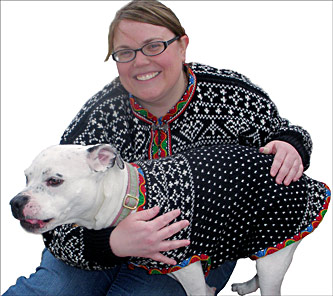 Keep your best friend cozy all winter! Paul Robinson will teach you how to design and size a Norwegian sweater that's a perfect fit for your dog. This over-the-back, blanket-style sweater is good for any dog that doesn't like to have a pullover drawn over its head, and especially good for large dogs. It's also an excellent way to build the skills you need to make a Norwegian sweater for yourself. You'll learn how to shape your knitting to get the right fit, adapt traditional motifs to create your own design, knit with two or more colors, and machine-sew and cut your knitted fabric. $45

Materials: Yarn of your choice and needles (circular or straight) in the range of US size 3–7; needle size will be determined by the gauge you want to achieve. Woven Scandinavian braiding to trim edges. Pewter clasps or buttons to fasten the sweater. A small number of portable sewing machines will be provided, but you're encouraged to bring your own if you have one. You do not have to bring it on the first day. Paul will check in with each student before class begins to answer questions and explain how to take your dog's measurements.
You receive a 10% discount on all class materials purchased on the first day of class.
The class meets three times.
Friday, October 3, Thursday, October 23, and Friday, October 24 6 - 8
---
Knit Norwegian Mittens



Diane Thomson will teach students how to read a chart, knit with two or more colors, carry yarn, and finish a traditional Norwegian mitten.
Students will need 2 skeins of contrasting color wool yarn( 1 each), it can be worsted (i.e. Cascade 220 or similar ) or sport (i.e. Strikkegarn) weight an appropriately sized needle. (double points, short circular or magic loop). $50
Sundays, October 12, 19, and 26 1 to 3
---
Pitsi Möbius



"Pitsi" is Finnish for "lace," and Finnish knitter-designer Suvi Helander put her own spin on it in this richly textured cowl-wrap. Denise Logeland will teach you how to knit Helander's pattern and how to use an efficient cast-on technique for making Möbius-ring knits. You will also learn an easy method for creating lace without a chart. $35
Materials: 3 or 4 skeins of Sandnes Alpakka yarn. Long circular needle (47" preferable; 40" will work) in US size 6 (4mm). Pattern download from Ravelry. For anyone not familiar with Ravelry, Denise will walk you through the download process.
Saturdays, October 18 and 25 1 to 3
Read more about the designer in our knitting blog Ingebretsen's Knits
---
Twined Knitting (Tvåändsstickning)



Learn the techniques of traditional Swedish twined knitting, knitting with two strands, with Kristin Knudson. The additional strand allows you to create the intricate patterns characteristic of this method. You will practice how to cast on, create decorative patterns, cast off, knit in the round and how to keep the balls of yarn as tangle-free as possible.
A wristlet will be the first project. After that, you can choose to make the mate or continue on to a pair of fingerless mittens. As a result, this class is suitable for beginning or experienced knitters wanting to try this technique. $50
Materials:
Three to five skeins of Dale Falk or Heilo yarn (worsted weight 100% wool).
A small amount of worsted weight yarn in a contrasting color, if desired.
Size 4 (3.5 mm) double pointed needles, Stitch Markers & Tapestry needle .
You will receive a 10% discount on materials purchased for the class on the first day.
Saturdays, October 18 and 25 9:30 to 12:30

---
Convert a Pullover Sweater to a Cardigan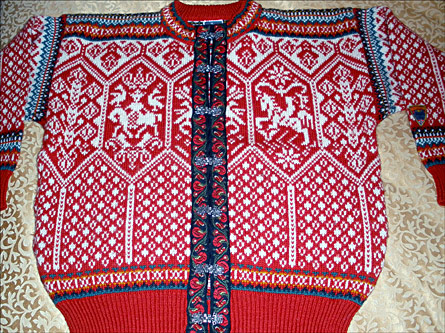 Paul Robinson shows you how to convert a crew neck pullover into a beautiful Norwegian-style cardigan. Whether you have a vintage shop find you'd like to alter or have trouble getting into an old pullover you love, Paul's method is good to know. You'll learn to "steek" an opening at the front of your sweater by machine sewing a set of reinforcing seams then cutting into the knitted fabric. Paul will also teach you to expertly add the colorful woven braiding and pewter buttons and clasps you've seen on Norwegian cardigans.
Materials:
Bring a crew neck pullover of your choice and a darning needle and brightly colored contrast yarn for marking your steek. A small number of portable sewing machines will be provided, but you're encouraged to bring your own if you have one. Paul will check in with each student before class begins to answer questions about how to choose a sweater to convert. $35
Braiding, buttons, & clasps are available at Ingebretsen's and you get a 10% discount on the first day of class.
Meets twice.
Friday, November 14, 6 to 8
Sunday, November 16, 2 to 5
---
Individualized Knitting Instruction



Have a knitting question or want to master a new technique? Need someone to give you the courage and some pointers as you cut your first steek? Individualized knitting instruction is available. Call the store or email classes@ingebretsens.com and tell us what you need to learn. We'll arrange the knitting teacher and you will set the time. $15 an hour.
---
Open Knitting
Knit two (or six or ten) together. Come relax, knit, chat, and see what other knitters are working on.
It's free, and everyone is welcome! Join us for open knitting on
Mondays from 1 to 3 and Fridays from 3 to 5.

---
---