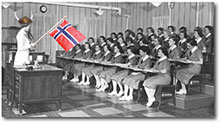 More Class Schedules... Cooking Crafts Culture Needlework
Call or email to register and for more information... 612 729 9333 classes@ingebretsens.com
Reserve your place in a class with a credit card, check, or cash.
Cancellations must be made one week in advance of the class to receive a refund.
---
Knitting Classes
---
---
Nålbinding Spirals: From Trivets to Hats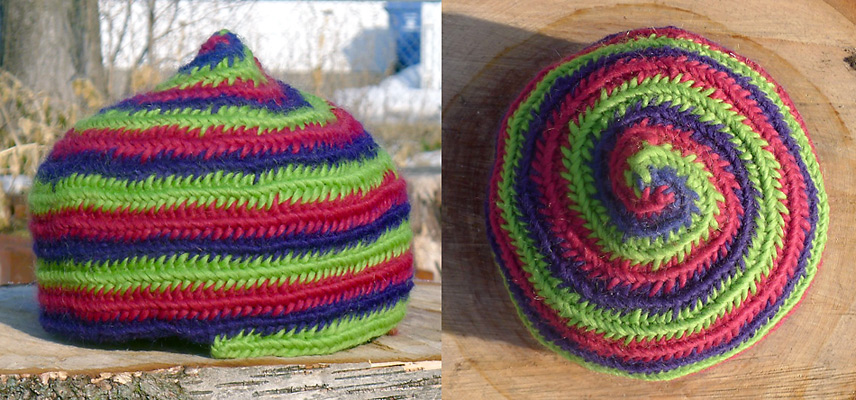 Nålbindning is an ancient form of fabric construction that dates back to the Iron and Bronze Ages and was used in many regions of the world. For hundreds of years, Scandinavians have used nålbinding techniques to make hats, socks, milk strainers and mittens. All you need is a single needle with an eye, and yarn that can be felted. In this class, Angela Robins will teach the Oslo and Korgen stitches, and how to nålbind a spiral design by connecting three nålbound chains in the round. Students can make a simple wool trivet or a warm cap depending on their level of experience and time spent outside of class. We will discuss yarn selection for future projects and fulling methods for finishing.
Three 1.5-hour classes. $50

Materials needed: Nålbindning needles, Alafslopi yarn (100g/109 yards)
Although only 100 grams of yarn (approximately 1 skein) is needed to complete a hat, three colors is ideal for this project.
Students can collaborate and share yarn with other students or purchase three skeins of different colors.
Mondays, April 18, 25 and May 2 5:30 to 8
---
Individualized Knitting Instruction


Have a knitting question or want to master a new technique? Need someone to give you the courage and some pointers as you cut your first steek? Individualized knitting instruction is available. Call the store or email classes@ingebretsens.com and tell us what you need to learn. We'll arrange the knitting teacher and you will set the time. $15 an hour.
---
Open Knitting
Knit two (or six or ten) together. Come relax, knit, chat, and see what other knitters are working on.
It's free, and everyone is welcome! Join us for open knitting on
Mondays from 1 to 3 and Fridays from 3 to 5.

---
---