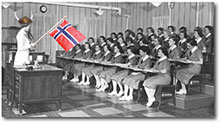 More Class Schedules... Cooking Crafts Culture Needlework Tatting
Call or email to register and for more information... 612 729 9333 classes@ingebretsens.com
Reserve your place in a class with a credit card, check, or cash.
Cancellations must be made one week in advance of the class to receive a refund.
---
Knitting Classes

---
---
Nålbind the Coppergate Sock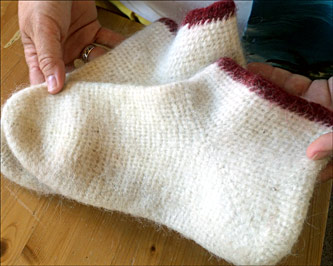 In 1972, construction workers in York, England were digging a ditch and found an entire 1000-year-old Viking village.
(Well, there's a little more to it than that, but you get the idea.) One of the thousands of artifacts unearthed
was a nålbound sock, now referred to as the Coppergate sock.
Its state of preservation is a testament to the strength of good wool and a solid needleworking skills.
Renata Fossett will teach you how to make this historic sock as well as giving you historical context and background on Viking life. Renata is Viking re-enactor with many years of Society of Creative Anachronism (SCA) experience and a teacher who makes the intricate looping of the York stitch easy to understand.
Materials needed: 3 skeins of Álafosslopi, nålbindning needle
Four sessions for $45
Saturdays, May 16, 23, 30, and June 6 10 to 11:30 or
Thursdays, October 8, 15, 22, and 29 6 to 7:30

---
Birches Leaves: Skolt Sámi Mittens by Marfa Orttonen with Laura Ricketts


Marfa Orttonen was a Skolt Sámi master knitter who lived in Nellim, Finland. She created these mittens, which are now held in Finland's national museum in Helsinki. We will explore some Skolt Sámi culture as well as knitting techniques like kierrekerros, the twisted, decorative braid on the cuff, and cupped mitten tips and thumbs as we begin this Skolt Saámi mitten together in a three hour class. $45
Wednesday, October 14 6 to 9
Homework
Knitter should be comfortable with small gauge knitting in the round. Swatch to find correct needle size to get gauge. Then, using long-tail method and blue (CC1), CO 64 sts. Divide evenly onto 4 dpns, pm, and join in the round being careful not to twist.
Rnd 2: With white (MC), purl all sts.
Rnd 3: Knit all sts.
Repeat rnds 2&3 once. Bring to class on the needles
Materials needed for mittens
Yarn: Rauma Finullgarn (100% Norwegian 2-ply wool yarn, fingering weight; 191 yards [175 m] /50g [1.75 oz.] ball); colors: two balls in #400 white (MC), small amounts (approx 25 yards) of #438 blue (CC1) and #418 red (CC2).
Needles: Set of 5 double pointed, size US 0 / 2 mm, or size needed to obtain gauge.
Notions: Scrap of smooth waste yarn for thumb, 2 markers and a tapestry needle.
Finished size: 9.5 inches [24 cm] long and 4 inches [10 cm] wide with an 8 inch [20 cm] circumference after blocking.
Gauge: 16 sts x 20 r = 2 in / 5 cm over stranded pattern, worked in the round and blocked.
If you wish to practice alternate kierrekerros taught in class,
please bring another swatch of knitting on the needles, done either in the round or flat, and two other accent colors.
As this is a practice swatch, any size yarn is fine with appropriate needles.
---
Out of the Grey: Swedish Sámi Mittens by Skaite-Maria with Laura Ricketts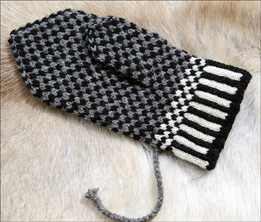 A historically accurate, Swedish Sámi knitted mitten that is knit from the cuff up. It requires three colors of yarn, but the knitter only uses two colors at a time. Out of the Grey is worked in traditional, Norwegian yarn, and small, geometric designs to form a sturdy, warm, hard-wearing mitten. It sports a short braid at the cuff.
In this class we will discuss Skaite-Maria, the creator of this mitten and other knitted goods with her characteristic tight, geometric patterns, as well as typical Sámi mitten characteristics like peasant thumbs and the braids that hang off the cuff.
Knitter should be comfortable knitting at a tight gauge. This would be a good pattern for a first time mitten or for first time colorwork. $45

Homework
Swatch to find correct needle size to get gauge.
Using long-tail method and black (MC), CO 64 sts. Divide evenly onto 4 dpn, pm, and join in the round being careful not to twist.
Work one rnd of k2, p2 rib in MC and bring to class on the needles.
Materials needed for mittens
Yarn: Rauma Strikkegarn (100% Pure Wool; 215 yards [197m] per 113g [4oz.] hank),
colors: one hank each of Black (MC), White (CC1), and Medium Grey (CC2).
Needles: set of 5 double pointed, size US 2 / 2.5mm, or size needed to obtain gauge
Notions: Scrap of smooth waste yarn for thumb, 2 markers and a tapestry needle
Finished size: 10 in [25.5 cm] long and 4.25 in [11 cm] wide after blocking, excluding braid
Gauge: 15.5 sts x 16 r = 2 in / 5 cm over pattern, worked in round and blocked
Monday, October 19 6 to 9
---
Lovikka Mittens with Wendy Johnson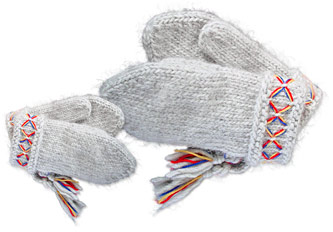 In this 3-hour workshop class you will learn how to knit a mitten in the Swedish Lovikka style.
Lovikka is a town located near the Arctic Circle (so they know about knitting for warmth!) with a renowned tradition of this style of knitting with embroidered embellishment around the cuff. This mitten is knit in the round on double-pointed needles using a single ply yarn.
The class will learn about the interesting history of the Lovikka knitting tradition and knit, embroider, and learn how to "full" (lightly felt) a mini version of the Lovikka mitten. (The mini mitten is a young child's size but the pattern provided will also include an adult-sized mitten that may be knit at home.) Making the mini-mitten will give you the opportunity to learn all the skills you need to knit all sizes of Lovikka mittens.
Skill level: The student must know how to knit in the round on double-pointed needles.

Supplies needed:
Size 9 double-pointed needles (preferably in a set of 5), small stitch holder (optional), a tapestry needle, and one skein of Àlafosslopi yarn (two skeins if you'd like to have enough to make a pair of adult mittens afterwards). Traditional Lovikka mittens are white, but students are welcome to use the color of their choice. There is a 10% discount on class materials on the first day of class. The embroidery yarn will be provided by the instructor. $40
Saturday, October 24 1 to 4
About the Instructor:
The instructor, Wendy J. Johnson, is a fiber artist, instructor, author, including
Yarn Works: How to spin, dye, and knit your own yarn - available in our shop and at Ingebretsens.com.
Wendy delights in all aspects of her Swedish heritage, including Swedish knitting traditions.
---
Individualized Knitting Instruction



Have a knitting question or want to master a new technique? Need someone to give you the courage and some pointers as you cut your first steek? Individualized knitting instruction is available. Call the store or email classes@ingebretsens.com and tell us what you need to learn. We'll arrange the knitting teacher and you will set the time. $15 an hour.
---
Open Knitting
Knit two (or six or ten) together. Come relax, knit, chat, and see what other knitters are working on.
It's free, and everyone is welcome! Join us for open knitting on
Mondays from 1 to 3 and Fridays from 3 to 5.

---
---