---
Scandinavian Flavored Recipes
Past featured recipes are linked at the bottom of the page.
---
Scandinavian Almond Cake Print Recipe


This well-loved light cake makes the perfect afternoon pick me up or evening dessert,
and would be an excellent addition to a brunch as well.
Top with your favorite berries for a delicious summertime treat.
1 ¼ C granulated sugar
1 egg
1 ½ tsp pure almond extract
2/3 C heavy cream
1 ¼ C cake flour
½ tsp baking powder
½ tsp salt
4 oz. sweet butter melted
Optional - sliced almonds, fresh berries or puree for topping
Beat together sugar, egg, extract and heavy cream.
Sift together flour, baking powder and salt and add to mixture.
Fold in melted butter and blend until smooth.
Prepare the pan by wiping lightly with oil or butter.
If desired, place sliced almonds in bottom of prepared pan and pour in batter.
Bake at 350F 40 - 45 Minutes
(Toothpick inserted in the middle should come out clean and cake should be brown around the edges)

Use the Classic or the Non Stick Almond Cake Pan...
---
Semlor (Recipe courtesy of Nordstjernan, the Swedish Newspaper in America...) Print Recipe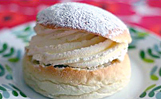 Originally, the delicious Semlor (the almond and cream filled buns) was a tradition reserved for Shrove Tuesday,
the last day before the 40 days of the Lenten season. These days, things are a bit more relaxed and the eating of a Semla is now a more common event for the Swedes throughout the 40 days of Lent (and gladly many holiday seasons!)
12-15 buns.

1 stick butter
1 1/4 cups milk
4 cups all-purpose flour
50g dry yeast
1/2 cup sugar
1 tsp ground cardamom
1/2 tsp salt
1 egg
1 1/2 tbs baking powder
For brushing: 1 egg - beaten
Filling:
5 oz almond paste (marzipan)
crumbled bread
1/4 cup milk – or as needed
For garnish: confectioners' sugar for dusting

Melt the butter and add the milk. Heat to 115.
Combine flour, sugar, salt, cardamom, baking powder and yeast. Add the egg and the milk mixture.
Knead the dough until smooth and elastic. Cover bowl and allow to rise in a warm spot for 30 minutes.
Move the dough to a lightly floured surface and knead until smooth. Form into round balls and place on a greased baking sheet. Cover and allow to rise until doubled for 35 to 40 minutes.
Preheat the oven to 475. Brush the buns with beaten egg. Bake in preheated oven for 5 to 10 minutes, until golden brown and the center has firmed. Cool the buns on a cooling rack. Cut of the tops of the buns, about 1/2 inch. Scoop out some of the center of the buns, leaving a shell of at least 1/2 inch thick.
Tear the removed bread into small pieces and place into a bowl. Moisten the bread with milk,
then mix in marzipan until smooth. Add additional milk if needed until the marzipan filling is nearly
as soft as pudding.
Whip the cream to stiff peaks.
Fill each bun with a spoonful of the bread filling and pipe the whipped cream on top.
Replace the tops onto the buns and sift over confectioners sugar.
Handy hint... the Kungsörnen Coffee Roll Mix makes easy & delicious Semlor buns.
---
SWEDISH PANCAKES Print Recipe
(Lapper or Ohukkaat in Finnish; Lapper or Plättar in Swedish)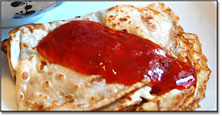 These pancakes are traditionally served with lingonberries or Lingonberry Preserves.
Swedish cooks use a special cast-iron pan called a Plett Pan (plättpanna), which has seven shallow depressions,
three inches in diameter.
Want to save time? Here's a good Swedish Pancake Mix...

½ cup flour
1 tablespoon sugar
¼ teaspoon salt
1 cup milk
½ cup heavy (whipping) cream
3 eggs
2 tablespoons butter, melted
Sour cream and lingonberry, strawberry, or raspberry preserves

Combine the flour, sugar, and salt in a mixing bowl. Stir in the milk, cream, eggs, and melted butter and blend until smooth. Brush the griddle with butter and place it over medium-high heat. To form each pancake, drop 1 tablespoon of batter onto the griddle. After 1 to 2 minutes, when the edges begin to brown, turn each pancake over with a narrow spatula and cook the other side for 1 to 2 minutes, or until golden. Serve immediately with sour cream and preserves.
4 to 6 servings

---
SWEDISH VÅFFLOR RECIPE Print Recipe


Here in this country, most of us are familiar with waffles as a breakfast treat on relaxed weekend mornings. But Swedish waffles are more typically served as an afternoon or evening dessert. Here is a typical Swedish Waffle recipe taken from a small treasure of a cookbook compiled by Dianna Stevens and edited by Miram Canter:
Waffles, Flapjacks, Pancakes, Blintzes, Crepes and Frybread from Scandinavia and Around the World

1 & 1/3 cups whipping cream, whipped
1 cup flour
1/3 cup ice-cold water (or snow)
2 T. butter, melted

Fold whipped cream into the flour. Add other ingredients. Let set for an hour.
Bake in a waffle iron until brown. This is a crisp waffle.
Cool and serve with powdered sugar or lingonberries.
(Cloudberries and whipped cream also make these waffles a dessert to remember.)
Note: Sour cream can be substituted for a third of the amount of whipping cream.
For a different, but equally delicious, version that adds eggs to the mix,
try the waffle recipe on the back of our Swedish Pancake Mix.

Here is a shopping list to help you make the most of International Waffle Day! In 2013, March 25th.
Heart Waffle Iron
Rosti Mixing Bowls
Lingonberry & Cloudberry Jams
Swedish Pancake Mix
---
ÆBLESKIVER Print Recipe
Danish Pancake Balls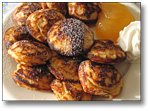 Ingebretsen's presents Lynn's recipe…

Beat 3 egg yolks lightly
Add 1/2 tsp salt
2 Tbsp sugar
3 tsp melted shortening
1 tsp ground cardamom
1 tsp grated lemon rind (optional)
2 cups buttermilk ( or whole milk)
Sift 2 cups four
1 tsp baking powder
1 tsp soda
Add dry ingredients to egg mixture alternately with 2 cups buttermilk (or whole milk).
Beat 3 egg whites until stiff – and fold in.
Fry in Aebleskiver Pan - put dot of shortening in each cup of the heated pan,
fill cups close to top with batter, fry till bubbly and underside seems brown.
Turn with fork*- a quarter turn over, and then again and again
until it forms a round shape and becomes cooked on all sides.
*A knitting needle works great for turning.
Try fruit filled with preserves or fresh fruit
- add a dot of fruit in center of batter in cup and then begin turning.
Try authentic (and delicious!) Scandinavian Preserves…
---
MORE SCANDINAVIAN FLAVORED RECIPES...

Jansson's Temptation (Janssons Frestelse)
---