---
Scandinavian Flavored Recipes Click here for archived recipes...

---
Looking for our recipes featured at the Food & Wine Experience 2015? Click here...
---
Salmon Rolls with Asparagus and Butter Sauce Print Recipe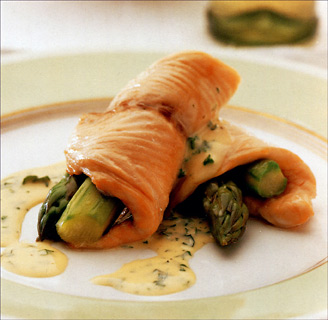 From The Scandinavian Cookbook, Fresh and Fragrant Cooking of Sweden, Denmark & Norway

This wonderful (& healthy) dish features two of Norway's favorite ingredients, salmon and asparagus.
The green contrasts beautifully with the pink flesh of the salmon in this delicious recipe, Lakserulader med Asparges.
The sweetness of both ingredients marry beautifully, and the sauce gives a simple but rich finish.
Serves 4
Salmon Rolls
4 thick or 8 thin asparagus spears
4 very thinly sliced salmon fillets (about 4 oz.)
Juice of 1 lemon
Salt & ground black pepper
Fresh parsley

Butter Sauce
1 shallot, finely chopped
6 black peppercorns
½ cup dry white wine
4 tbsp heavy cream
7 oz. butter, cut in small cubes
Salt & ground black pepper

Steam asparagus for 6 – 8 minutes, according to their size. Refresh under cold water and set aside.

The slices of salmon should be wide enough to roll around the asparagus. Don't worry if they have to be patched together.
Place salmon slices on a clean work surface, season with salt & pepper,
lay one or two asparagus spears across each slice and roll the salmon around them.
Place the rolls on a rack over a pan of boling water, sprinkle with lemon juice and cover and steam
for 3 – 4 minutes until tender.

To make the butter sauce, put the shallot, peppercorns and wine in a small pan and heat gently
until the wine has reduced to a tablespoonful. Strain and return the liquid to the pan.
Add cream, bring to boil and then lower the heat.
Add butter to sauce in small pieces, whisking all the time until well incorporated before adding another piece.
Do not allow sauce to boil or it will separate. Season with salt and pepper, to taste.
Sauce can be kept warm by placing it in a bowl and standing it over a pan of gently simmering water.
Add chopped parsley to sauce and serve with the salmon rolls.

Handy hint... when slicing the salmon fillet, freeze slightly first. Slightly!
This will firm the flesh enough to make thin slicing easier.
---
Swedish Våfflor Recipe Print Recipe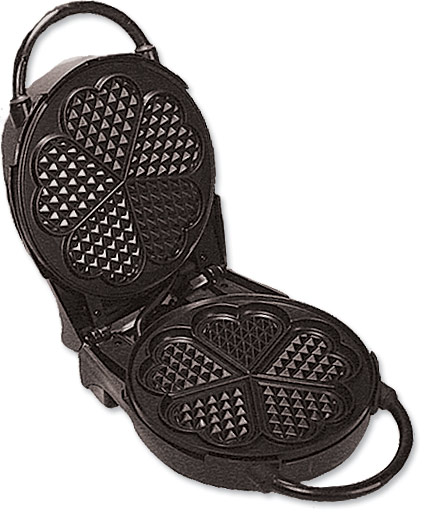 In Sweden, the våffla has its very own day, Våffeldagen, March 25th!
Våfflor have been eaten since the Middle Ages, when they were made over an open fire. The first waffles were square
but with the same pattern we have today. The heart-shaped Swedish waffle was born at the end of the 1800's.
In the beginning of the 1900's eating waffles with whipped cream and jam was something you did on Sundays following a long walk. Here in this country, most of us are familiar with waffles as a breakfast treat on relaxed weekend mornings.
But Swedish waffles are more typically served as an afternoon or evening dessert.
If you want to make traditional Swedish waffles, which are much thinner and crispier than Belgian or American waffles,
you will need a våffeljärn.
Here is a wonderful Swedish Waffle recipe taken from a small treasure of a cookbook
compiled by Dianna Stevens and edited by Miram Canter:
Waffles, Flapjacks, Pancakes, Blintzes, Crepes and Frybread from Scandinavia and Around the World
1 & 1/3 cups whipping cream, whipped
1 cup flour
1/3 cup ice-cold water (or snow)
2 T. butter, melted
Fold whipped cream into the flour. Add other ingredients. Let set for an hour.
Note: Sour cream can be substituted for a third of the amount of whipping cream.
Bake in a waffle iron until brown. This is a crisp waffle.
Cool and serve with powdered sugar and lingonberries.
(Cloudberries and whipped cream also make these waffles a dessert to remember.)
For a different, but equally delicious, version that adds eggs to the mix,
try the waffle recipe on the back of our Swedish Pancake Mix.

Here is a shopping list to help you make the most of your Swedish Waffles!
Lingonberry Syrup & Cloudberry Jams
Heart Waffle Iron
Rosti Mixing Bowls TOP
---
Swedish Pancakes Print Recipe
(Lapper or Ohukkaat in Finnish; Lapper or Plättar in Swedish)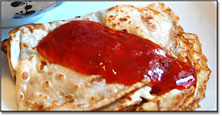 These pancakes are traditionally served with lingonberries or Lingonberry Preserves.
Swedish cooks use a special cast-iron pan called a Plett Pan (plättpanna),
which has seven shallow depressions, three inches in diameter.
(Want to save time? Here's a good Swedish Pancake Mix...)

½ cup flour
1 tablespoon sugar
¼ teaspoon salt
1 cup milk
½ cup heavy (whipping) cream
3 eggs
2 tablespoons butter, melted
Sour cream and your favorite Scandinavian Preserves

Combine the flour, sugar, and salt in a mixing bowl. Stir in the milk, cream, eggs, and melted butter and blend until smooth. Brush the griddle with butter and place it over medium-high heat. To form each pancake,
drop 1 tablespoon of batter onto the griddle. After 1 to 2 minutes, when the edges begin to brown,
turn each pancake over with a narrow spatula and cook the other side for 1 to 2 minutes, or until golden.
Serve immediately with sour cream and preserves.
4 to 6 servings. TOP
---
Stinging Nettle Soup Print Recipe
from The Nordic Diet by Trina Hahnemann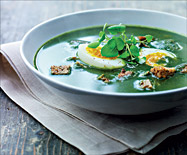 1 yellow onion
1 tablespoon olive oil
5 ½ cups organic vegetable bouillon
¼ teaspoon ground nutmeg
7 ounces of nettle leaves
salt and freshly ground black pepper
a few sprigs of watercress, to serve
4 organic eggs, to serve
Garlic croutons
2 slices of rye or spelt bread, cut into cubes
1 tablespoon olive oil
1 garlic clove, minced
salt and freshly ground black pepper
First, make the croutons.
Preheat the oven to 350˚ F.
Mix the bread cubes with the oil, garlic, salt, and pepper, and bake in the oven for 10 minutes.
In a large pan, sauté the onion in the oil for 5 minutes, without allowing it to burn or color too much.
Add the vegetable bouillon and nutmeg, bring to a boil, and add the nettle leaves. Let simmer for 20 minutes.
Using a hand blender, blend the soup, then season with salt and pepper.
Bring some water to a boil in a small pan. When the water is boiling, place the eggs in the water,
turn down the heat and let simmer for 7 minutes. Remove from the heat and place under cold water for 30 seconds.
Take out and shell right away.
Serve the soup with boiled eggs cut across in half, with croutons & watercress scattered on top. TOP
---
Heart-Shaped Cardamom & Cream Waffles Print Recipe
by Beatrice Ojakangas
from The Great Scandinavian Baking Book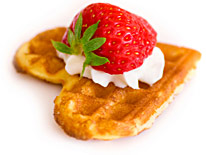 Some helpful tips and ingredients for serving up these wonderful waffles:
- Beatrice Ojakangas' fantastic cookbook The Great Scandinavian Baking Book
- The easy-to-use, electric, non-stick 5 Heart Waffle Iron
- Our Dried Cardamom Seeds
- Also, l.c.finn's Cardamom Extract is a great substitute for ground.
- 1/2 tsp extract=1 tsp ground cardamom
- Read about wonderful Cardamom on Ingebretsen's Blog

2/3 cup all-purpose flour
1 tsp. freshly ground Cardamom
3 eggs
1/4 cup sugar
2/3 cup dairy sour cream
3 Tbsp. melted butter
Butter for brushing iron
Powdered sugar
Preserves or fresh berries to serve with waffles
Whipped cream to serve with waffles

Stir flour and cardamom together and set aside.
In a small bowl of electric mixer, beat the eggs and sugar together at high speed for 10 minutes
until mixture forms ribbons when beaters are lifted.
Sprinkle flour mixture over eggs; stir the sour cream until smooth and add to the mixture,
folding until batter is smooth. Fold in the melted butter.
Place the waffle iron over medium heat and heat until a drop of water sizzles on the grid,
turning over once to heat both sides. Brush the grids with butter and spoon in the batter.
Bake, turning once until golden brown, then remove from iron and sprinkle with powdered sugar.
Serve immediately with tart Lingonberry or other Preserves or fresh berries and whipped cream;
or bake waffles in a standard electric waffle iron as the manufacturer of the iron directs.
(We suggest the easy-to-use, electric, non-stick 5 Heart Waffle Iron.)
Makes 4 servings (approximately 6 waffles) TOP
---
Scandinavian Almond Cake Print Recipe


This well-loved light cake makes the perfect afternoon pick me up or evening dessert,
and would be an excellent addition to a brunch as well. Top with your favorite berries for a delicious summertime treat.
1 ¼ C granulated sugar
1 egg
1 ½ tsp Cook's Pure Almond Extract
2/3 C heavy cream
1 ¼ C cake flour
½ tsp baking powder
½ tsp salt
4 oz. sweet butter melted
Optional - sliced almonds, fresh berries or puree for topping
Beat together sugar, egg, extract and heavy cream. Sift together flour, baking powder and salt
and add to mixture. Fold in melted butter and blend until smooth.
Prepare the pan by wiping lightly with oil or butter.
If desired, place sliced almonds in bottom of prepared pan and pour in batter.
Bake at 350F 40 - 45 Minutes
(Toothpick inserted in the middle should come out clean and cake should be brown around the edges)

Use the Classic Almond Cake Pan...
For a deliciously tasty idea... Substitute 1½ tsp Pure Cardamom Extract for the almond. TOP

---
MORE SCANDINAVIAN FLAVORED RECIPES...

Jansson's Temptation (Janssons Frestelse)

---