---
Sweden and Norway 2014 Tours

---
SWEDEN IN DECEMBER
December 3 – December 15, 2014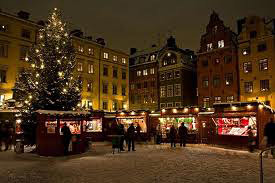 Halsa!
After leading summer tours to Scandinavia and winter tours to the Jokkmokk Market in northern Sweden,
we have a wonderful new experience that we'd like to share with you.
"Sweden in December"… December 3 - 15, 2014
Snow laden trees… lakes frozen by the winter chill… crisp dark nights warmed by flickering candlelight and fires…
all this and more awaits us in Tällberg, Dalarna, and the "heart of Sweden". We will experience a special Advents-weekend in charming and historic Tällbergsgården and tour the best sights around the Lake Siljan area.
Imagine Stockholm windows lit by the warmth of Advent stars and flickering candles…
the sights, sounds, smells and tastes of the pre-Christmas season as you visit historic Christmas markets,
partaking of Glögg and Pepparkakor… music filling the air and arousing the senses.
This just a sampling of what you will experience if you decide to join us on this tour.
Words alone cannot adequately describe how special this trip will be… perfect for husbands and wives…
mothers and daughters… a group of friends… singles… everyone who loves the Christmas season!
You can read more details of all that you will partake of, in the full itinerary.
Since this is such a popular time of the year to visit Stockholm (with Christmas markets, concerts, Lucia and Nobel Prize week)… and Tällberg for their Advents-weekend… we have to encourage you to reserve your place... NOW!!
At this time, the tour is limited to 8 persons.
Rooms need to be secured by the end of August, at the very latest… as well as tickets to performances.
Below you will find links for the Itinerary and Reservation Form.
Tour price and what it includes/does not include is on the last page of the itinerary.
If you have questions, please email us at teddiane@mac.com or call 612-825-8808.
The smaller size of our groups allows for more personal attention and provides experiences that you cannot have with larger numbers. Compared to other tours, you will find our trips to be an exceptional value considering all that we include.
Our personal journeys have led us to Scandinavia 30 times…summer and winter…since 1982.
On the main roads as well as the narrow country roads, our travels and searches have resulted in finding historic, quaint, countryside and romantic type accommodations and experiences. Maybe you know someone who's traveled with us (some several times) and can ask them about their own experiences and uniqueness of our tours. Feel free to share this wonderful opportunity with your friends.
Med vänliga hälsningar… warm greetings,
- Diane and Ted Noble
If you'd like to have this especially unique "once in a lifetime" experience,
and for more information, contact us at teddiane@mac.com or 612-825-8808
For flight information we recommend contacting Elaine at Borton Overseas at 612-822-4640 ext. 35 or elaine@bortonoverseas.com

Print all the December 2014 Tour info here...

Sweden in December 2014 Tour Itinerary
Sweden in December 2014 Reservation Form


---
Summer 2015 - "Idyllic Sweden"… featuring the Göta Canal.
More info coming soon.

---
---