---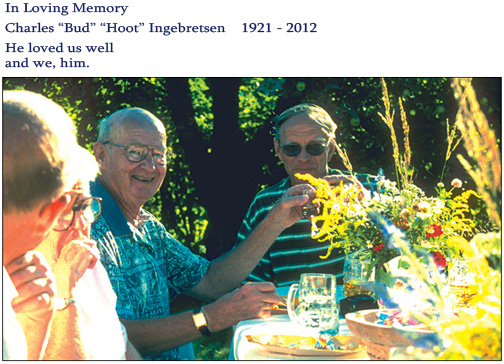 Thank you all for taking a moment to read our tribute to our dad.
We are so thankful for so many things...
We're grateful that Dad lived for 90 wonderful years, with a minimum of "down" time. We're so happy that he was able to attend and greatly enjoy his 90th birthday party last fall, thanks to so many of you. We're grateful that he met and fell in love with and married Honnie, our mom, not only because we wouldn't be here if he hadn't, but because they modeled for us what a loving, supportive relationship looks like, for 64 years.
We're grateful to have had such a good dad, one who was always around and there to support us. He took us sailing, skiing, swimming, skating, camping and on many memorable vacations, teaching us to love the outdoors and respect our earth. He taught us to build things and fix things. He encouraged us to relish our independence, standing on the strength of a loving, close-knit family. He taught us through his kind and generous nature to use only what we need,
to not be wasteful or greedy or overly ambitious – but also to enjoy a good card game (he was quite happy enjoying his poker buddies, but especially content showing his family how to lose to him gracefully!).
He showed us how to do the right thing without a lot of fuss, without needing rewards or accolades.
Dad came from strong Norwegian stock, his parents both immigrating from Norway without their families at very young ages. He inherited that strength of character, that quiet confidence, that let us and many others depend on him for so much. We see that strength in each of his 5 wonderful grandchildren, and feel grateful that his legacy will continue.
He built upon his father's foundation a business based on quality, fairness, respect for others and a love of our traditions and roots, and it remains so today. When he and his partner Warren decided to stay on East Lake Street through some very tough times, Ingebretsen's continued to thrive and he taught us the importance of contributing to the community we're a part of.
He taught us these things not by preaching, but by living a good and purposeful life.
He loved his fellow man, and everyone he met loved him back.
Thank you, Dad, for your love. We will miss you forever.
---