---
Ingebretsen's - April 2011 - It's Easy Being Green!
---
---
In this month's issue...
On April 22nd, we celebrate this extraordinary planet that we all call home.
It is a beautiful, but also beleaguered, place to live.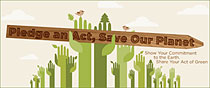 This effort recognizes the amazing power of individual actions when they are all added together. As individuals and businesses, we are encouraged to examine how we live our daily lives and to "clean up our act" in as many ways as we can manage. Ingebretsen's is a retail business and, as such, we sell things. But it is very important to us that those things embody high quality and timeless design so that they will last. We intentionally focus on companies that produce products in the most environmentally-considerate way possible. Frankly, that's pretty easy for us to do because the Nordic countries consistently rank tops in the world for sustainability and environmental responsibility. Among the many green efforts we make in our facility, when we ship our products to you, we make a point of using recyclable mailers and biodegradable cornstarch peanuts. But before we even reach for those, we first re-use the cartons and packing that we receive from our vendors. The box that brought Dala horses to us from Sweden or kitchenware from Denmark will soon show up at our customers' doorsteps -- and we always hope they will send it even further. Who knows, maybe every once in a while one of those cartons even ends up back home in Scandinavia!


- Julie I.

---
Spring Cleaning in Scandinavia: Squeaky Clean and Squeaky Green

Cleanliness is next to godliness, or so the saying goes; but for folks in the Nordic countries, it may be the other way around. They "vask" themselves and "vask" their homes with religious zeal. The Finns have gone so far as to create a temple to bathing. They have their own popular saying: "Two places are holy – church and sauna."
The Culture Smart! Guide to Norway includes an anecdote about three British women, each married to a Norwegian husband for over twenty years, who discovered that they had each experienced the same fate when they first came to Norway as newlyweds: all were rather quickly informed that their cleaning skills were not up to Norwegian standards. Their mothers-in-law patiently, but precisely, taught them how to keep a Norwegian home!

When Scandinavians create personal care and housecleaning products, they don't leave their great design sense and concern for the environment behind. Ekelund of Sweden, for example, won the Textile of the Year award from the Swedish Textile and Clothing Industries Association for…a dishcloth! The jury noted, "With outstanding design and the functional and environmentally-friendly combination of cotton and bamboo viscose, Ekelund has transformed a conventional, ordinary dishcloth into an exciting product." The bamboo fiber woven into it has natural antibacterial properties that tolerate moisture longer and impede the development of odors. The Nordic countries also produce cleaning cloths and dishtowels out of earth-friendly cellulose, organic cotton, and natural linen.
They are long lasting, and when they have reached the end of their useful lives, they can be composted.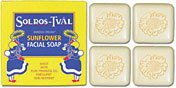 Scandinavian soaps are natural and/or organic in color, fragrance and ingredients – and there is no animal testing ever! Many of them have been produced for over 100 years, and they are of exceptional quality.

---
"You Are a Guest of Nature – Behave!"

So urged architect, artist, and passionate environmentalist Friedensreich Hundertwasser, speaking to the U.S. Senate and other prestigious audiences around the globe. But workers at a glassmaking workshop in Finland already had a good handle on this concept. Since 1881, the factory in the village of Iittala has transformed wood, water and sand into high quality glass products for the home and laboratory. It was during the 1920s and '30s, however, that iittala (the company name is always written in lower case) became one of the frontrunners in the world of modern design. Artists Alvar and Aino Aalto were soon joined by Tapio Wirkkala, Timo Sarpaneva, and Oiva Toikka in creating "the art of the everyday." The simple but beautiful designs that sprang from their imaginations were such an innovative combination of form, function and quality that they remain as appealing now as when they were first introduced. And that's what iittala is all about: timeless design. Alvar Aalto's collection of vases and candleholders for iittala have been going strong for 74 years! The company dares to favor sustainability over "throwawayism." It is no accident that iittala's entire product line is mix-and-matchable and that each piece in it is designed to be as elegantly simple, easy to use, durable and multi-functional as possible. In many ways, the company has become a conscience for other manufacturers who constantly change their product lines. Now and then, of course, iittala does introduce new designs (young Finnish designers are eager to show off their talents, too).




But the old designs don't seem to want to stay retired!
A perfect example is Dewdrop (in Finnish, Kastehelmi), a decorative pattern created in 1964 by one of the greatest names in Finnish glass, Oiva Toikka. Dewdrop was in production for 22 years. It was reintroduced last year to celebrate Toikka's 50 years with iittala. To no one's surprise, it was such a success that the company decided to add new colors. Once again, shimmering dewdrops splash in circles like ripples on a pond in this beautiful collection.

---
Those Swedes, they just can't leave anything alone...

They always have to improve it!
A case in point…just look at what they've done to camping. The Swedish company, Light My Fire, is committed to hiking the environmental high road. It ardently endeavors to practice "Leave No Trace" ethics in both its product design and manufacturing processes. "Why? Because we want to and because we can," says Calill Odqvist, Light My Fire's president. And they do it with a well-researched and innovative blend of form and function. Light My Fire products have been incorporated into the collections of design museums and shops around the world.





Take their colorful Spork, for example. It's an award-winning, one-piece combination knife, fork, and spoon that is virtually indestructible, BPA-free, and so incredibly strong it can be called into duty as an emergency tent stake. There is no industrial waste left over in its manufacture.
The company's ingenious Outdoor MealKit makes it possible to prepare a meal and eat it anywhere - whether you're perched somewhere above a Norwegian fjord or sitting at your office desk. The kit is compact, lightweight, and microwave and dishwasher-safe. And if you accidentally drop it into a fjord, it floats! Its smaller sibling, the Three Piece LunchBox, is as perfect for serving up sandwiches or sushi for your kid's school lunch as hot dogs and beans at your family's next outing.
Light My Fire's portable neoprene seat pad is designed to insulate you from such unpleasant states of being as wet, cold, and sore. It'll make sitting around the campfire a lot more comfy, and on your next urban picnic, it will also cushion that bottle of wine you're toting--and keep it chilled to boot!
So if you're out appreciating Mother Nature this Earth Day or sitting at your desk eating lunch and you're using Light My Fire products, know that you're supporting a company that cares as much about our shared environment as you do.
"Why? Because we want to and because we can."
---
---