---
Ingebretsen's ENewsletter January 2011
---

Winter's here, and we all have our favorite ways of making it cozy and fun.
Below, we'll take a look at what a couple of the Nordic countries have come up with.
National anthem, national flag… national soup? Sweden and Finland haven't put it to a vote yet to make it official,
but for all practical purposes, they've both got one.
We'll give you the recipe and think you'll find it a delicious way to keep warm on chilly days.
That bright spot in the middle of winter known as Valentine's Day
is celebrated in Scandinavia as cheerfully as it is here.
Not surprisingly, the innovative Finns have put their own stamp on the celebration.
And for those of you who live near us in the Midwest, we invite you to visit our latest exhibit:
A Short History of Long Skis: The Adventure and Artistry of Nordic Wooden Skis.
Included are skis engineered to take explorers safely to Antarctica and back, to help athletes garner Gold Medals in Olympic skiing events, and to enable troops in the Second World War to patrol in the deep snow of the Italian Alps.
Still others were designed for family fun on the cross country trails right here in our own backyards and were so beautifully crafted that many are being passed down as family heirlooms.
Drop by anytime between now and February 26.
The coffee pot is always on for you!
- Julie Ingebretsen
---
A Short History of Long Skis: The Adventure and Artistry of Nordic Wooden Skis



For thousands of years and over thousands of miles, skis made it possible for people to travel the frozen lands of Norway, Sweden, Finland, and Siberia. Skis not only insured that trade and hunting continued after the snow fell, but prowess on skis also gave armies in northern countries a military advantage. The first known image of a ski appears on a 4,500 year old petroglyph discovered in Rødøy, Norway. A peat bog in Hoting, Sweden, yielded the oldest known ski, carbon dated to between 2500-4500 B.C. Between now and February 26, Ingebretsen's will showcase historically significant and beautifully handcrafted Nordic skis. The skis in this exhibit represent a slice of the remarkable history of wooden skis, from the 1800s to the 1970s. This was a period when Scandinavians and Scandinavian-Americans made important developments in the design and manufacture of skis, combining artistry and engineering. Norwegian immigrants brought their skis and their love of the outdoors to America. In the following decades, their descendants made Minnesota the most important ski-making center in the United States. And best of all, they helped make skiing fun.

On Saturday, January 29, from 11 to noon, wooden ski enthusiast, Greg Fangel, will present a talk about Minnesota's role in ski-making and about the vintage wooden skis on display. There is no charge for Mr. Fangel's presentation, but space is limited so please call in advance to reserve a seat: 612-729-9333

---
February 14: Happy Ystävänpäivä!



Valentine's Day is our collective annual excuse to wear our hearts on our sleeves and smother those who are dear to us with frilly and fragrant expressions of our love. It's a happy celebration that began in Britain and North America and has since been widely adopted around the world, including in Finland. So we can't help but wonder: if Valentine's Day is the exuberant occasion for all of us to act like love-struck Italians, where does that leave the proudly-reserved Finns? Given their temperate national character, how does the ardor typically associated with the holiday bubble up to the surface and find expression?
It turns out that the Finns put their hearts into Valentine's Day in an enviable way. Valentine's Day is relatively new to Finland, dating back no further than the late-1980s. The holiday was assimilated into the Finnish calendar as Ystävänpäivä , 'Friendship Day'. Elsewhere, Valentine's Day is dominated by the spirit of romance, and in Finland, too, many engagements and weddings do occur on February 14. But what the Finns really enjoy on this day is the chance to honor the special people in their lives. Besides gathering together in each other's homes and exchanging gifts, the Finns enthusiastically purchase Friendship Day cards. The pleased recipients of these greeting cards are not the only beneficiaries. Friendship Day cards are created by Finnish charities, and each one of the millions of cards purchased annually represents a vote for and a financial contribution to the common good.
Special postal stamps help send the cards on their loving way.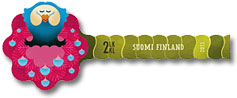 This year's commemorative set of stamps is called Branches of Friendship. Designed by Janne Harlu, the stamps are illustrated with whimsical birds eager to take wing and alight in the addressee's mailbox. We find these "cards that care" to be a heartwarming addition to the celebration of Valentine's Day, and the big hearts of the Finns certainly win our stamp of approval.

---
Soup's on!
The snow is flying here in Minnesota, and it's a safe bet that hearty soups are simmering on many a kitchen stove. In equally snowy Finland and Sweden, that soup would almost certainly be pea soup. To be precise, Thursday Pea Soup.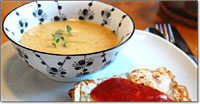 There are claims that 99 percent of all the cafeterias in Swedish and Finnish schools, offices, factories, and department stores serve pea soup for lunch on Thursdays. For that matter, it might well appear again on the dinner table that night at home! Without fail, both the Swedish Armed Forces and the Finnish Defense Forces ladle out pea soup every Thursday – a tradition dating back to World War II. Back then, steaming hot pea soup was served to grateful soldiers huddling in their foxholes. Some say that pea soup preceded the Viking Era, but it is known for sure that it was a staple during the 1400s when the Catholic Church held sway in northern Europe. Fridays were days for fasting, so on Thursdays, people would eat as heartily as possible. To that end, stick-to-your-ribs pea soup was a dependable ally. It's not hard to imagine even the most devout souls fortifying themselves with a few last spoonfuls in the final minutes before midnight. Northern Europeans eventually turned away from Catholicism, but they kept the pea soup. Swedish pea soup is made with yellow peas, the Finnish version with green peas. These two countries have been neighbors for a long time, so this fact does not seem to have caused a serious rift in their diplomatic relations. Both agree that pea soup should be served with rye bread and Swedish mustard, either stirred in or readily available alongside. And Thursday Pea Soup is always accompanied by pancakes. This combination is so traditional that Swedes and Finns can't imagine one without the other.
Far be it from us to split up a pair of old friends,
so as a Valentine's present this month, we offer you both recipes. Click Here...
They are from Scandinavian Feasts by Beatrice Ojakangas.

---
Highlights of Sweden & Norway Tour
Are you dreaming of a "trip of a lifetime" exploring idyllic Sweden and majestic, rugged Norway? Then this is the tour for you! July 6 - 24, 2011 Click Here...