---
Ingebretsen's ENewsletter March 2011
---
Here in the Upper Midwest when we hunker down during our long, snowy winters, we usually have a steaming mug of coffee close at hand. Turns out that we Scandinavians are the champion coffee drinkers of the world! And you can be sure that when folks in these parts gather around the coffee pot, they're likely to be catching up on the latest doings of Ole and Lena and their Swedish friends, Sven and Lars. Ole and Lena stories are an important part of the gentle jokelore of this region. But humor comes in other forms as well, and we are happy to introduce you to Bengt and Lotta, two Swedish artists who design a smile into each piece they create. So help yourself to another cup of coffee and enjoy this issue of our Enewsletter.


~ Julie Ingebretsen
P.S. Our Winter Clearance continues with really deep discounts!
---
World Class Coffee Drinkers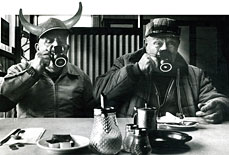 If you stumble out of bed each morning and immediately head to the kitchen to jump-start your day with a cup of coffee, you're in good company. According to the National Coffee Organization, 400 million cups of coffee are drunk in the United States each day. Coffee has long been popular in this country. Coffee houses were already open for business in New York, Philadelphia and other colonial towns by the late 1600s. The Boston Tea Party of 1773 was planned in a coffee house! But American coffee drinkers have nothing on the Scandinavians. The World Resource Institute keeps track of per capita coffee consumption by country, and the current world champs are the Finns. They drink an average of 12 kilos of coffee each per year – three times more than we do in this country. The Norwegians come in second at 9.9 kilos, followed closely by the Icelanders (9) and the Danes (8.7). The Swedes at 8.2 kilos need to get brewing. They've recently been pushed into sixth place by the Dutch. Americans rank 26th. Scandinavians do love their coffee, and they also love serving it in style. Here at Ingebretsen's, we drink so much coffee, we created our own blend so it would be just the way we like it. If you'd like to give our Viking Biking Coffee a try or peruse some of our nifty Scandinavian coffee accessories, Click Here…
---
So Ole Says to Lena: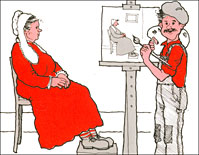 Scientists say that at least 12 muscles get put to work when we smile, so when we're snowed in here in the Upper Midwest, we get a workout passing around the coffee pot and sharing our favorite Ole and Lena jokes. Scandinavian immigrants Ole and Lena and their Swedish friends, Sven and Lars, are part of a cast of endearing and enduring characters who bumble through life in "the new country". After more than a century, they still speak muddled English with a lilting Norsky accent, and thickheaded Ole still confidently drags Lena, Sven and Lars into one hilarious misadventure after another. Ole and Lena jokes are a unique product of the Scandinavian immigration experience and are thus not known in Scandinavia itself. Scandinavians tend to have a gentle sense of humor. When they came to America, they used their ability to laugh at themselves to alleviate the anxieties they faced in their new surroundings. Any group matures when it learns not to take itself so seriously, and Scandinavian immigrants went one better: They invited everyone else to laugh with them. For 23 years, E.C. "Red" Stangland of Sioux Falls, South Dakota, wrote numerous Ole and Lena joke books and celebrated their antics in stand-up comedy acts performed with Robert L. Johnson ("Uncle Torvald"). Non-Scandinavians quickly came to enjoy the charm of this folksy, self-effacing humor and to love the quirky cast of all too human characters. Ole and Lena are part of the family around here. We realize that many of their foibles are our foibles as well and that when we are smiling at them, we are also smiling at ourselves.
If your own smile muscles could use a little exercise just now, Click Here…
---
Designed to Put a Grin on Your Face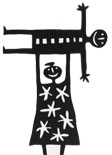 Lotta Glave and Bengt Lindberg are partners in design and partners in life. They met as students at Sweden's National College of Arts, Crafts & Design and soon discovered a shared passion for creating designs that were fresh and fun. The result of their now famous playful artistry is the company, Bengt & Lotta. Bengt's designs are rooted in Swedish folk art, but he can't resist tweaking traditional motifs to give them a lighthearted contemporary look. Lotta's imagination is populated by exuberant angels and human figures who burst forth as whimsical candleholders and cheerful table décor. Most of their work is created in iron, but they recently joined hands with another well-respected Swedish company to produce high quality textiles. Klippan Wool Fabric Manufacturing Company was founded in 1879 by Jöns Petter Magnusson. 132 years later, the business remains in the same family — currently in the hands of great-great-grandson Gösta Magnusson. Bengt and Lotta's partnership with Klippan has resulted in a fanciful array of blankets and household linens.
To enjoy some of Bengt & Lotta's expressive designs, Click Here…
---
This month's recipe…



Swedish Brown Beans (Bruna Bönor)
From the time-honored cookbook Swedish Recipes: Old and New.
Click Here for the recipe and enjoy!
---