---
Our Store

---
    
        Click the Bag!       to see a lovely little video about our store created by Chelsey Rosetter in 2011, and posted on her Eastlakestreet Blog...

---
The Cultures of Scandinavia Unite at Ingebretsen's



The countries of Scandinavia share borders and many customs, but they also have crafts, foods, and holidays that are unique to each one. The differences between countries have long been a source for humor and a good bit of ribbing. At Ingebretsen's, the neighboring countries of Norway, Sweden, Denmark, Finland, and Iceland live quite harmoniously under one roof. In the meat market, Swedish sausage lies amiably next to its Norwegian and Danish counterparts.
Lefse mingles with lingonberries. Sardines are next to herring.
Next door, in the gift shop, Finnish crystal sparkles on a shelf with Danish porcelain and Icelandic ceramics. Sterling jewelry from Norway rests near linens from Sweden. Visitors of all nationalities will enjoy many rich and varied examples of Scandinavian culture. The store was opened when Lake Street was the center of immigrant Scandinavian culture and it provided familiar food to customers who want to keep traditions alive. Ingebretsen's has expanded beyond just food; the gift store is a blend of quality imports and one-of-a-kind creations by local Nordic artisans.
Come to Ingebretsen's - heritage, community and traditions... the ingredients that keep all of us bound to each other.


---

Lake Street Lutefisk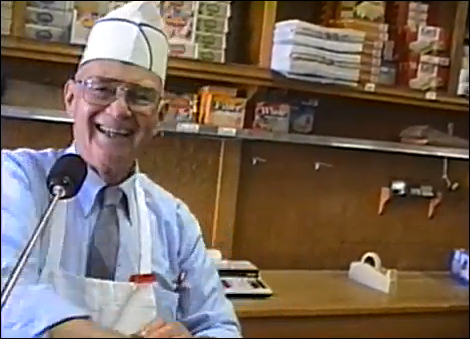 Take a fun look back at 1991 (we were only 70 years old!) with this charming video by John Akre...
Click on Bud Ingebretsen, the butcher...

Ingebretsen's Butcher Shop & Deli
Picture an old-fashioned Butcher Shop laden with delicious homemade products:  a long refrigerated case filled with specialty Scandinavian deli items made daily from original recipes; rows of imported cheeses; and shelves lined with imported delicacies in boxes, cans and jars. Ingebretsen's also makes dozens of meat products that aren't available anywhere else in town. Some of the butchers have worked behind the same counter for more than 40 years. They have a steady stream of regular customers who they know by face and name. Christmas is when the Butcher Shop is the center of activity; the store sells more than 7 tons of Swedish sausage in one season alone! 

For more info on our Butcher Shop... Click Here


---

Ingebretsen's Gift Shop
Scandinavian products are admired for their beauty, integrity, and craftsmanship. Whether working in pewter or crystal, wool or wood, Nordic artisans demonstrate a commitment to quality, style, and originality. You'll find imported sweaters, jewelry, crystal, tableware, ornaments, collectibles, cookware, cookbooks devoted to specialties such as lefse and krumkake, candles and candleholders, books, music, videos, and more. The selection is so extensive it's impossible to see it all in one visit. Don't forget to look up - even the ceiling is adorned with gift items!


---

Ingebretsen's Needlework
A special section of the store is devoted to needlework and knitting. Beautiful counted cross-stitch designs, Hardanger embroidery, and traditional needlepoint and lace craft are among the many textile arts represented. You'll find a colorful array of threads, books, patterns, kits, frames and hangers. Knitters will delight in the fine selection of Norwegian wool yarns and patterns. Knowledgeable staff is on hand to help you start your next heirloom.
Classes are also available.
Ingebretsen's is the Twin Cities' oldest retail business dedicated completely to Scandinavian foods and products.
Family-owned and operated since 1921, it is more than a store - it's a local institution and a unique connection to another place and time. For generations it has remained a neighborhood market and meeting place - a source of familiar faces and reliable goods. It is also a stop for visiting dignitaries and celebrities, and a popular destination for a steady stream of regular folks and tourists who are just passing through town.
For Scandinavian-Americans across the country, Ingebretsen's is a resource...
a place to gather information, to rediscover their heritage, and to keep the memories and traditions of their homelands alive.


---
  "Small businesses are the back bone of our communities. And when we shop small,
we not only get great products and services, but we support our neighbors and strengthen our local economies".


---