Traditional Bridal Crowns
We began renting out bridal crowns in 1995.
Our Swedish crown is probably from the 1950s and came from Sweden. It is brass with colored stones hanging from it and colored stones situated at the top of the crown. The base measures 2" and flares to 3.25" in diameter. It stands 3.25" tall. The Swedish crown is for rent only and not for purchase.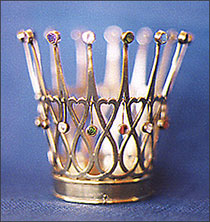 Knowing that a Swedish wedding crown could be rented from Ingebretsen's, I always knew that I wanted to wear it at my own wedding. And when that day was going to become a reality in 2003, I began to think about how wonderful it would be to bring as much of my Swedish heritage as possible into the joyful occasion. I purchased Scandinavian gifts for my bridesmaids, some reception items such as our cake server, as well as a pair of beautiful earrings to wear with my wedding dress. On the morning of the wedding, my hairdresser easily bobby pinned the small crown to my hair. And, when I wore the "something old", a Scandinavian bracelet from my husband's family, I was thrilled to find out that it matched the beautiful gold crown with its colorful stones. I felt a huge sense of pride in my Swedish ancestry as I wore the Swedish wedding crown. Thank you Ingebretsen's!
- Janice Wahlstrom, Arden Hills, MN
---
---
---
---
We carry two Norwegian crowns that measure 3.5" at the base and flares to 5.5" in diameter. The height is 2.5". Each crown is sterling silver. One crown has a white finish with gold spoons and the other is a silver (oxidized) finish with silver spoons. These crowns are handmade in Voss, Norway. The Norwegian crowns can be purchased new and can become a future family heirloom.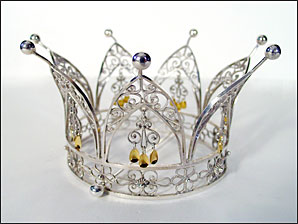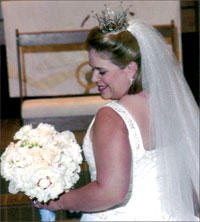 I rented the Norwegian Bridal Crown because I'm very proud of my Scandinavian heritage and my fiance and I wanted to have a wedding that was unique to us. I made my own veil from several yards of toile and attached it with bobby pins at the back of the crown. At the reception, I kept the crown on all night, but removed the veil. I can't tell you how many positive comments I had on the crown and my matching sølje earrings. Our photographer also got great shots of the crown and it is featured in some of our wedding photos. I felt like (and people said I looked like) a princess in the crown. Sometimes people say that they would change things about their wedding day... and this is definitely one thing that I would keep AND wouldn't change a thing. I was never a beauty queen, but I certainly felt like one on my wedding day!
- Sara Nellermoe Lawrence, St. Louis Park, MN