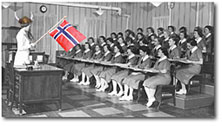 More Class Schedules... Crafts Culture Knitting Needlework

To register for a class, call our main store... 612 729 9333 and reserve your place with a credit card.
If you have questions about a class, please email classes@ingebretsens.com

Be sure to check the location of the class in which you are interested.
Unless noted, classes are at our main store, 1601 E. Lake Street, Minneapolis.
We also hold classes, especially for cooking, at Norway House, 913 E. Franklin Avenue,
and at Ingebretsen's av Stockholm, our store in Stockholm, Wisconsin.
Cancellations must be made one week in advance to receive a refund.

We look forward to seeing you!
---
---

Cooking Classes

---
---
Bake a Kugelhopf with Shaina Olmanson

Learn how to make one of the Eastern European cakes that served as the inspiration for Nordic Ware's Bundt pan. Kugelhopf has many variations throughout Europe, and immigration to the United States created a need for specialized fluted pans. While other kugelhopfs start from sweet, yeast-risen dough, Shaina's family grew up eating the version her Yugoslavian-born grandmother made that features separating the eggs and whipping them separately before folding them together. With its distinct rich taste and buttery texture, this moist cake lands somewhere between a pound cake and a traditional French biscuit cake. Simple in flavor profile, it is dotted with golden raisins, or sultanas, and dusted with powdered sugar. The class will be a combination of presentation and hands-on practice. $40/$35 for Norway House members
This class is held in the Hanson Room at Norway House, 913 E. Franklin Ave. Minneapolis.
Being rescheduled. Please check back in January for the winter date.

Shaina Olmanson strives to inspire other families to invest in food education, cooking, and a kitchen-centered life on her website FoodforMyFamily.com. Her work as an author, photographer, recipe developer, and spokesperson has been featured in Family Fun, Parents Magazine, Parenting Magazine, Women's World, A&E Television, and Better Homes and Gardens. A lifelong lover of books, Shaina moonlights as a children's book editor for an independent publishing company. She shares her 1,100-square-foot Saint Paul home with her husband, their four children, a toad named Herman, and an ever-increasing number of chickens.
---
Krumkake with Heidi Eger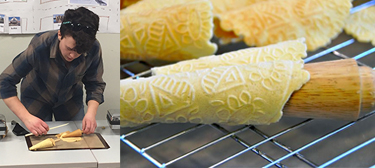 Come learn how to make the Scandinavian classic cookie, krumkake! Class instructor Heidi first made krumkake on her Great-Uncle's stove. Since then, she's tested different recipes and learned to use her iron for more than just classic krumkake. In this class, participants will mix up a batch of classic, gingerbread flavored krumkake and a batch of nontraditional, spiced chocolate krumkake. We'll talk about recipe variations, different rolling techniques, and how to also use your krumkake baker to make Dutch Stroopwafels, waffle cones, sweet and savory Pizzelles, and Rommebrod. $35
This class is held in the Hanson Room at Norway House, 913 E. Franklin Ave. Minneapolis.
Saturday, September 21 1 to 3pm Class Filled
Saturday, October 19 10 to 12 Class Filled
Saturday, December 14 1 to 3 Class Filled
---
Lefse with Heidi Eger

Heidi Eger learned to make lefse with her grandmother and mother. In her class, she shares her great-grandmother's time-tested recipe and a lot of good information on how to make lefse that you'll be proud to share with your friends and family. Heidi believes that lefse is good regardless of shape. While she will show you techniques for rolling and frying a classic round lefse, she reminds students that even lefse in the shape of the state of Texas tastes good. $40
This class is held in the Hanson Room at Norway House, 913 E. Franklin Ave. Minneapolis.
Saturday, October 19 1 to 3 Class Filled
Sunday, October 20 1 to 3 Class Filled
Saturday, November 9 10 to 12 or 1 to 3 Both Filled
Sunday, November 10 1 to 3 Class Filled
Saturday, November 16 1 to 3 Class Filled
Sunday, November 17 1 to 3 Class Filled
Sunday, November 24 1 to 3 Class Filled
Saturday, December 7 10 to 12 or 1 to 3 Both Filled
Sunday, December 8 1 to 3 Class Filled

Saturday, January 4 10 to 12 or 1 to 3
Sunday, January 5 1 to 3
About the teacher:
Heidi spends her winters working at Ingebretsen's and making lefse. She spends her summers farming, gravitating to the hilly regions of Minnesota.

---
Make a Gingerbread House with Heather Vick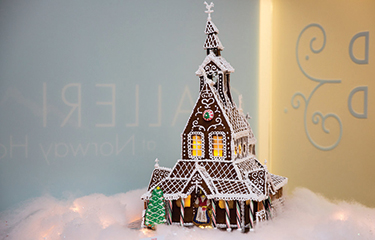 Heather Vick is the creator of magnificent gingerbread houses, including the one pictured above. Her creations are the highlight of the Gingerbread Wonderland exhibits at Norway House.
Start a wonderful family tradition that can be enjoyed by young and old. Gingerbread houses have a long history and are an important addition to your decor during the holiday season. We're going to learn the process from beginning to end and you'll be able to go home with your own gingerbread house. You can also choose to contribute them to the Gingerbread Wonderland exhibit which will open on November 22nd at Norway House. Gingerbread Wonderland is done In true Norwegian fashion and inspired by the city of Bergen's annual Pepperkakebyen. . . or Gingerbread City.
If you have any favorite cookie cutters that you'd like to use for gingerbread house accessories, such as a tree, Santa, reindeers, etc. feel free to bring them. We'll have dough ready to roll and some suggested patterns for your house. Take home a recipe that can't be beat and will be enjoyed for generations . . . as it has been in my home.
Note: There will be time for lunch during this class. You can eat at the Kaffe Bar at Norway House or bring your own lunch. This class is appropriate for children with an adult. Also, as you probably know but we need to say it anyway, your finished product from the class will not look exactly like the picture. But we bet it will still be pretty darn good.
$50 or $45 for Norway House members.
Saturday, October 12 10 to 2 Sorry, Class Canceled. Check back for next year's date, and see the Gingerbread Wonderland at Norway House from Sat Nov 23 - Sun Jan 5.
---
Spooky Treats and Pumpkin Sweets with Gemma Lockrem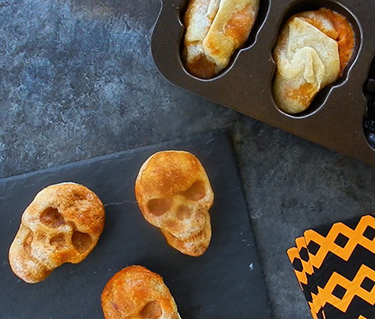 Gemma packs her classes full of baking tips and expert advice, as well as delicious recipes. You will make three fun foods for fall: Pizza skulls, savory cheddar dill bread, and pumpkin Bundt cake marbled throughout with cream cheese filling. By the end of class, you will leave with delicious recipes and the ability to neatly fold the pizza skulls so the filling stays where you want it and your Bundt cake will release from the pan perfectly. This class is a combination of hands-on and presentation, suitable for family members 8 years old and above.
$40/$35 for Norway House members
Saturday, October 26 10 to 12 Sorry, Class Canceled. Check back for next year's date
About the teacher: Gemma loves sharing her knowledge of baking. She's been teaching and doing food demonstrations for Nordic Ware for 5 years, including stints at the Minnesota State Fair, but she has been baking since childhood and enjoys sharing her passion for baking whenever she can. So bring your baking questions – Gemma's ready with the answers.
---
Finnish Jul Baking with Soile Anderson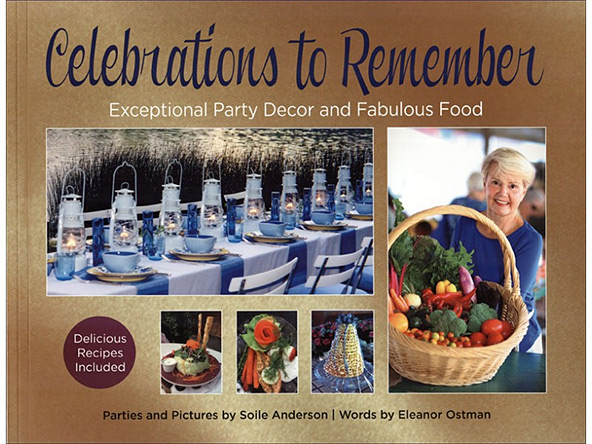 Soile Anderson, founder of Taste of Scandinavia bakery and Deco Catering, will teach you how to make two Finnish favorites for the holiday season – Taatelikakku (Date Cake) and Lingonberry Torte – and how to set a stunning, yet welcoming, table for your family and guests. The class starts with coffee and cake with Soile, who will give you tips and tricks for baking and decorating. Then together you will make and bake both cakes. Each participant receives a copy of Soile's cookbook Celebrations to Remember; Exceptional Party Décor and Fabulous Food as part of class fee. $40 or $35 for Norway House members.

Sunday, October 27 1 to 3 Sorry, Class Canceled. Check back for another date
---
The Chemistry of a Good Cake with Lois Nokleby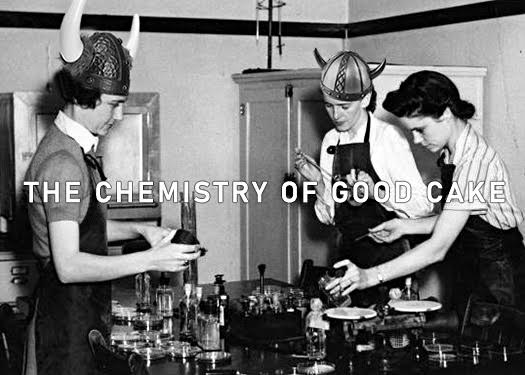 A class for all ages and for anyone who wants to know how and why baking works. What makes a cake a cake? Can we put anything we want in it? Is there any difference using real butter or fake butter? What are all those white powders that go into the mixing bowl and are they important? Does it matter if we measure or can we just guess? In this class, former science teacher and accomplished baker Lois Nokleby will give you an understanding of the "whys" of ingredients and the importance of different steps. You will be a more confident baker and better able to understand the recipes you use.
Baking a cake has a complicated chemistry that this class will investigate. We will identify how the cake changes from thick and sticky to a piece of deliciousness. Each class member will carry out chemical tests and evaluate the results. And yes, there will be sampling! $25
Saturday, November 2 10 to 11:30
Note: Registration for this class closes on Wednesday, October 30th so Lois will have time to prepare the materials for each class member. Sorry, no exceptions.
About the teacher: Lois Nokleby started baking in 4-H at age 9. She grew up with a mother, grandmothers, and neighborhood mothers who were all role models. She has a BA in biology with a minor in chemistry, and an MA in science education. Lois taught middle school science for 35 years and really enjoys baking and cooking.
---
A Spice Tapestry: Baking with Cardamom with Zehorit Heilicher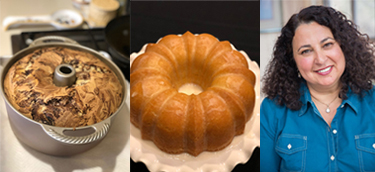 Scandinavians are serious about their cardamom. According to data collected by the United Nations, Swedes consume 18 times more cardamom per capita than the median country, while Norwegians consume almost 30 times more per capita. There are no statistics kept for Minnesotans and cardamom, but we probably consume a respectable share.
So, to help keep our cardamom consumption robust, Zehorit Heilicher will share recipes and techniques to use our favorite spice in new ways. She is inspired by flavors of the ancient trade routes and the Midwestern love of a good Bundt cake with coffee. Perfect for adding richness to your Thanksgiving table, these cakes and a bonus rice pudding are a lovely blend of the familiar and the new. The class is a combination of presentation and hands-on work. You will learn to make the following:
- Cardamom-chocolate Bundt cake, inspired by the flavors of Turkish coffee
- Cardamom-pear upside down cake, inspired by the 1950s American favorite with pineapple
- Spiced honey cake, a harvest cake rich in spices and a traditional part of the Jewish High Holidays
- Persian rice pudding, flavored with cardamom and rosewater
Zehorit will discuss the different types of cardamom, how to prepare it for various recipes, how to store it, and guidelines for your own experiments with adding cardamom to your cooking and baking.
$40/$35 for Norway House members.

This class is held in the Hanson Room at Norway House, 913 E. Franklin Ave. Minneapolis.
Saturday, November 16 10 to 12 Class Filled
Saturday, December 14 10 to 12 Class Filled
About the teacher:
"Food is a vehicle to creating community, to shaping memory and to sharing cultural richness." - Zehorit Heilicher
Zehorit was born in Israel to a Yemenite immigrant family. Growing up in multi-cultural Givat Olga, she experienced Israel's rich ethnic diversity through food and celebration. Following high school graduation, Zehorit Joined the Israeli army, where she became an officer, finishing her service as a lieutenant. She then majored in English Literature and Political Science at the Tel Aviv University.
While working in a Minneapolis summer camp she met her husband and relocated. She has raised 4 children and has been teaching cooking classes in both the Jewish and the general communities and volunteering. Zehorit brings to the kitchen her Mediterranean roots, her passion for healthy and flavorful dishes and her love of people and storytelling. Teaching in the Twin cities for the more than 15 years, she shares her appreciation for the way in which culture, geography and history shape our food and the way we gather to eat it.
---
Lefse Making Classes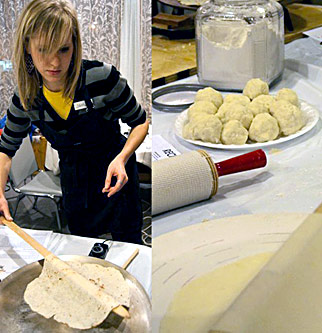 If you would like a class, Ingebretsen's offers private lessons!
Book a class at a time that is convenient for you and invite friends and family.
A two-hour class is $350 (with a value up to $400) and you can have up to 10 participants.
To learn more, please email classes@ingebretsens.com

---
---