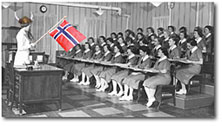 More Class Schedules... Crafts Culture Knitting Needlework

To register for a class, call our main store... 612 729 9333 and reserve your place with a credit card.
If you have questions about a class, please email classes@ingebretsens.com

Be sure to check the location of the class in which you are interested.
Unless noted, classes are at our main store, 1601 E. Lake Street, Minneapolis.
We also hold classes, especially for cooking, at Norway House, 911 E. Franklin Avenue,
and at Ingebretsen's av Stockholm, our store in Stockholm, Wisconsin.
Cancellations must be made one week in advance to receive a refund.

We look forward to seeing you!
---
---

Cooking Classes

---
---
Lefse with Heidi





Heidi Eger learned to make lefse with her grandmother and mother. In her class, she shares her great-grandmother's time-tested recipe and a lot of good information on how to make lefse that you'll be proud to share with your friends and family. Heidi believes that lefse is good regardless of shape. While she will show you techniques for rolling and frying a classic round lefse, she reminds students that even lefse in the shape of the state of Texas tastes good. $40

All classes are from 1 to 3 (unless otherwise noted)
and held at Norway House, 911 East Franklin Avenue, Minneapolis in the Hanson Room.

Saturday, November 10 Class filled
Sunday, November 11 Class filled
Saturday, November 17 Class filled
Sunday, November 18 Class filled
Saturday, December 1 Class filled
Sunday, December 2 Class filled

More dates coming for January!
About the teacher...
Heidi spends her winters working at Ingebretsen's and making lefse. She spends her summers farming, gravitating to the hilly regions of Minnesota.


---
Lefse Making Classes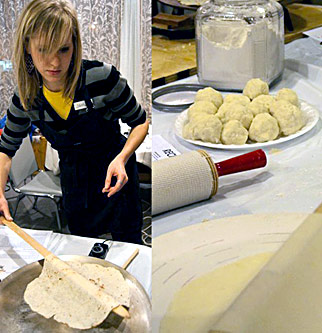 If you would like a class, Ingebretsen's offers private lessons!
Book a class at a time that is convenient for you and invite friends and family.
A two-hour class is $350 (with a value up to $400) and you can have up to 10 participants.
To learn more, please email classes@ingebretsens.com

---
---