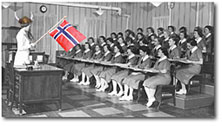 More Class Schedules... Crafts Culture Knitting Needlework

To register for a class, call our main store... 612 729 9333 and reserve your place with a credit card.
If you have questions about a class, please email classes@ingebretsens.com

Be sure to check the location of the class in which you are interested.
Unless noted, classes are at our main store, 1601 E. Lake Street, Minneapolis.
We also hold classes, especially for cooking, at Norway House, 911 E. Franklin Avenue,
and at Ingebretsen's av Stockholm, our store in Stockholm, Wisconsin.
Cancellations must be made one week in advance to receive a refund.

We look forward to seeing you!
---
---

Cooking Classes


---
---
Kransekake with Brenda Lewis
A kransekake is the commanding centerpiece dessert at Norwegian weddings, graduations, baptisms, and other major life events. Made with ground almonds and consisting of tiers of wreath-shaped layers, the cake has a rich taste and texture that is uniquely its own. Learn to make this impressive cake with Brenda Lewis. Brenda learned from long-time Ingebretsen's instructor, Lorraine Jasinski and she won a blue ribbon at the Minnesota State Fair with her kransekake! Brenda will walk you through the steps of making a kransekake in this hands-on class and give you the confidence to bake one on your own (using a Kransekake Ring Set). One two-hour class - $45
This class is held in the Hanson Room at Norway House, 913 E. Franklin Ave. Minneapolis.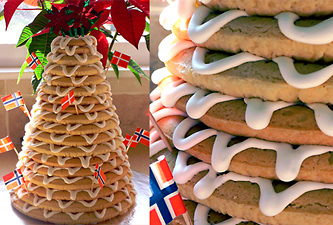 Choose one two-hour class session...
Saturday, May 18 10 to noon
Saturday, May 18 1 to 3

Would you like a DVD to help you remember what you learned in class? Click here...


---
Foraging within the City Limits – A springtime foraging event
with Sam Thayer and Maria Wesserle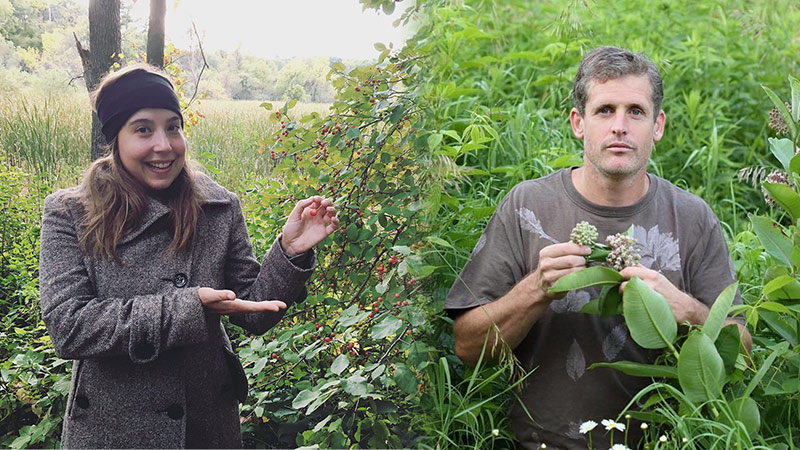 Book signing with Sam Thayer to follow!
The practice of foraging plants for edible and medicinal purposes is often associated with rural and wilderness areas, but did you know that many delicious wild edibles can be found in cities? Join Ingebretsen's, local forager Maria Wesserle, and celebrated author Sam Thayer as we walk around the neighborhood and explore what wild edibles and medicinals spring has to offer. Plants we will probably encounter include garlic mustard, burdock, cattail, nettle, dandelion, and many others! We will discuss identification, harvesting, and cooking techniques. You'll head home with a newfound appreciation for the urban environment! $55
This class will start and end at Ingebretsen's classroom, 1605 E. Lake Street. The rest of the time we will be walking, so please wear comfortable shoes, bring a water bottle and a notepad and pen. You'll be sure to take a lot of notes!
After the event, Sam will sign and sell his books.
Saturday, June 8 12:30 to 4:30
Want to know what to do with the nettles you find? Click here...


---
Krumkake with Heidi Eger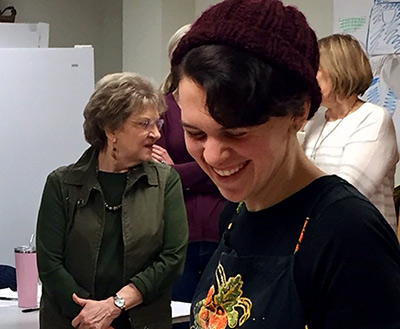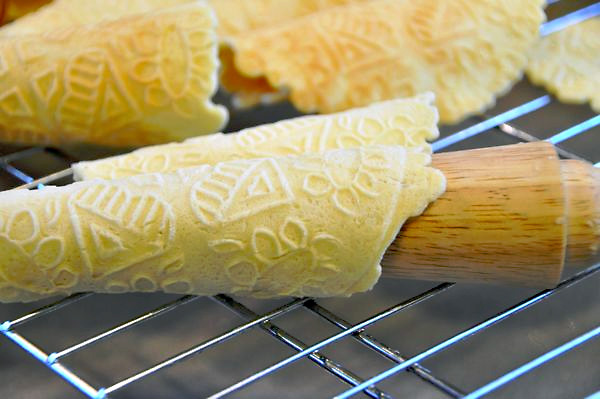 Come learn how to make the Scandinavian classic cookie, krumkake! Class instructor Heidi first made krumkake on her Great-Uncle's stove. Since then, she's tested different recipes and learned to use her iron for more than just classic krumkake. In this class, participants will mix up a batch of classic, cardamom flavored krumkake and a batch of nontraditional, spiced chocolate krumkake. We'll talk about recipe variations, different rolling techniques, and how to also use your krumkake baker to make Dutch Stroopwafels, waffle cones, sweet and savory Pizzelles, and Rommebrod. $35
This class is held in the Hanson Room at Norway House, 913 E. Franklin Ave. Minneapolis.
Saturday, October 19 10 to 12

---
Lefse with Heidi

Heidi Eger learned to make lefse with her grandmother and mother. In her class, she shares her great-grandmother's time-tested recipe and a lot of good information on how to make lefse that you'll be proud to share with your friends and family. Heidi believes that lefse is good regardless of shape. While she will show you techniques for rolling and frying a classic round lefse, she reminds students that even lefse in the shape of the state of Texas tastes good. $40
This class is held in the Hanson Room at Norway House, 913 E. Franklin Ave. Minneapolis.
Saturday, October 19 1 to 3
About the teacher:
Heidi spends her winters working at Ingebretsen's and making lefse. She spends her summers farming, gravitating to the hilly regions of Minnesota.

---
Lefse Making Classes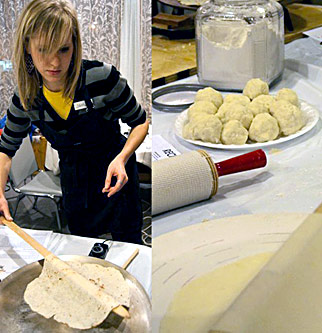 If you would like a class, Ingebretsen's offers private lessons!
Book a class at a time that is convenient for you and invite friends and family.
A two-hour class is $350 (with a value up to $400) and you can have up to 10 participants.
To learn more, please email classes@ingebretsens.com

---
---