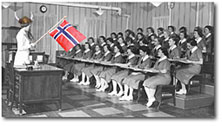 More Class Schedules... Crafts Culture Knitting Needlework

To register for a class, call our main store... 612 729 9333 and reserve your place with a credit card.
If you have questions about a class, please email classes@ingebretsens.com

Be sure to check the location of the class in which you are interested.
Unless noted, classes are at our main store, 1601 E. Lake Street, Minneapolis.
We also hold classes, especially for cooking, at Norway House, 911 E. Franklin Avenue,
and at Ingebretsen's av Stockholm, our store in Stockholm, Wisconsin.
Cancellations must be made one week in advance to receive a refund.

We look forward to seeing you!
---
---

Cooking Classes

---
---
Lefse with Heidi





Heidi Eger learned to make lefse with her grandmother and mother. In her class, she shares her great-grandmother's time-tested recipe and a lot of good information on how to make lefse that you'll be proud to share with your friends and family. Heidi believes that lefse is good regardless of shape. While she will show you techniques for rolling and frying a classic round lefse, she reminds students that even lefse in the shape of the state of Texas tastes good. $40

This class is held at Norway House, 913 East Franklin Avenue, Minneapolis in the Hanson Room.

Sunday, January 13 Class filled
Saturday, January 26 Class filled
Sunday, January 27 1 to 3
Saturday, February 9 10 to noon
Saturday, March 2 1 to 3

About the teacher...
Heidi spends her winters working at Ingebretsen's and making lefse. She spends her summers farming, gravitating to the hilly regions of Minnesota.


---
Evergreen Foraging with Maria Wesserle





Just because it's the dead of winter doesn't mean you have to stop foraging! Evergreens are easy to spot amongst the otherwise grey landscape, and they have a long history of treating coughs and colds, and supplying much-needed vitamins A and C during the winter. They have been used by Nordic cooks to brighten flavors and have caught the attention of New Nordic Cuisine chefs for new, experimental foods.
This class will focus on traditional uses as you make pine-infused vinegar, pine switchel, hot tea, juniper salt and a bit of juniper butter to spread on tasty slices of rye bread. Join Maria Wesserle, founder of Four Season Foraging to learn which evergreens to harvest and which to avoid. Together, you will go over identification of different evergreen species, and foraging etiquette. $40
This class meets at Norway House, 913 E. Franklin Avenue, Minneapolis.

Saturday, January 19 1 to 3 Class filled
Saturday, February 9 1 to 3:30

Teacher's bio:
Maria has been foraging about 15 years and loves sharing this skill with others. She has been teaching for 10 years at various organizations in the Upper Midwest including the Traditional Ways Gathering, Ashland, Wisconsin; Martha Wagbo Farm and Education Center, East Jordan, Michigan; North Country Food Alliance in Minneapolis, Minnesota; and the Young Friends of the Jordan youth program in East Jordan, Michigan. Last year she founded Four Season Foraging, and now offers monthly foraging workshops throughout the Twin Cities.


---
Kransekake

A kransekake is the commanding centerpiece dessert at Norwegian weddings, graduations, baptisms, and other major life events. Made with ground almonds and consisting of tiers of wreath-shaped layers, the cake has a rich taste and texture that is uniquely its own. Learn to make this impressive cake with Brenda Lewis. Brenda learned from long-time Ingebretsen's instructor, Lorraine Jasinski and she won a blue ribbon at the Minnesota State Fair with her kransekake! Brenda will walk you through the steps of making a kransekake in this hands-on class and give you the confidence to bake one on your own. One two-hour class - $45
This class is held in the Hanson Room at Norway House, 913 E. Franklin Ave. Minneapolis.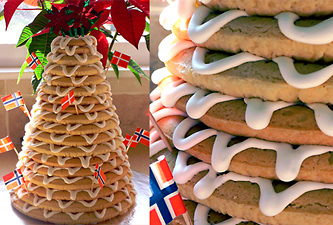 Choose one two-hour class session...
Saturday, May 18 10 to noon
Saturday, May 18 1 to 3

Would you like a DVD to help you remember what you learned in class? Click here...


---
Lefse Making Classes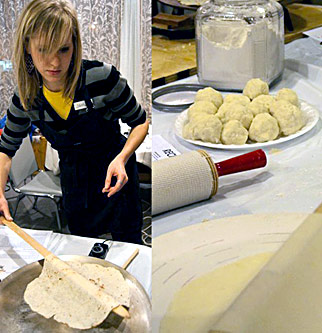 If you would like a class, Ingebretsen's offers private lessons!
Book a class at a time that is convenient for you and invite friends and family.
A two-hour class is $350 (with a value up to $400) and you can have up to 10 participants.
To learn more, please email classes@ingebretsens.com

---
---