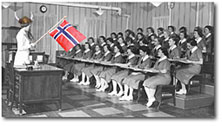 More Class Schedules... Cooking Culture Knitting Needlework

To register for a class, call our main store... 612 729 9333 and reserve your place with a credit card.
If you have questions about a class, please email classes@ingebretsens.com

Be sure to check the location of the class in which you are interested.
Unless noted, classes are at our main store, 1601 E. Lake Street, Minneapolis.
We also hold classes, especially for cooking, at Norway House, 911 E. Franklin Avenue,
and at Ingebretsen's av Stockholm, our store in Stockholm, Wisconsin.
Cancellations must be made one week in advance to receive a refund.

We look forward to seeing you!
---
---

Crafts Classes
---
---
Introduction to Spoon Carving with Erik & Michele Vevang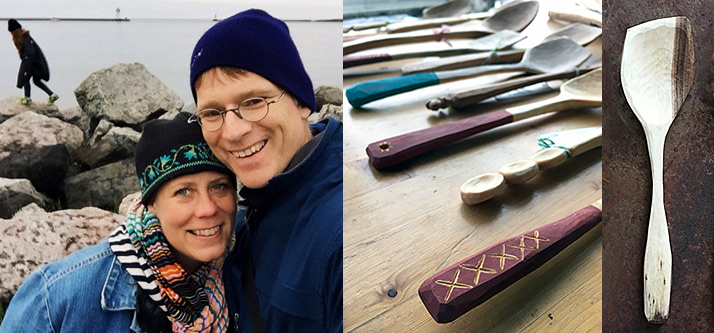 Carvers Erik and Michele Vevang will introduce you to spoon carving in a relaxed setting with all supplies, including cut-resistant gloves, provided. You will start with a wooden blank and learn how to shape it into a spoon with a variety of carving strokes and then how to finish it. The wood used in this class is locally sourced, taken from fallen branches, tree trimmings, and trees that had to be felled.
This class is ideal for first-time carvers. The Vevangs have taking all the hewing and hacking out of the process and will start you at a place where you can comfortably complete the spoon during the workshop. Carving can be calming and relaxing, and with the Vevang's guidance, an opportunity to create an object that is both functional and beautiful. One 3-hour workshop. Please wear close-toed shoes to this class. $80

Saturday, September 14 9 to 12
Saturday, November 2 9 to 12

About the teachers: Erik and Michele Vevang's woodcarving is influenced by their Scandinavian and Germanic heritage. Both have degress in art, Erik from St. Olaf and Michelle from UW-Stout. They have studied at North House Folk School and with Fred Livesay, who is also an Ingebretsen's instructor.
---
Carve a Wooden Heart with Michele Vevang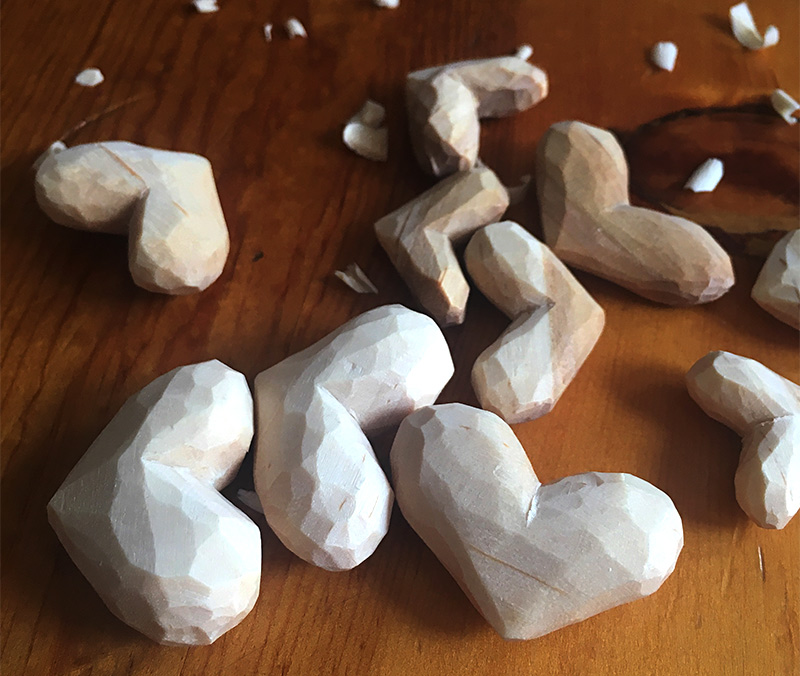 Learn to carve a small heart from a piece of fresh wood. Michele will walk you through the steps of carving a tiny heart for your pocket or to give to a loved one. A nice way to slow down and be mindful for an hour, and then be reminded of your experience every time you find your carved heart in your pocket. Class is for beginners and those who already love carving. Please wear close-toed shoes to this class. $35

Thursday, September 12 10 to 11 am
---
Craft a Silver Viking Knit Bracelet with Liz Bucheit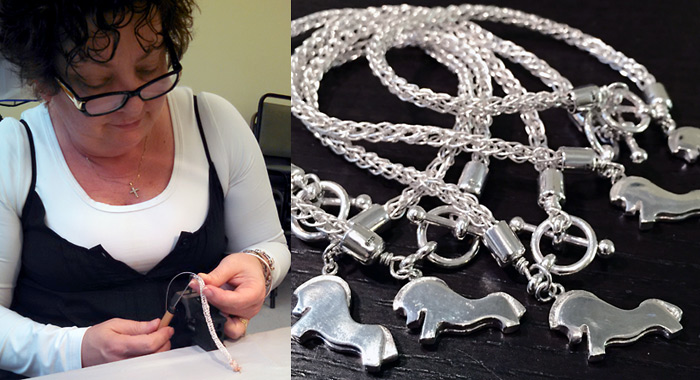 Explore the ancient tradition of chain making with jeweler and goldsmith Liz Bucheit. You'll use "Viking Knitting," a centuries-old looping technique, to create a beautiful silver bracelet with a variety of unusual clasps. You'll have the opportunity to complete a bracelet in a single day – no previous experience required. (Charm is not included, but is available for sale.) $50 with a $150 materials fee paid to the instructor. Click here for a quick video...

Saturday, September 7 10 to 4
---
Rosemaling Christmas Ornaments with Lois Mueller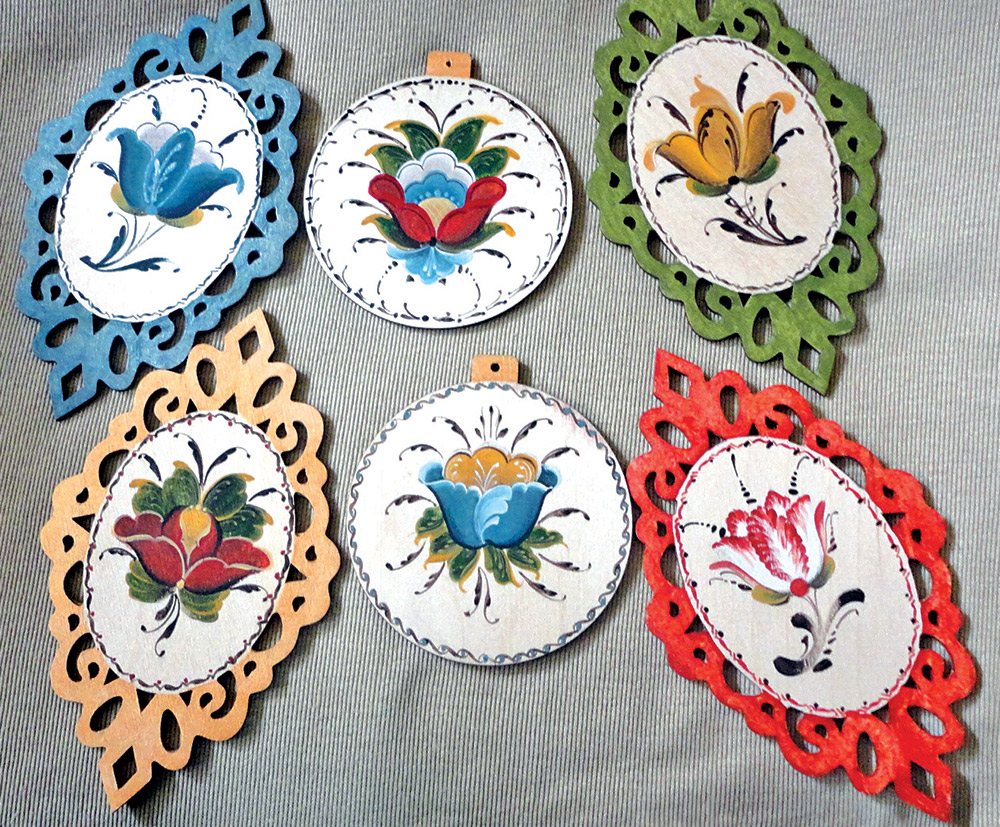 Paint Christmas ornaments just in time for your holiday decorating. You'll be painting a selection of ornaments as shown in the image above. All experience levels are welcome. We want you to come prepared for a bit of fun, a chance to meet some new people and maybe try a new technique.
You will need to purchase a kit that will include brushes, the wooden pieces, a photo and the instructions. If you already have brushes, you will not need to purchase them. Acrylic paint and mediums will be provided for your use.
Supplies needed: paper towels, a water container (styrofoam cup to begin with), a pencil, and tracing paper. If you do not have something, it can usually be found in Lois's magic suitcase that seems to have everything that you might need to use.
$60 with a $20 materials fee.
Registrations are limited to 10 people, so register early.
Tuesday, October 8 9:30 to 3:30 4 spaces remaining
Teacher bio: The class will be taught by Lois Mueller VGM (Vesterheim Gold Medalist) She has been painting since 1977 and teaching since 1979. She earned her Gold Medal for Excellence in Rosemaling from Vesterheim in 1998. Since that time, she has written 9 instruction books and is working on a 10th. She has demonstrated at Ingebretsen's in the spring and fall for several years and has extensively travel-taught in Taiwan, Canada and throughout the USA.
---
Sámi-inspired Bracelet with Liz Bucheit

Learn to make a Sámi-inspired leather bracelet, a distinctive jewelry style that developed in the Sámi's northern nomadic culture. Reindeer are important to the culture and the traditional jewelry incorporates softened reindeer leather and sculpted antler.
All levels of skill are welcome at this class. Please be sure to tell the person registering you if you are a beginner or a returning student so the instructor can prepare accordingly.
Beginners will explore the traditional jewelry techniques of triple braiding, coiled pewter wire, and sewing the finished braid to a softened reindeer hide strip. A reindeer antler button finishes off the bracelet.
Advanced students will create a wide, multi-braided bracelet with a variety of braids and coils.
The class fee is $50 and payable to Ingebretsen's. The materials fee is $125 and is payable to the instructor.
Saturday, November 16 10 to 5 Class Filled
To learn more about the instuctor, Liz Bucheit, and about the class, please read our blog post.
---
Viking Posament Bracelet with Liz Bucheit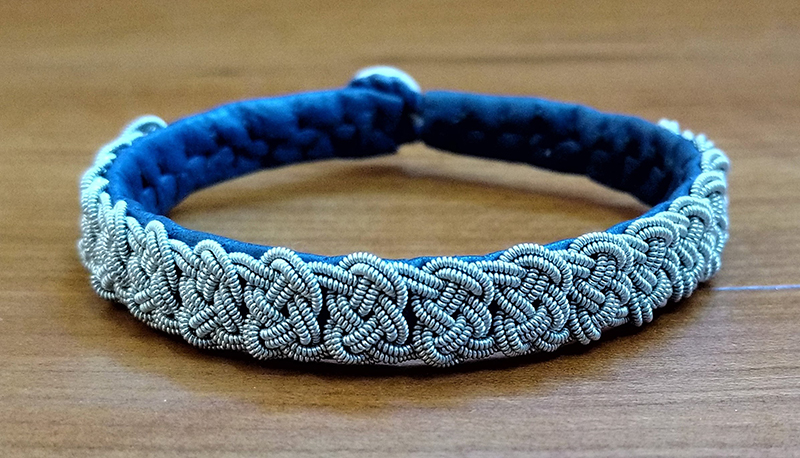 Some of the most fascinating objects demonstrating medieval man's craftsmanship have come from Viking burials of the 9th and 10th centuries in Sweden. The term "posament" refers to a method of knotting and braiding wire into ornaments used to decorate textiles. In this class students will practice the art of posament using nylon cords to perfect either a "Josephine" or triangular series of braided knots. We will construct a length of knots using pewter coiled thread (96% tin + 4% silver) and sew the finished braid to a softened leather strip to create a bracelet. A pewter button finishes off the bracelet.
$65 with a $95 materials fee paid directly to the instructor on the day of class.
Friday, January 24 3 to 5 & Saturday, January 25 10 to 5
To learn more about the instuctor, Liz Bucheit, and about the class, please read our blog post.
---
---