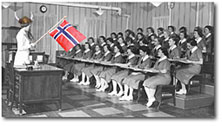 More Class Schedules... Cooking Knitting Needlework

To register for a class, call our main store... 612 729 9333 and reserve your place with a credit card.
If you have questions about a class, please email classes@ingebretsens.com

Be sure to check the location of the class in which you are interested.
Unless noted, classes are at our main store, 1601 E. Lake Street, Minneapolis.
We also hold classes, especially for cooking, at Norway House, 911 E. Franklin Avenue,
and at Ingebretsen's av Stockholm, our store in Stockholm, Wisconsin.
Cancellations must be made one week in advance to receive a refund.

We look forward to seeing you!
---
---

Crafts Classes
---
---
Spoon Carving with Erik & Michele Vevang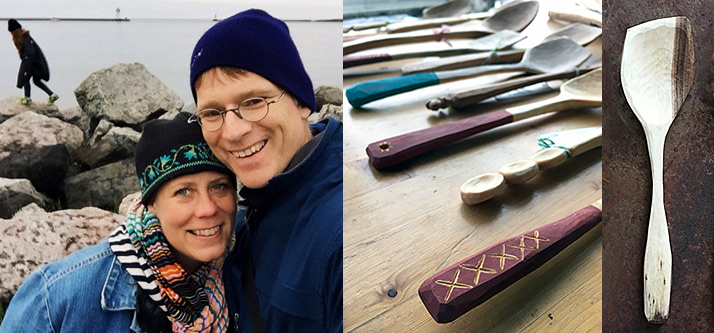 Carvers Erik and Michele Vevang will introduce you to spoon carving in a relaxed setting with all supplies, including cut-resistant gloves, provided. You will start with a wooden blank and learn how to shape it into a spoon with a variety of carving strokes and then how to finish it. The wood used in this class is locally sourced, taken from fallen branches, tree trimmings, and trees that had to be felled.
This class is ideal for first-time carvers. The Vevangs have taken all the hewing and hacking out of the process and will start you at a place where you can comfortably complete the spoon during the workshop. Carving can be calming and relaxing, and with the Vevang's guidance, an opportunity to create an object that is both functional and beautiful. One 3-hour workshop $80
Saturday, January 11 1:30 to 4:30
Friday, February 28 1 to 4
Saturday, March 14 9 to 12
Saturday, April 11 9 to 12
About the teachers: Erik and Michele Vevang's woodcarving is influenced by their Scandinavian and Germanic heritage. Both have degress in art, Erik from St. Olaf and Michele from UW-Stout. They have studied at North House Folk School and with Fred Livesay, who is also an Ingebretsen's instructor.
---
*Luffarslöjd: Scandinavian Wirework with Faith Clover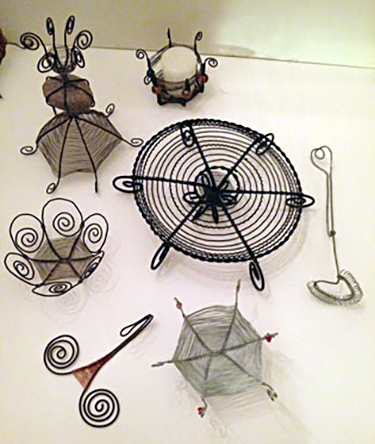 *This class is offered as part of Ingebretsen's collaboration with the Milan Village Arts School. We are pleased to be able to offer the opportunity to learn some lesser-known crafts, such as luffarslojd.
This old craft is part of the tradition of making beautiful and useful objects for everyday use using one's hands and simple tools. Farmers used wires to mend fences and make basic tools around the farm. Leftover bits of wire were used to make household items like whisks, cake tickles, trivets, or egg holders. More decorative items like candleholders, baskets, and hanging birds and other decorations were also commonly made. The design of wire items is really limited only by one's imagination. MVAS members $75/Non-members $90 To register, Click Here

Class will take place at Ingebretsen's - 1605 E Lake St
*Saturday, January 18 9 to 5 - Class is being rescheduled due to weather, please check back for the new date*
Deadline for registration: January 4
About the instructor: Born in Minnesota, Faith is the granddaughter of Swedish immigrants. She taught art education at the University of Minnesota and is a student of all things Swedish. She has taken groups of students to study crafts at Sätergläntan in Sweden. She hopes to interest others in this relatively unknown craft.
---
Viking Posament Bracelet with Liz Bucheit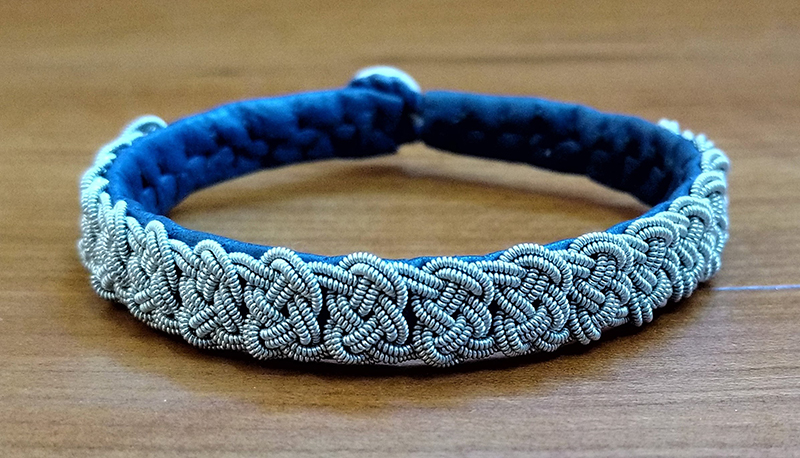 Some of the most fascinating objects demonstrating medieval man's craftsmanship have come from Viking burials of the 9th and 10th centuries in Sweden. The term "posament" refers to a method of knotting and braiding wire into ornaments used to decorate textiles. In this class students will practice the art of posament using nylon cords to perfect either a "Josephine" or triangular series of braided knots. We will construct a length of knots using pewter coiled thread (96% tin + 4% silver) and sew the finished braid to a softened leather strip to create a bracelet. A pewter button finishes off the bracelet.
$65 with a $95 materials fee paid directly to the instructor on the day of class.
Friday, January 24 3 to 5 & Saturday, January 25 10 to 5 Class Filled
To learn more about the instuctor, Liz Bucheit, and about the class, please read our blog post.
---
Carve a Wooden Heart with Michele Vevang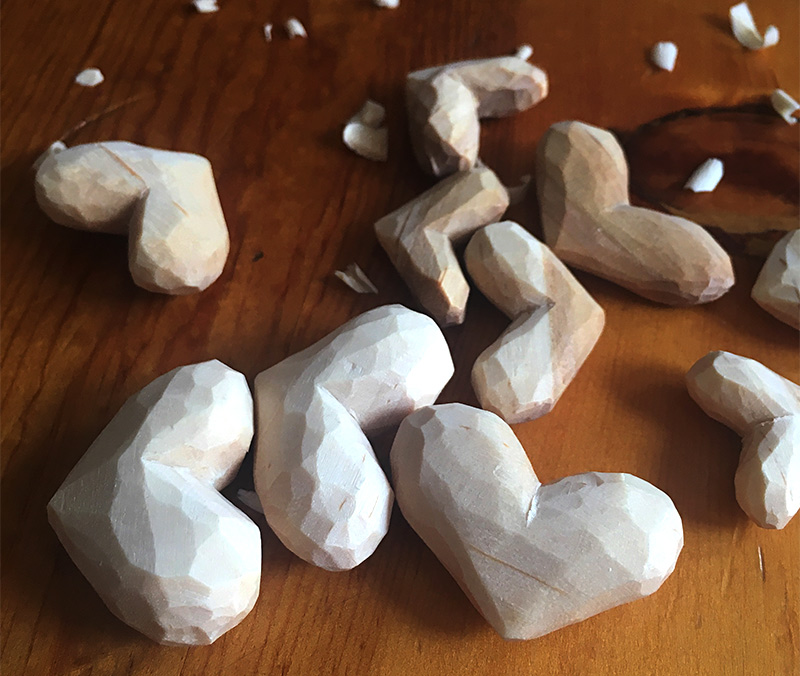 Learn to carve a small heart from a piece of fresh wood. Michele will walk you through the steps of carving a tiny heart for your pocket or to give to a loved one. A nice way to slow down and be mindful for an hour, and then be reminded of your experience every time you find your carved heart in your pocket. Class is for beginners and those who already love carving. $35
Thursday, February 13 10 to 11:30
---
Tool Sharpening: Feeling Dull? Learn to Keep your Edge with Fred Livesay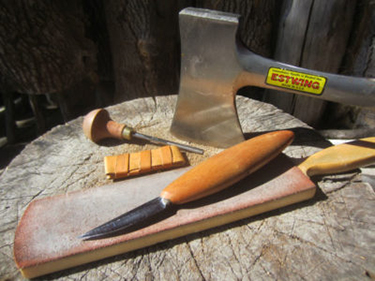 This class is offered as part of our collaboration with Milan Village Arts School in Milan, Minnesota. The class is held at Ingebretsen's, 1605 E. Lake Street, Minneapolis. Please register with Milan Village Arts School. The link is below.
Are you tired of dull inefficient tools? Sharpening is not magic and you can learn to create, keep and hold an edge. Bring your kitchen knives, pruners, plane and even mower blades and and make them bright again. During this one-day class, we will discuss edge geometry, sharpening stone types, technique and edge triage and how to deal with it. Lots of hands on experience and demonstrations will provide clear direction towards keen edges. Open to sharp-minded of all skill levels, including beginners.
Saturday, March 28 9 to 4
Deadline for registration: March 21
Tuition: member $65 non-member $80 A $5 materials fee will be paid directly to the instructor.
Supplies: All tools and supplies will be provided. To register, Click Here.
---
---