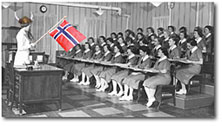 More Class Schedules... Cooking Crafts Culture Needlework
Call or email to register and for more information... 612 729 9333 classes@ingebretsens.com
Reserve your place in a class with a credit card, check, or cash.
Cancellations must be made one week in advance of the class to receive a refund.
---

Knitting Classes
---
---
Latvian Wristers with Diane Thomsen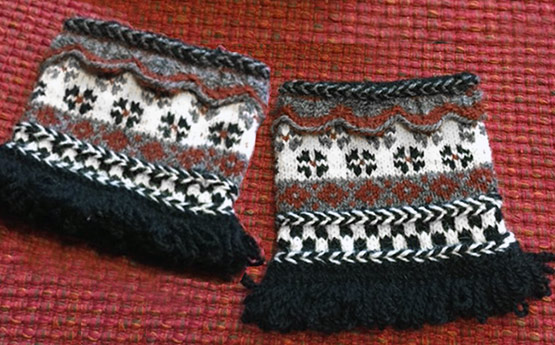 Latvia is known for its colorful and intricate mitten patterns. This class will teach you the techniques involved in knitting these beautiful mittens. You will learn scalloped edges, Latvian braid, 2-color knitting, and fringe while knitting a wrister or a charm bag. You should be comfortable knitting in the round. Bring a basic set of knitting tools, an assortment of knitting needles suitable for working in the round in a fine gauge(size 0-2) and at least 2 contrasting colors of yarn such as Finullgarn plus small amounts of similar yarn in different colors from your stash. $50
Saturday, October 7 10 to 4

This class is held at Norway House, 913 E. Franklin Avenue, Minneapolis.
---
Intro to Tvåändstickning (Swedish Twined Knitting) with Wendy Johnson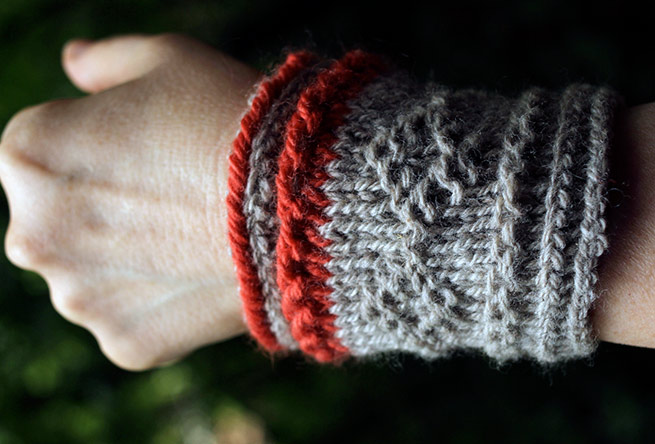 In this traditional knitting technique from Sweden (primarily from the Dalarna province), you work from both ends of a ball of yarn to create a sturdy knit fabric. The class will learn how to knit the unique twined stitch patterns and work with one or two colors of yarn while knitting a small (approx. 4 x 4 inch) notions bag or optional wristlets. $35

Skill Prerequisite: Experience with knitting and purling in the round is beneficial. The project may not be finished during the class but the student will have all the skills needed to finish it at home. Materials: One skein Dale Falk Superwash #3841 and one skein of #3827. Set of 4 double-pointed needles. 1 session class for 3 hours.
Saturday, October 14 9:30 to 12:30
---
Norwegian Mittens with Kate Running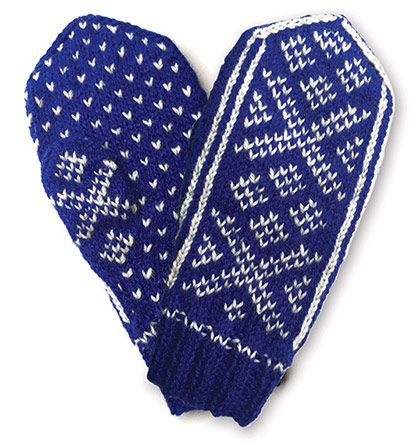 For this class, you will be provided with a new mitten pattern based on the iconic Marius motif. You'll learn some tips and tricks for stranded knitting in the round, creating a thumb gusset, and finishing techniques. By the end of class you will have completed one mitten, and you should feel comfortable taking on mittens on your own.

Students should have a basic understanding of two-color stranded knitting.
Bring size 3 needles (or one size smaller or larger to obtain gauge). Kate will show you how to work with two circular needles, magic loop (one long circular needle) or double pointed. The mittens are knit with 100% wool Rauma Strikkegarn in two contrasting colors.
Two 2-hour sessions. $40
Saturdays, October 14 and 21 1-3 pm
---
Child's Dubbelmossa Hat with Diane Thomsen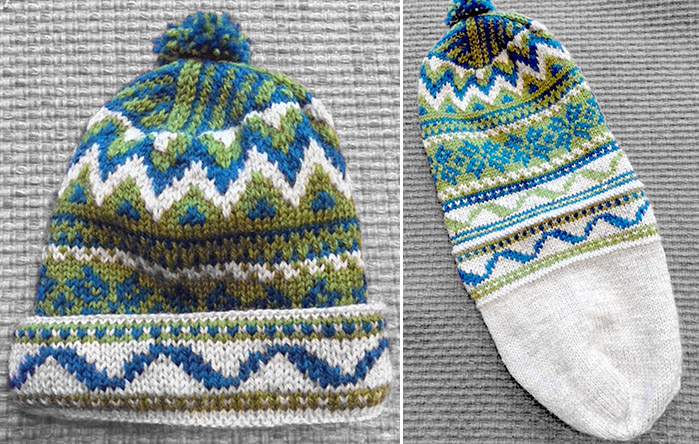 Dubbelmossa, a traditional Swedish stocking hat, has a double layer in the body and a quadruple layer around the ears for added warmth. You will learn how to read a chart and multi-color knit while knitting a child-size hat. Students should be comfortable knitting in the round. Students should bring a basic set of knitting tools, an assortment of knitting needles suitable for working in the round on sport weight yarn and 2 contrasting colors of sport weight yarn. $50
Saturday, November 4 9:30 to 5
---
Individualized Knitting Instruction


Have a knitting question or want to master a new technique? Need someone to give you the courage and some pointers as you cut your first steek? Individualized knitting instruction is available. Call the store or email classes@ingebretsens.com and tell us what you need to learn. We'll arrange the knitting teacher and you will set the time. $15 an hour.
---
Open Knitting
Knit two (or six or ten) together. Come relax, knit, chat, and see what other knitters are working on.
It's free, and everyone is welcome! Join us for open knitting on
Mondays from 1 to 3 and Fridays from 3 to 5.

---
---