---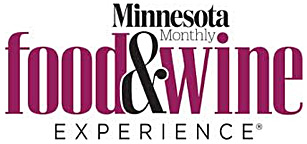 ...OUR RECIPES FEATURED AT THE 2015 SHOW!
---
These are not your grandparents' meatballs and pickled herring!
Those of us in the Midwest who were raised with Scandinavian food traditions too often suffer from the mistaken belief that Nordic food is white and bland. Take a whirl around current food trends and you'll soon see that evolving Nordic foods are anything but boring. Travel, wealth, immigration, health, and sustainability (as well as a good dose of wit and whimsy)
are changing the way all of us think about food.
Our Food and Wine Experience recipes pair traditional Scandinavian ingredients with Asian-inspired flavors.
With great thanks to creative & talented cook Patrice Johnson!

For more info on our Butcher Shop and shipping specialty items, click here…

---
---
Swedish Meatballs with Quick-Pickled Slaw Print Recipe
Ingebretsen's famous meatballs served with banh mi inspired slaw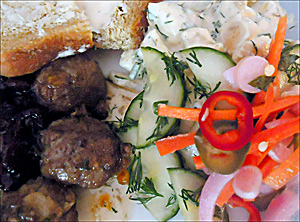 Makes 50 small meatballs
For the meatballs:
1 ½ pounds Ingebretsen's meatball mix
1 tablespoon fresh grated ginger
¼ teaspoon nutmeg
Zest of 1 orange
Combine meat mixture with ginger, nutmeg, and orange zest. Keep your hands wet with water to avoid mixture sticking to them, and shape tiny meatballs (use a heaping tablespoon to measure each ball). Place meatballs in buttered cake pans or parchment-line baking sheets with high sides.
Bake in preheated 375 degree oven. Flip balls after 10 minutes; continue cooking until internal temperature reads 160 degrees; about 25 minutes total cooking time.
Serve hot with quick-pickled slaw and spicy mayo.
For the quick-pickled slaw:
1 cup distilled white vinegar
1 cup water
½ cup sugar
1 thumb-sized piece of ginger, roughly chopped
Grated zest from 1 lemon or lime zest)
2 teaspoons sesame oil
2 cups assorted vegetables, cut into matchstick-sized pieces or sliced very thin
(cabbage, daikon, carrot, cucumber, red pepper, onion)
¼ cup cilantro, chopped
1 to 2 jalapenos, sliced thin
Add vinegar, water, sugar, and ginger to a saucepan over high heat and bring to boil.
Remove from heat, add zest, and steep for about 30 minutes. Strain solids from liquid and pour over about vegetables that are cut into matchstick-sized pieces. Chill.
Add cilantro and jalapeno before serving.
For the spicy mayo: Combine 1 part mayonnaise with 1 part sambal oelek chili paste.
---
---
Tempura-Fried Pickled Herring with Lingonberry Hot Sauce Print Recipe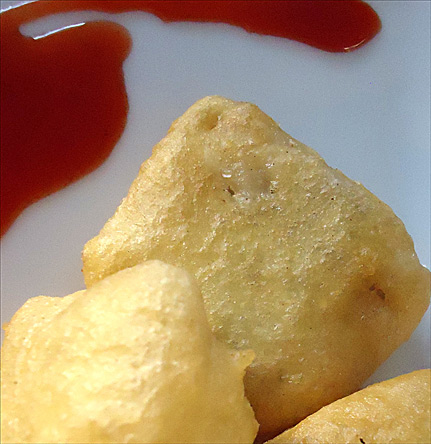 Delicious with Ingebretsen's famous Pickled Herring
Serves 4 to 6
1 ½ cups all-purpose flour + ¾ cup flour for dusting
1 tablespoon baking powder
1 cup soda
2 eggs, beaten
2 tablespoons dill flavored aquavit (such as Gamle Ode), optional
1 pound Ingebretsen's Pickled Herring
One quart peanut or vegetable oil
Whisk together the 1 ½ cups flour and baking powder in a deep bowl. Gently stir in soda, eggs, and aquavit until
loose batter forms (do not over mix; batter should be lumpy). Refrigerate or put bowl over ice until ready to use.
Rinse herring pieces well in cold water, remove onions and other pickling bits, and pat dry with paper towels.
Pour remaining ¾ cup flour into a separate shallow dish and dredge herring in the flour.
Dip the herring pieces into the batter so that they are well coated.
Bring peanut oil to 350 degrees over medium heat in a heavy-bottomed pot and deep-fry the herring, about 8 at a time, for about 1 to 2 minutes. Use a metal slotted spoon or spider to remove the herring from the oil and place on a paper towel-lined plate; salt.
Serve with lingonberry hot sauce.
For the hot sauce: Combine 1 part hot sauce to 1 part lingonberry syrup.
Serving suggestion: serve with savory rye-dill waffles
---
---
Nordic Cool Smörgås Print Recipe

Open-faced sandwich with Denny's Danish Pumpernickel bread spread with orange-dill cream cheese butter,
topped with orange-pickled cucumber salad and a garnish of Ingebretsen's Home-Smoked Bacon and pecans

Denny's Danish Pumpernickel Bread (available at Ingebretsen's) or similar rye bread, sliced thin
Cream Cheese Butter Spread:
3 ounces cream cheese, softened
¼ cup butter, softened
Zest from half an orange
1 tablespoon minced dill
Stir together all ingredients.
Orange-Pickled Cucumber Salad:
½ cup sugar
½ cup distilled white vinegar
½ teaspoon salt
2 teaspoons dried dill
1 cup ice
Zest and juice reserved from orange that has been sectioned
1 large cucumber, sliced thin
1 orange, sectioned and membranes removed
In medium saucepan bring sugar, vinegar, and salt to boil; simmer until sugar dissolves.
Add dill and simmer 5 minutes. Stir in ice, orange zest and juice, and cucumber.
Chill until ready to use. Add orange slices just before serving.
Assemble sandwiches:
Spread bread slices with Cream Cheese Butter and layer Orange-Pickled Cucumber Salad over spread.
Garnish with bacon and pecans.
---
---
Yellow Pea Coconut Curry Print Recipe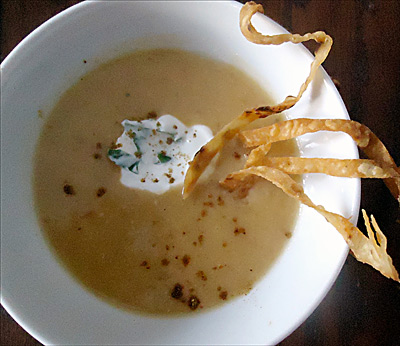 Ärtsoppa (Swedish yellow pea soup) flavored with Thai curry and coconut milk, garnished with lefse crisps
and cilantro lime yogurt
Yellow Peas, Lingonberry Preserves and, of course, Lefse are all available at Ingebretsen's
Serves 6 to 8
2 tablespoon vegetable oil
1 red onion, chopped (about ¾ cup)
3 cloves garlic, smashed
2 tablespoons fresh ginger, grated
2 to 3 tablespoons prepared Thai red curry paste
1 teaspoon each salt and pepper
3 carrots, chopped
1 large Russet or Yukon potato, chopped
16 ounces yellow peas (if using whole peas, soak in cold water overnight and drain before using)
8 cups low-sodium chicken or vegetable broth
15 ounce can coconut milk
Juice from half an orange
Add oil to large stockpot on medium-high heat; add onions and sauté until translucent, about 5 minutes.
Stir in garlic, ginger, and curry paste and cook an additional 30 seconds to a minute.
Add salt, pepper, carrots, potato, peas, and broth. Increase heat if necessary to bring soup to a simmer;
cover and cook until peas are tender; about 45 to 60 minutes for split peas, 90 minutes for whole.
Check soup occasionally and stir, adding a few cups of water if soup becomes too thick.
Use an immersion blender or food processor to puree soup. Return to heat and add coconut milk and orange juice.
Heat thoroughly. Garnish with cilantro-lime yogurt, lingonberry preserves, and crisped lefse strips.
Serve with hot sauce on the side.
For garnish:
8 ounces unflavored Greek yogurt
2 tablespoons minced cilantro plus more for topping
Zest from half a lime plus 1 tablespoon lime juice
Pinch of cumin
Lefse crisps
1 to 2 jalapenos, sliced thin
Lingonberry preserves

Whisk together yogurt, cilantro, lime zest and juice, and cumin.
To crisp lefse: cut lefse into thin strips. Deep fry in vegetable oil (at 350 degrees) for 1 minute.
(Alternatively: coat with non-stick spray and bake in 350 degree oven for about 10 minutes, turning once.)
---
---
For more tried & true Scandinavian flavored recipes, click here...
For more info on our Butcher Shop and shipping specialty items, click here…

---
---