---
---
Scandinavian Flavored Recipes For archived recipes, click here...
---
---
A Strawberry Cake for Midsummer's Eve Print Recipe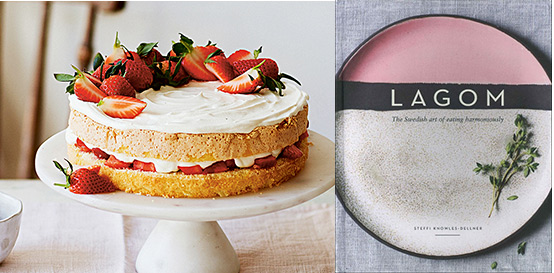 With permission from Lagom: The Swedish Art of Eating Harmoniously by Steffi Knowles-Dellner. Photo by Yuki Sugiura.

This is a classic Swedish cake that is made up and down the country through the summer months, in particular for Midsummer's Eve. It also happens to be the cake that I have every year for my birthday in July. It consists of a sponge made without added fat, which I think makes it a lot more straightforward – there is no risk of splitting the creamed sugar and butter when the eggs are added. Instead the eggs and sugar are whisked until custard-coloured and airy before adding the dry ingredients. The result is an extra-light, fluffy sponge which soaks up any strawberry juices really well or, in this case, a minty syrup.

Serves 8

Cake
Butter, for greasing
4 large eggs
1 cup superfine sugar
1 tsp vanilla extract or ½ tsp vanilla powder or paste
¾ cup all-purpose flour
Scant ½ cup cornstarch or potato flour
1 tsp baking powder

Syrup
Scant ½ cup superfine sugar
1 lemon, zest and juice
1 bunch of mint, roughly chopped

Filling & Decoration
4 cups strawberries
2 tbs superfine sugar
1 cup double heavy or whipping cream
Dash of vanilla extract, powder or paste
1 small bunch of mint, leaves picked (optional)

Preheat the oven to 350ºF and move a shelf to the bottom. Grease and line 9 inch round, loose-bottom cake tin. To make the cake, in a large bowl, whisk the eggs and sugar until pale and creamy. Add the vanilla.

Mix the flours and baking powder in a small bowl, then fold into the egg mixture, carefully incorporating all the ingredients. Pour into the prepared tin and bake on the bottom shelf for 30 minutes, until risen, golden and a cake tester comes out clean. Cool a little before releasing from the tin, then move to a wire rack to cool completely.

Make the syrup by combining the sugar, lemon juice, zest, mint and a scant 1 cup water in a small saucepan. Heat gently until the sugar has dissolved, then bring to a simmer for about 5 minutes. Cool completely, strain and set aside.

For the filling and decoration, hull half the strawberries and chop. Place in a bowl with the sugar and mash together with a fork to form a rough fresh jam. Halve the remaining strawberries, keeping their stalks on. Whip the cream quite loosely – take care not to overwhip! Stir through the vanilla.

Split the cooled cake in half through the middle. I like to trace the outline with a knife, all the way around the side, then use a long piece of strong thread to cut through the cake.

To assemble, drizzle the bottom layer of cake with half the syrup. Spread with the strawberry jam and half the whipped cream. Top with the remaining cake layer and drizzle this with more syrup. Decorate with the last of the cream, the halved strawberries and mint sprigs, if desired.

From Lagom: The Swedish Art of Eating Harmoniously by Steffi Knowles-Dellner.
---
Vetebullar (Cardamom & Cinnamon Buns) Print Recipe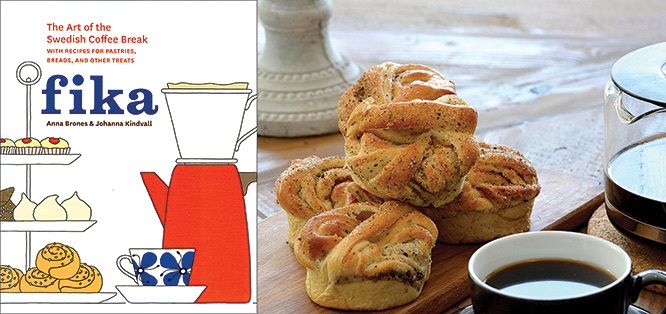 From Fika - The Art of the Swedish Coffee Break by Anna Brones & Johanna Kindvall

Bullar (buns) are perhaps the quintessential component to a Swedish coffee break, and vete in Swedish means "wheat." Vetebullar is therefore the general term for wheat-based dough that can be turned into any number of bun creations. Kanelbullar (cinnamon buns) and kardemummabullar (cardamom buns) are common variations on this type of bun, and while the traditional "roll" form is common, there are twisted varieties as well. Typically they are baked and served in paper liners. Kanelbullar are such an iconic pastry that an entire day in Sweden is devoted to them (October 4, for those considering celebrating). This recipe has both filling varieties, and once you've mastered the dough, you can start experimenting with your own fillings. If a Swede knows one thing, it's this: no matter what the variation, bullar are always best fresh out of the oven, and make for a wonderful smelling kitchen!

Makes 30 to 36 buns, or 2 lengths

Dough
7 tablespoons (3.5 ounces, 99 grams) unsalted butter
1½ cups (360 milliliters) milk 2
teaspoons active dry yeast
4½ cups (1⅜ pounds, 638 grams) all purpose flour
¼ cup (1.75 ounces, 50 grams) natural cane sugar 1
½ teaspoons whole cardamom seeds, crushed
¼ teaspoon salt

Filling
7 tablespoons (3.5 ounces, 99 grams) unsalted butter, room temperature
½ cup (3.5 ounces, 99 grams) natural cane sugar
3 to 4 teaspoons ground cinnamon or whole cardamom seeds, crushed
2 additional teaspoons crushed cardamom seeds, if making filling using cinnamon

Topping
1 egg, beaten
Pearl sugar or chopped almonds

To prepare the dough, melt the butter in a saucepan; then stir in the milk. Heat until warm to the touch (about 110°F/43°C). In a small bowl, dissolve the yeast in 2 to 3 tablespoons of the warm mixture. Stir and let sit for a few minutes until bubbles form on top of the yeast.

In a large bowl, mix together the flour, sugar, cardamom, and salt. Add the yeast mixture along with the remaining butter and milk. Work together with your hands until you can make the dough into a ball. Transfer the dough to a flat surface and knead it until smooth and elastic, 3 to 5 minutes. The dough should feel moist, but if it sticks to your fingers add a tiny bit of flour. The dough is fully kneaded when you slice into it with a sharp knife and see small air bubbles throughout. Return the dough to the bowl, cover with a clean tea towel, and place in a draft free place to rise until doubled in size, about 1 hour.

Grease a baking sheet, or place medium paper liners directly on the sheet.

Make the filling right before the dough has finished rising. Using a fork, cream the butter together with the sugar and the spices until you get an evenly mixed, spreadable paste. When the dough has finished rising, take half of the dough and place it on a flat surface. Roll it out with a rolling pin to an 11 by 17 inch (28 by 43 centimeter) rectangle. Place the rectangle on the surface so that the long side is closest to you. Carefully spread half of the filling on top of the rolled out dough so that it covers the entire area; be sure to go all the way to the edges. Begin at the long side near you and roll the dough upward (see diagram). Slice the roll into 15 to 18 equally sized slices and place them, rolled side up, on the baking sheet or in the paper liners. If using a baking sheet, pinch the ends of the slices to keep them from pulling away during baking. Repeat with the second half of the dough. Cover the buns with a clean tea towel and let rise for 45 minutes.

Preheat the oven to 435°F (225°C)

When the buns have risen, carefully brush them with the beaten egg and sprinkle each with the pearl sugar. Bake for 8 to 10 minutes.
If you are baking a length, bake for an additional 10 minutes. Remove from the oven, transfer the buns from the baking sheet to the counter, and cover with a tea towel to cool. Serve freshly baked, and if not eaten right away, store in the freezer once they are completely cooled.

Variations
Instead of rolling the dough to make the classic bun shape, you can also make twists, a common formation when making cardamom buns, as well as baking a length and cutting a design into the dough.

From Fika - The Art of the Swedish Coffee Break by Anna Brones & Johanna Kindvall. Reprinted with permission from Fika, by Anna Brones and Johanna Kindvall, copyright © 2015, published by Ten Speed Press, an imprint of Penguin Random House LLC. Cardamom Buns photo by Annican Larsson.


---
Swedish Mazarin Pastries Print Recipe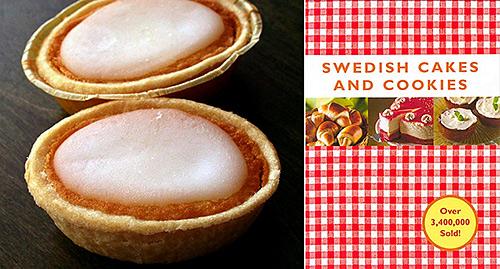 Mazarin is a classic Swedish pastry, well known in neighboring countries, as well in lots of variations... Mazarin tarts, cakes or pastries. These tasty treats are said to have been named after the French-Italian cardinal and diplomat Jules Mazarin (1602 - 1661), successor of the powerful Cardinal Richelieu. This recipe was a prize winner in 1965. There are two suggested fillings – the one using almond paste is quicker to prepare.
The recipe is in one of our favorite classic cookbooks Swedish Cakes and Cookies and reprinted with permission by Skyhorse Publishing, Inc.

Makes 18 pastries.
Oven temp: 400ºF Convection: 350ºF

Pastry Shells
1 1/4 cups all-purpose flour
1/2 teaspoon baking powder
3 tablespoons sugar
7 tablespoons cold stick margarine or butter
1/2 egg

Filling 1:
5 tablespoons stick margarine or butter
3 eggs
2/3 cup sugar
1/3 cups ground almonds

Filling 2:
3 tablespoons stick margarine or butter, softened
5 ounces almond paste
2 eggs
3 tablespoons all-purpose flour
1/2 teaspoon baking powder

Combine the dry ingredients. Dice the butter and cut it into the flour mixture. Add the egg, mixing well. Wrap in plastic and refrigerate for several hours.

Filling 1: Melt the butter and let it cool. Beat the eggs and sugar until light yellow and very thick. Stir in the almonds and melted butter.

Filling 2: Beat the butter until fluffy. Grate the almond paste and add. Beat in the eggs, one at a time, beating well after each. Stir in the flour and baking powder.

Grease individual oval tins. Press or roll out the dough and line the tins. Spoon one of the fillings into the pastry shells. Bake in the bottom half of the oven for around 15 minutes. Let cool for a few minutes, then remove from the pans.

Garnish: Beat the sugar and water until smooth. Brush on or sift powdered sugar over tops.

Note: It takes a while to make them and be careful to follow the recipe. To add some different flavors to the Mazarins, add a click of apple sauce, or Scandiavian preserves in the bottom or a little flaked almond on top. Important. If almond paste does not taste much almond, then add some almond extract for extra flavor.


---
Krokaner! Print Recipe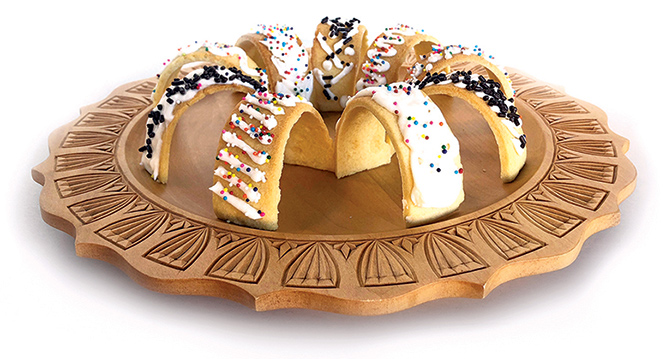 The mysterious cookie with many names: Kro Kaner, krokta, bridge cookies, spån, sponer, saddle cookies, wafer cookies, rock-a-bye's, Santa Lucia cookies, bracelet cookies, or even horse collar cookies. Whatever you like to call them, they are a delight to make and eat! These Swedish / Scandinavian / Danish sugar cookies are baked on Krokaner Tins that look like upside down french bread forms. Some people arrange them on a plate to make a Santa Lucia "crown".

Click here to read Heidi's Krokaner Blog Post…


1/2 c. white sugar
1/4lb. (one stick) Butter
1 egg yolk, slightly beaten
1/4 c. cream
2 c. flour
1/2 tsp. baking powder
pinch Salt1/4 tsp.
Vanilla
Cream butter and sugar together. Add the other ingredients in order given. Mix with hands.
Roll thin to about 1/8".
Cut in length desired (6" x 1") and put on rounded non-greased Krokaner Tins (do so while pan is cool).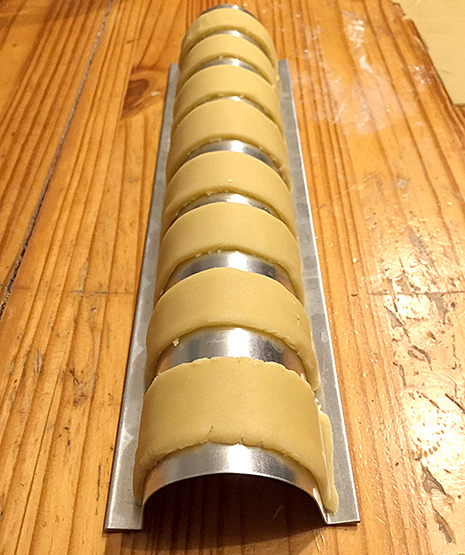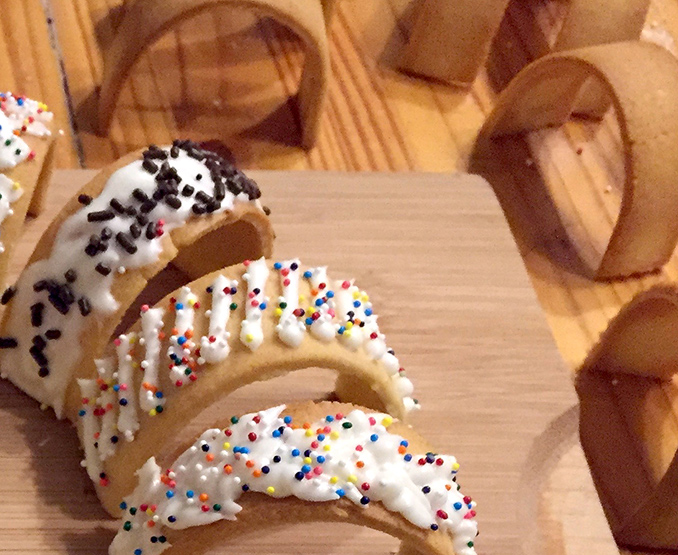 Bake 375 degrees, 6-8 min. until just golden. Remove cookies when cool, frost as desired.
Makes approximately 2 dozen cookies.


---
Lynn's Æbleskiver - Thanks Lynn! Print Recipe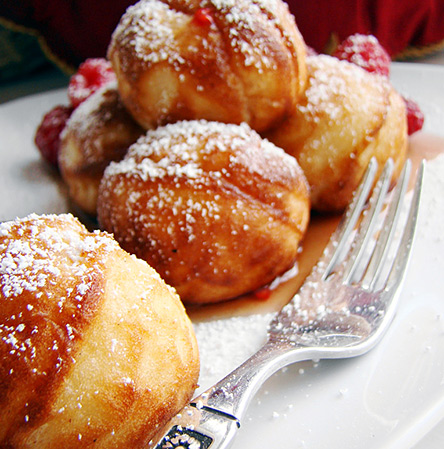 Æbleskiver (pronounced ah-bel-skee-ver), are traditional Danish Pancake Balls. Similar to European pancakes crossed with a popover or Yorkshire pudding, Æbleskiver are solid like a pancake but light and fluffy like a popover. These delicious balls are usually filled with berry preserves, but are amazing with small savory fillings too.
Cooked in an Æbleskiver Pan, they easily can become a tradition in any home.
Makes about 16 balls

Beat
3 egg yolks lightly (save whites for later)

Add
1/2 tsp salt
2 tbsp sugar
3 tsp melted shortening
1 tsp ground cardamom
1 tsp grated lemon
Mix well.
Sift together
2 cups flour
1 tsp baking powder
1 tsp soda

Add dry ingredients to egg mixture alternately with
2 cups buttermilk (or whole milk)

Beat
3 egg whites until stiff, and fold in well (until white streaks are gone).
Fry in Æbleskiver Pan, putting 2 tablespoons of batter into each cup. (First, put dot of shortening in each cup of the heated pan).

Begin turning once you see bubbles appearing with fork* - a quarter turn over,
and then again and again until it forms a round shape and becomes cooked and golden brown on all sides.

Try filling with fresh fruit or a variety of Scandinavian Preserves,
or try a modern savory twist with suggestions form Kevin Krafts wonderful cookbook Ebelskivers.
Add a dollop of filling in center of batter in cup and then begin turning as soon as a crust begins to form.

*A knitting needle or chop stick also work great for turning.

TOP
---
Labskovs Print Recipe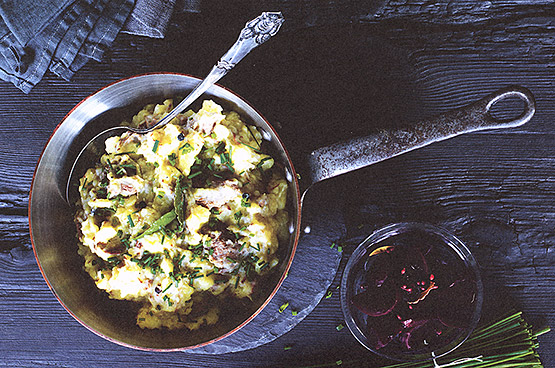 Here is a classic Scandinavian comfort food dish: a mash cooked with meat and wonderful flavors, typically accompanied by chives and pickled beets. This recipe is 100 years old. After the second World War, it became popular in Copenhagen restaurants, especially at Tivoli Gardens. Make plenty... it's even better tasting the second day!

This satisfying recipe is from Scandinavian Comfort Food – Embracing the Art of Hygge by Trine Hanneman.
Pickled beetroot and rye bread recipes are also in this excellent cookbook...
or available (ready to eat) at Ingebretsen's.
Serves 6
Ingredients
2 lb chuck steak
3 Tbs butter
5 cups water
1 cup onion, chopped
6 bay leaves
6 thyme sprigs (¾ Tsp dried)
4 cloves
1 Tbs peppercorns, lightly crushed
1 Tbs coarse sea salt
5 ½ lb floury potatoes (Russets are good)
To Serve
6 Tbs chopped chives
Pickled beets
Rye bread
Cut the steak into ¾ inch cubes. Heat 1 tbs butter in a large saucepan, add the steak and brown lightly, then add the water and bring gradually to boil. Skim off any froth from the surface. Add the onions, bay leaves, thyme, cloves, peppercorns and salt and simmer for an hour.
While it is simmering, peel the potatoes and cut into ¾ inch cubes. Add the the meat and simmer for another hour, or until the meat is very tender and falls apart easily. Drain off any excess water then stir in the remaining 2 Tbs butter. Whisk or stir the meat and potatoes into a mash, with the stew remaining lumpy. Serve sprinkled with chopped chives, with the pickled beets and rye bread along side.

TOP
---
Almond Sponge Cake
from The Nordic Cookbook Mandelkage (Denmark) Mandelkaka (Sweden) Print Recipe
I was asked to select a recipe from the The Nordic Cookbook
(Fäviken Chef Magnus Nilsson's comprehensive & essential cookbook for authentic Nordic recipes) for sharing on our website. At first I chose Boiled Seal Intestines with Blubber, Crowberries and Roseroot Leaves.
Our webmaster said "No", the Ingebretsen's Meat Market butchers said "No", heck, everybody said "No".
So - here's a less adventurous, nevertheless delicious favorite...
This is a recipe for a very delicious, very dense and very fantastic almond sponge cake. I usually just refer to it as "the cake". Eat a slice with your afternoon coffee or at any other time of the day. I like to have quite a bit of acidity in it as it easily becomes too sweet. Sometimes I use lemon and sometimes I use Ättika (12%) vinegar (The Nordic Cookbook, page 656).
I usually don't add zest to this as I prefer the taste of almond without it, but feel free to add some if you like. And yes, I know, the recipe looks a bit insane but it should really be like this. It will almost fill the Loaf (or Almond Cake) Pan, but it won't rise as much as ordinary cake...
- Jerry A. (baker & Ingebretsen's staff member)

Preparation and cooking time: 1½ hours, plus cooling time.
1¾ sticks butter, soft, plus extra to grease & breadcrumbs, to coat
¾ cup plus 2 tablespoons sugar
7 oz almond paste, grated on the coarse side of a box grater
2 tablespoons Ättika (12%) vinegar (The Nordic Cookbook, page 656) or lemon juice
5 eggs
1 cup plus 1 tablespoon weak (soft) wheat flour
1 teaspoon baking powder
a good pinch salt

Preheat the oven to 300°F
Butter a 9 x 5 x 3 inch loaf pan and coat with breadcrumbs.
Or use the traditional Almond Cake Pan (shown & available at Ingebretsens).
Place the butter, sugar, almond paste and vinegar or lemon juice in the bowl of a stand mixer. Mix until smooth and a little lighter in colour – the mix should be really stiff. Add the eggs one at a time and mix until fully incorporated. Sift the flour, baking powder and salt into the bowl. Work a bit more in the stand mixer. The flour should be mixed in well and the batter should be smooth, but do not overwork it. Pour the batter into the prepared loaf pan and bake in the oven for 1 hour.
When it is done, place the cake upside down onto a wire rack to cool. This is a very important step. By inverting the cake, the fat from the butter and almonds will be given the possibility to spread evenly in it. If you leave it as it was baked to cool it will be very greasy at the bottom and too dry at the top. After a few minutes remove the pan and let the cake cool to room temperature still upside down, before cutting into it.

TOP
---
Swedish Pancakes Print Recipe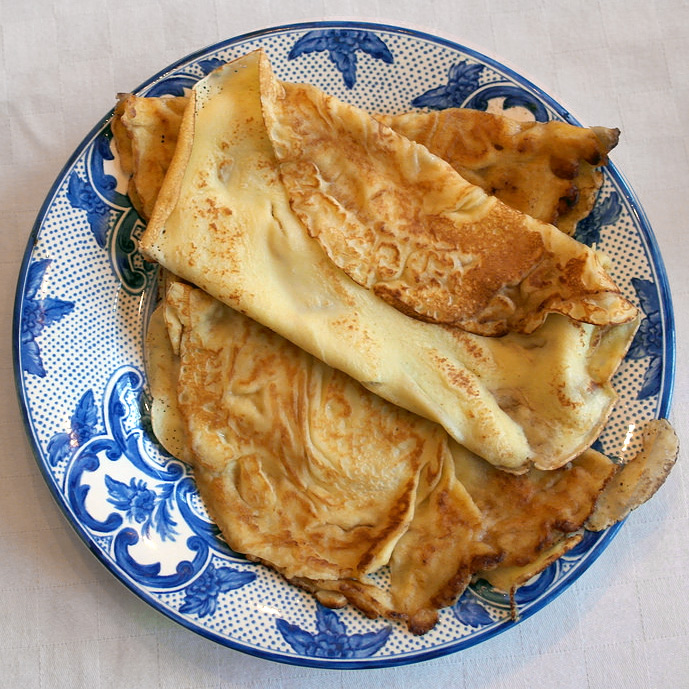 (Lapper or Ohukkaat in Finnish; Lapper or Plättar in Swedish)
These pancakes are traditionally served with lingonberries or Lingonberry Preserves.
4 to 6 servings.
Swedish cooks use a special cast-iron pan called a Plett Pan (plättpanna),
which has seven shallow depressions, three inches in diameter.
(Want to save time? Here's a good Swedish Pancake Mix...)

½ cup flour
1 tablespoon sugar
¼ teaspoon salt
1 cup milk
½ cup heavy (whipping) cream
3 eggs
2 tablespoons butter, melted
Sour cream and your favorite Scandinavian Preserves

Combine the flour, sugar, and salt in a mixing bowl. Stir in the milk, cream, eggs, and melted butter and blend until smooth. Brush the griddle with butter and place it over medium-high heat. To form each pancake,
drop 1 tablespoon of batter onto the griddle. After 1 to 2 minutes, when the edges begin to brown,
turn each pancake over with a narrow spatula and cook the other side for 1 to 2 minutes, or until golden.
Serve immediately with sour cream and preserves.
---
Heart-Shaped Cardamom & Cream Waffles Print Recipe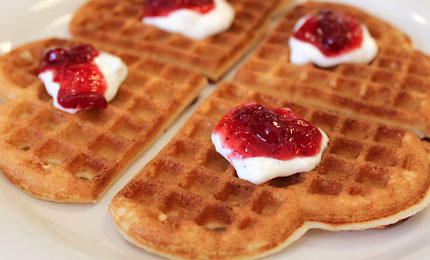 by Beatrice Ojakangas
from The Great Scandinavian Baking Book

Some helpful tips and ingredients for serving up these wonderful waffles:
- Beatrice Ojakangas' fantastic cookbook The Great Scandinavian Baking Book
- The easy-to-use, electric, non-stick 5 Heart Waffle Iron
- Our Dried Cardamom Seeds
- Also, l.c.finn's Cardamom Extract is a great substitute for ground.
- 1/2 tsp extract=1 tsp ground cardamom
- Read about wonderful Cardamom on Ingebretsen's Blog

2/3 cup all-purpose flour
1 tsp. freshly ground Cardamom
3 eggs
1/4 cup sugar
2/3 cup dairy sour cream
3 Tbsp. melted butter
Butter for brushing iron
Powdered sugar
Preserves or fresh berries to serve with waffles
Whipped cream to serve with waffles

Stir flour and cardamom together and set aside.
In a small bowl of electric mixer, beat the eggs and sugar together at high speed for 10 minutes
until mixture forms ribbons when beaters are lifted.
Sprinkle flour mixture over eggs; stir the sour cream until smooth and add to the mixture,
folding until batter is smooth. Fold in the melted butter.
Place the waffle iron over medium heat and heat until a drop of water sizzles on the grid,
turning over once to heat both sides. Brush the grids with butter and spoon in the batter.
Bake, turning once until golden brown, then remove from iron and sprinkle with powdered sugar.
Serve immediately with tart Lingonberry or other Preserves or fresh berries and whipped cream;
or bake waffles in a standard electric waffle iron as the manufacturer of the iron directs.
(We suggest the easy-to-use, electric, non-stick 5 Heart Waffle Iron.)

Makes 4 servings (approximately 6 waffles)
---
---
MORE SCANDINAVIAN FLAVORED RECIPES...

Jansson's Temptation (Janssons Frestelse)

---
---