---
Scandinavian Flavored Recipes For archived recipes, click here...
---
Almond Sponge Cake from The Nordic Cookbook
Mandelkage (Denmark) Mandelkaka (Sweden) Print Recipe
I was asked to select a recipe from the The Nordic Cookbook
(Fäviken Chef Magnus Nilsson's comprehensive & essential cookbook for authentic Nordic recipes) for sharing on our website. At first I chose Boiled Seal Intestines with Blubber, Crowberries and Roseroot Leaves.
Our webmaster said "No", the Ingebretsen's Meat Market butchers said "No", heck, everybody said "No".
So - here's a less adventurous, nevertheless delicious favorite...
This is a recipe for a very delicious, very dense and very fantastic almond sponge cake. I usually just refer to it as "the cake". Eat a slice with your afternoon coffee or at any other time of the day. I like to have quite a bit of acidity in it as it easily becomes too sweet. Sometimes I use lemon and sometimes I use Ättika (12%) vinegar (The Nordic Cookbook, page 656).
I usually don't add zest to this as I prefer the taste of almond without it, but feel free to add some if you like. And yes, I know, the recipe looks a bit insane but it should really be like this. It will almost fill the Loaf (or Almond Cake) Pan, but it won't rise as much as ordinary cake...
- Jerry A. (baker & Ingebretsen's staff member)

Preparation and cooking time: 1½ hours, plus cooling time.
7 oz/200g (1¾ sticks) butter, soft, plus extra to grease & breadcrumbs, to coat
6 oz/170g (¾ cup plus 2 tablespoons) sugar
7 oz/200g almond paste, grated on the coarse side of a box grater
2 tablespoons Ättika (12%) vinegar (The Nordic Cookbook, page 656) or lemon juice
5 eggs
4½ oz/130g (1 cup plus 1 tablespoon) weak (soft) wheat flour
1 teaspoon baking powder
a good pinch salt

Preheat the oven to 300°F/150°C/Gas Mark 2
Butter a 9 x 5 x 3 inch/23 x 13 x 8 cm loaf pan and coat with breadcrumbs.
Or use the traditional Almond Cake Pan (available at Ingebretsens).
Place the butter, sugar, almond paste and vinegar or lemon juice in the bowl of a stand mixer. Mix until smooth and a little lighter in colour – the mix should be really stiff. Add the eggs one at a time and mix until fully incorporated. Sift the flour, baking powder and salt into the bowl. Work a bit more in the stand mixer. The flour should be mixed in well and the batter should be smooth, but do not overwork it. Pour the batter into the prepared loaf pan and bake in the oven for 1 hour.
When it is done, place the cake upside down onto a wire rack to cool. This is a very important step. By inverting the cake, the fat from the butter and almonds will be given the possibility to spread evenly in it. If you leave it as it was baked to cool it will be very greasy at the bottom and too dry at the top. After a few minutes remove the pan and let the cake cool to room temperature still upside down, before cutting into it.
---
Labskovs Print Recipe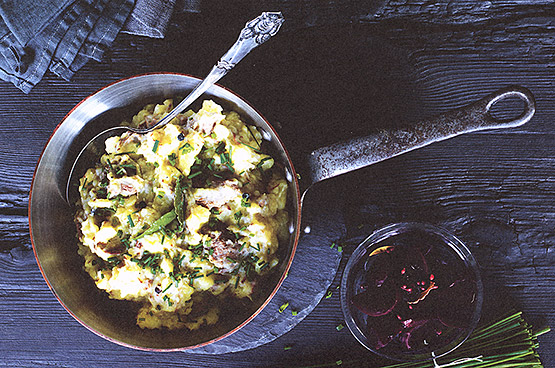 Here is a classic Scandinavian comfort food dish: a mash cooked with meat and wonderful flavors, typically accompanied by chives and pickled beets. This recipe is 100 years old. After the second World War, it became popular in Copenhagen restaurants, especially at Tivoli Gardens. Make plenty... it's even better tasting the second day!

This satisfying recipe is from Scandinavian Comfort Food – Embracing the Art of Hygge by Trine Hanneman.
Pickled beetroot and rye bread recipes are also in this excellent cookbook...
or available (ready to eat) at Ingebretsen's.
Serves 6
Ingredients
2 lb chuck steak
3 Tbs butter
5 cups water
1 cup onion, chopped
6 bay leaves
6 thyme sprigs (¾ Tsp dried)
4 cloves
1 Tbs peppercorns, lightly crushed
1 Tbs coarse sea salt
5 ½ lb floury potatoes (Russets are good)
To Serve
6 Tbs chopped chives
Pickled beets
Rye bread
Cut the steak into ¾ inch cubes. Heat 1 tbs butter in a large saucepan, add the steak and brown lightly, then add the water and bring gradually to boil. Skim off any froth from the surface. Add the onions, bay leaves, thyme, cloves, peppercorns and salt and simmer for an hour.
While it is simmering, peel the potatoes and cut into ¾ inch cubes. Add the the meat and simmer for another hour, or until the meat is very tender and falls apart easily. Drain off any excess water then stir in the remaining 2 Tbs butter. Whisk or stir the meat and potatoes into a mash, with the stew remaining lumpy. Serve sprinkled with chopped chives, with the pickled beets and rye bread along side.
---
Swedish Semlor Print Recipe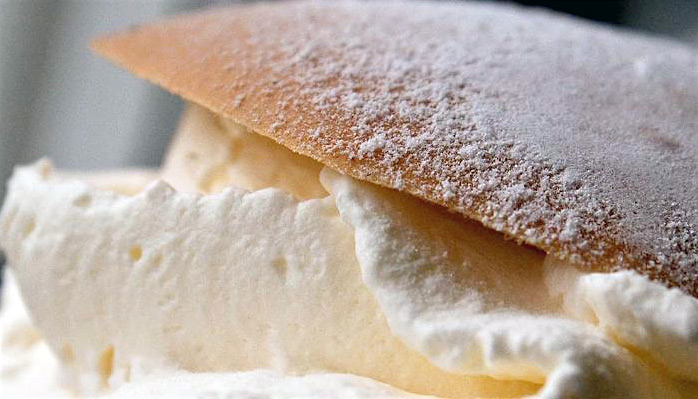 DELICIOUS Semla Buns (Semlor is plural) are almond and cream filled buns,
and originally a tradition reserved for Shrove Tuesday, the last day before the 40 days of the Lenten season. These days, things are a bit more relaxed and the eating of a Semla is now a more common Tuesday event for the Swedes throughout the 40 days of Lent.
12-15 buns.
Ingredients:
1 stick butter
1 1/4 cups milk
4 cups all-purpose flour
1/2 cup sugar
1/2 tsp salt
1 tsp ground Cardamom
1 1/2 tbs baking powder
.25 oz dry yeast
1 egg
1 more egg - beaten for brushing

Filling:
5 oz Almond Paste (marzipan)
crumbled bread
1/4 cup milk – or as needed
1 1/4 cup whipping cream

Garnish:
confectioners' sugar for dusting
Melt the butter and add the milk. Heat to 115. Add in flour, sugar, salt, cardamom, baking powder and yeast. Add the egg and the milk mixture. Knead the dough until smooth and elastic. Cover bowl and allow to rise in a warm spot for 30 minutes. Move the dough to a lightly floured surface and knead until smooth. Form into round balls and place on a greased baking sheet. Cover and allow to rise until doubled for 35 to 40 minutes.
Preheat the oven to 475.
Brush the buns with beaten egg. Bake in preheated oven for 5 to 10 minutes, until golden brown and the center has firmed.
Cool the buns on a cooling rack.
Cut of the tops of the buns, about 1/2 inch. Scoop out some of the center of the buns, leaving a shell of at least 1/2 inch thick.
Tear the removed bread into small pieces and place into a bowl. Moisten the bread with milk, then mix in marzipan until smooth. Add additional milk if needed until the marzipan filling is nearly as soft as pudding. Whip the cream to stiff peaks. Fill each bun with a spoonful of the bread filling and pipe the whipped cream on top. Replace the tops onto the buns and sift over confectioners sugar.
---
Swedish Våfflor Recipe Print Recipe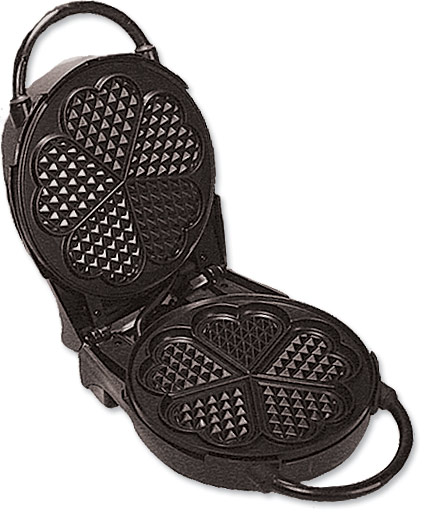 In Sweden, the våffla has its very own day, Våffeldagen, March 25th!
Våfflor have been eaten since the Middle Ages, when they were made over an open fire. The first waffles were square
but with the same pattern we have today. The heart-shaped Swedish waffle was born at the end of the 1800's.
In the beginning of the 1900's eating waffles with whipped cream and jam was something you did on Sundays
following a long walk. Here in this country, most of us are familiar with waffles as a breakfast treat on relaxed weekend mornings.
But Swedish waffles are more typically served as an afternoon or evening dessert.
If you want to make traditional Swedish waffles, which are much thinner and crispier than Belgian or American waffles,
you will need a våffeljärn.
Here is a wonderful Swedish Waffle recipe taken from a small treasure of a cookbook
compiled by Dianna Stevens and edited by Miram Canter:
Waffles, Flapjacks, Pancakes, Blintzes, Crepes and Frybread from Scandinavia and Around the World
1 & 1/3 cups whipping cream, whipped
1 cup flour
1/3 cup ice-cold water (or snow)
2 T. butter, melted
Fold whipped cream into the flour. Add other ingredients. Let set for an hour.
Note: Sour cream can be substituted for a third of the amount of whipping cream.
Bake in a Waffle Iron until brown. This is a crisp waffle.
Cool and serve with powdered sugar and lingonberries.
(Cloudberries and whipped cream also make these waffles a dessert to remember.)
For a different, but equally delicious, version that adds eggs to the mix,
try the waffle recipe on the back of our Swedish Pancake Mix.

Here is a shopping list to help you make the most of your Swedish Waffles!
Lingonberry Syrup & Cloudberry Jams
Heart Waffle Iron
Rosti Mixing Bowls TOP
---
Swedish Pancakes Print Recipe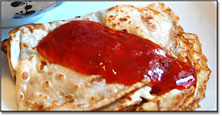 (Lapper or Ohukkaat in Finnish; Lapper or Plättar in Swedish)
These pancakes are traditionally served with lingonberries or Lingonberry Preserves.
Swedish cooks use a special cast-iron pan called a Plett Pan (plättpanna),
which has seven shallow depressions, three inches in diameter.
(Want to save time? Here's a good Swedish Pancake Mix...)

½ cup flour
1 tablespoon sugar
¼ teaspoon salt
1 cup milk
½ cup heavy (whipping) cream
3 eggs
2 tablespoons butter, melted
Sour cream and your favorite Scandinavian Preserves

Combine the flour, sugar, and salt in a mixing bowl. Stir in the milk, cream, eggs, and melted butter and blend until smooth. Brush the griddle with butter and place it over medium-high heat. To form each pancake,
drop 1 tablespoon of batter onto the griddle. After 1 to 2 minutes, when the edges begin to brown,
turn each pancake over with a narrow spatula and cook the other side for 1 to 2 minutes, or until golden.
Serve immediately with sour cream and preserves.
4 to 6 servings. TOP
---
Heart-Shaped Cardamom & Cream Waffles Print Recipe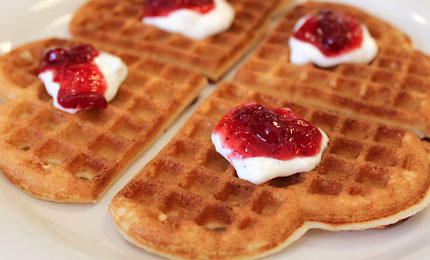 by Beatrice Ojakangas
from The Great Scandinavian Baking Book

Some helpful tips and ingredients for serving up these wonderful waffles:
- Beatrice Ojakangas' fantastic cookbook The Great Scandinavian Baking Book
- The easy-to-use, electric, non-stick 5 Heart Waffle Iron
- Our Dried Cardamom Seeds
- Also, l.c.finn's Cardamom Extract is a great substitute for ground.
- 1/2 tsp extract=1 tsp ground cardamom
- Read about wonderful Cardamom on Ingebretsen's Blog

2/3 cup all-purpose flour
1 tsp. freshly ground Cardamom
3 eggs
1/4 cup sugar
2/3 cup dairy sour cream
3 Tbsp. melted butter
Butter for brushing iron
Powdered sugar
Preserves or fresh berries to serve with waffles
Whipped cream to serve with waffles

Stir flour and cardamom together and set aside.
In a small bowl of electric mixer, beat the eggs and sugar together at high speed for 10 minutes
until mixture forms ribbons when beaters are lifted.
Sprinkle flour mixture over eggs; stir the sour cream until smooth and add to the mixture,
folding until batter is smooth. Fold in the melted butter.
Place the waffle iron over medium heat and heat until a drop of water sizzles on the grid,
turning over once to heat both sides. Brush the grids with butter and spoon in the batter.
Bake, turning once until golden brown, then remove from iron and sprinkle with powdered sugar.
Serve immediately with tart Lingonberry or other Preserves or fresh berries and whipped cream;
or bake waffles in a standard electric waffle iron as the manufacturer of the iron directs.
(We suggest the easy-to-use, electric, non-stick 5 Heart Waffle Iron.)
Makes 4 servings (approximately 6 waffles) TOP
---
Looking for our recipes featured at the Food & Wine Experience 2015? Click here...
---
MORE SCANDINAVIAN FLAVORED RECIPES...

Jansson's Temptation (Janssons Frestelse)

Lussekatt - Santa Lucia Buns TOP
---
---