---
Springtime & Easter in Scandinavia!
---
After the long nights of winter, Easter and the arrival of spring are truly celebrated in Scandinavia. Whether they spend their Easter holidays in the city welcoming the return of the spring flowers or they escape to the mountains taking advantage of the longer spring days to get in the last of the season's skiing, Easter is a time of renewal for Scandinavians, celebrated with good food and good company.

No matter what the setting, Scandinavians are known for their hospitality and charming table settings. Their colorful and coordinated tables make the time spent with family and friends more memorable. Fresh flowers, festive napkins and, of course, candles add to the spirit of these gatherings. To celebrate Easter with the flair of the Scandinavians, look to Ingebretsen's for our large selection of candles and quality paper napkins as well as our year-round array of colorful Swedish table linens.
Visit our selection of Easter Decor...

Sit down and enjoy a traditional Scandinavian breakfast.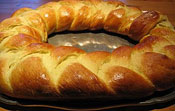 Try the Finnish Pulla Braid topped with Gjetost or Cloudberry Preserves.
Olof Swedish crisp rolls are the perfect accompaniment to soft-boiled eggs.
Top it all off with a good strong cup of Swedish coffee - perhaps Egg Coffee.
The recipe for the Finnish Pulla Braid is from The Finnish Cookbook.
Beautiful table settings serve as a wonderful complement to holiday meals. Easter of course means eggs. Whether simply prepared as in the ever popular hard and soft-boiled eggs or something more elaborate as in a Nøkkelost Quiche, eggs always play a prominent role in a Scandinavian breakfast buffet. At Ingebretsen's we have a wonderful selection of cookbooks from which to choose your Easter breakfast fare. Here we have chosen a few recipes all from
Beatrice Ojakangas' The Finnish Cookbook to consider when planning your own Easter breakfast buffet:
Egg Coffee
Nøkkelost Quiche
Æbleskiver
Wienerbrød
Finnish Easter Bread (Pääsiäisleipä), Pulla Coffee Bread (Pulla) and Finnish Oven Pancake (Pannukakku)
Browse our website for the necessary accompaniments and condiments to complete your holiday menu:
Ingebretsen's Biking Viking Coffee
Scandinavian Preserves
Gjetost and Bondost Cheeses
Ingebretsen's Lefse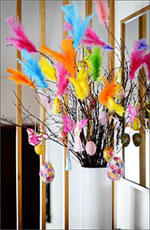 A Påskris (Easter Tree) is adorned with brightly colored feathers and miniature Easter ornaments.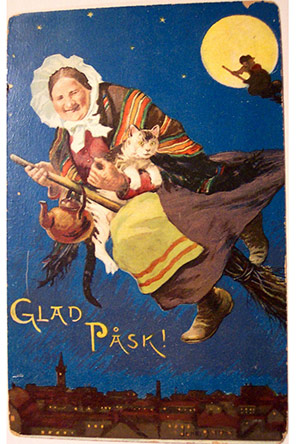 A variety of hand-crafted, brightly colored ornaments are available at Ingebretsen's. The Easter witch or påskkäringar is a Swedish tradition. It was once believed that witches were about at Easter, so all doors were kept shut to keep them out. The witch survives as an Easter motif today.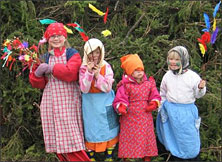 Children dress up as påskkäringar with bright kerchiefs on their heads and sporting a broomstick.
They go from door to door wishing all Glad Påsk - Happy Easter.

And so from our store to your home, Glad Påsk!
---