---
Community Events Around the Twin Cities...

---
---
Ongoing Community Events
Scandinavian Folk Dance at the Tapestry Center
Lake Street Walking Tour
Daughters of Norway
Svenskarnas Dag Girls Choir
Finnish Folk Dancers
Danish Folks Dancers


---
---
Tapestry Folkdance Center presents the Scandinavian Dance Class Series





Join the fun! The glorious dance and music of the Scandinavian countries will be celebrated each 2nd Sunday of every month beginning Sunday, January 13th. Attendance at the inaugural January 13th dance is FREE. Subsequent dances will cost $5. We will dance the whole range of Scandinavian dances to include the Schottis, Snoa, Hambo, Vals, Polka, Mazurka, Röros Pols, Springar and more. Beginning lessons will enable all levels of dancers access to this beautiful and fun dance form.
Tapestry Folkdance Center, 3748 Minnehaha Ave, Mpls
More information - tapestryfolkdance.org 612 722-2914
Each 2nd Sunday of every month.

---
Minneapolis Museum in the Streets - A Walking Tour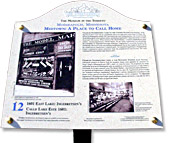 Museum in the Streets is a free walking tour of Lake Street, showing the area's history through stories and photos on plaques. We're pleased that Ingebretsen's was chosen to be part of the project. We were included because of our history of serving an immigrant community, a tradition that continues on East Lake Street.
Click Here for more info...
---
Daughters of Norway Monthly Meeting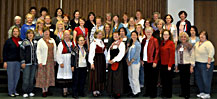 Daughters of Norway is composed of a Grand Lodge and subordinate lodges. The goals of the organization include:
- To unite into a sisterhood, women who wish to preserve Norwegian heritage
- To maintain among members a knowledge of the history, culture, and language of Norway
- To build a strong support system and bond of friendship within the sisterhood

The lodge actively shares Scandinavian heritage through interesting programs and interest groups and with the community at the annual Norway Day in Minneapolis in the summer. Click Here for more information. The Daughters of Norway Pauline Fjelde Lodge #51, meets on the third Saturday of each month at 10 am at the University Lutheran Church, 601 13th Avenue SE, Minneapolis. All interested women are invited to join.
(Note: The lodge does not meet in January, July, or August)
---
The Svenskarnas Dag Girls Choir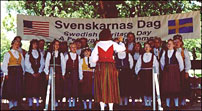 Do you have a daughter, granddaughter, niece, etc…who loves to sing…wants to learn more about her Scandinavian heritage…and is 8-16 years old? The Svenskarnas Dag Girls Choir is dedicated to the preservation of Swedish heritage through the performance of traditional Swedish music. The Choir performs traditional Swedish folk tunes and hymns in both Swedish and English. The Choir also performs a Christmas concert, which includes a St. Lucia pageant. This beautiful presentation of St. Lucia by candlelight is a highlight of the season.
The Svenskarnas Dag Girls Choir helps girls learn about their Swedish heritage, develop choral skills, gain self-confidence and create lasting friendships. Wearing their colorful Swedish costumes... Lucia gowns at Christmas...and performing traditional Swedish music, their concerts are not only "music to the ear", but also visually beautiful.
If you would like more information about joining this fun group, please contact: Diane Noble, Director, 612-825-8808, teddiane@mac.com.

---
Finnish Folk Dancers Welcome New Members



Kisarit-Finnish-American Folkdancers meet every Thursday at 7 p.m. at the International Institute on Como Avenue, Saint Paul, across from the State Fairgrounds. New members welcome. Call Colleen at 651 407 0588 or Dan at 763 544 1441 for more information. minnesotafinnish.org
---
Danish Folk Dancers - New Members Always Welcome



Come dance with the "Danebrog" Danish folk dancing club. We meet the 2nd and 4th Friday evenings of the month (September-May) at 7:30 p.m. just for the fun of dancing. Join us for mixers and set dances that everyone can participate in. Lots of fun! Bring a friend! We meet at the Danish American Center at 3030 W. River Pkwy, Minneapolis.