---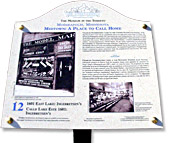 Minneapolis Museum in the Streets
Learning about Lake Street's varied and multilayered history is now as easy as taking a stroll.
The star of the show is Lake Street – long a center for immigrant businesses, a transportation thoroughfare, and a mirror of Minnesota's larger economic and social trends. It is these aspects of Lake Street history that will be highlighted in a series of English and Spanish plaques throughout the neighborhood.
A brochure is available that gives all the locations of the plaques and an outline of a walking tour of the area. You can create your own walking tour and learn about the events, stories, and traditions that helped make the area the vibrant place that it is. Three Lake Street neighborhoods are included: Longfellow, Midtown (Cedar to Park), and West Lake.
The Minneapolis Museum in the Streets was the idea of Lake Street Council Chair Joyce Wisdom.
Joyce saw a Museum in the Streets display in another community and contacted the nonprofit that guides communities through the process and manufactures the plaques. The process, which involved many community members and much research, took three years. A Museum in the Streets guideline is for an event or site to be considered historic, it has to have happened at least 50 years ago. However, some events, such at Heart of the Beast transforming the Avalon Theater from porn to puppetry, were of such significance to current Lake Street culture it was included.



Ingebretsen's was chosen because
it represents the impact of immigrant businesses on the city.
"I am very honored that Ingebretsen's was chosen to be part of this project," says Julie Ingebretsen, gift store manager. "It is important to know the history of East Lake Street and to have that context so we can understand and appreciate what is happening now. Besides, it is simply fun to explore the neighborhood, read the plaques, see the photos, and to imagine yourself on Lake in another time."
---