---


In-Store Events at Ingebretsen's

Events are held at our East Lake Street store, unless otherwise noted.
---
Semla Day with Swedish Crown Bakery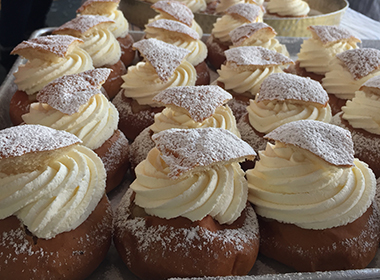 In preparation of Fettisdagen or Fat Tuesday on February 25, The Swedish Crown Bakery will have a pop up store at Ingebretsen's on Saturday, February 22 and will sell their delicious semlor (a small, wheat flour bun, flavored with cardamom and filled with almond paste & whipped cream).
If you're in Scandinavia you celebrate with a semla...
They have been eaten already since January or December but no one can deny the lure of the semla... traditionally eaten on Shrove Tuesday - Fettisdag in Swedish (Mardi Gras or Shrove Tuesday in English) is a time to celebrate! A semla or fastlagsbulle (Swedish), laskiaispulla (Finnish) or fastelavnsbolle (Danish and Norwegian) is a traditional pastry and associated with the season of Lent.
The name semla (plural, semlor) is a loan word from German semmel, originally deriving from the Latin semilia, which was the name used for the finest quality wheat flour. Eat Semlor with coffee or tea or with warm milk also called hetvägg.
Swedish Crown Bakery is a family owned and run bakery offering specialty Scandinavian & European breads, pastries, cookies, and desserts, along with a daily menu of delicious lunch options, made & located in Anoka, MN.
Only the best quality ingredients are used: unbleached & organic flours, real butter, organic cream, milk, sea salt, hand cracked eggs, organic nuts & seeds, etc.
Join us to indulge in this specialty fresh baked treat!
Saturday, February 22 (exact time TBD)
Any leftovers will be for sale frozen.

---
---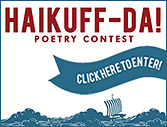 HaikUff-Das are through
Ace entries from far and wide
We anticipate

The Winners have been declared!
In Honor of National Poetry Month, Ingebretsen's sponsored our own special contribution to American literature…
our HaikUff-da! Contest.
For all the info... Click!

---
Sign up for our Email List...
and like us on Facebook... so you don't miss a thing!

---
---