---
---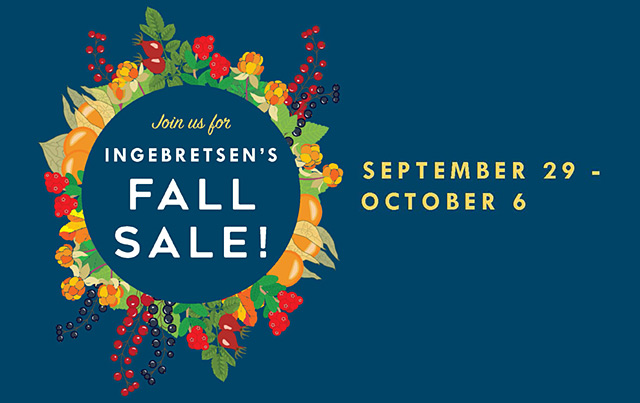 Sale Prices In Store Only
Let's celebrate 97 years on our corner of vibrant and always-interesting East Lake Street!
We so value you, our loyal customers and friends.
Join us as we kick off a great fall and holiday season!


---
---

GIFT SHOP SPECIALS - 15 to 50% OFF!
• PRINT OUR SALE FLYER & BRING THE COUPONS IN FOR EVEN MORE SAVINGS!
Print Ingebretsens Fall Flyer 2018
Sale prices In Store only
• KNITTING
NORDIC YARNS, KNITTING BOOKS, AND SUPPLIES
• HOME GOODS
COZY BLANKETS AND PILLOWS, TABLE LINENS, CANDLE HOLDERS,
CRYSTAL VASES & SERVING PIECES, ART PRINTS, AND MUCH MORE!
• ORREFORS & KOSTA BODA CRYSTAL
SALE PRICES ALL WEEK, PLUS A SPECIAL EVENT ON FRIDAY WITH DOOR PRIZES!
• TABLE TOP
UP TO 50% SAVINGS ON DISCONTINUED PATTERNS AND COLORS
• DAILY SPECIALS!

---

MEAT MARKET SPECIALS!
As always, very special pricing on some of our favorite comfort foods from our meat market...



• OUR FAMOUS PICKLED HERRING
TRADITIONAL WINE SAUCE $3.99/Pint Reg. $5.99
or with DILL, CREAM OR CREAMY DILL $4.49/Pint Reg. $6.49
• BULK CHEESES - $1.50 off per lb
EXCLUDES: GUDBRANDSDALOST, SKI QUEEN PRE-PACK, BRIE, EKTE GJETOST, SNØFRISK & GULOST
• SWEDISH MEATBALL MIX $5.49/lb Reg. $6.99
• SWEDISH SAUSAGE $5.49/lb Reg. $6.99
• HAM LOAF $4.49/lb Reg. $5.99
• YELLOW PEA SOUP $4.49/lb Reg. $5.99
• COUNTRY STYLE RIBS $2.99/lb Reg. $4.49
• SMOKED PORK HOCKS $2.98/lb Reg. $3.98
• BREAD & BUTTER ROAST $3.99/lb Reg. $5.49
• CHOICE RIBEYE $9.99/lb Reg. $12.99
• CHOICE SIRLOIN $6.99/lb Reg. $8.99
• SMOKED SALMON limit 2 lbs $14.98/lb Reg. $17.98
More info on our Meat Market...

---
---
SALE WEEK SPECIAL EVENTS
---

Thursday, October 4

Baking Day
Today we celebrate baking!
Sales on select cookware, cookbooks and aprons! And enjoy lots of yummy baked good samples.

Æbleskivers & Tea 11 - 1
Come and sample Denmark's favorite fresh made pastry, and Sweden's delicious Söderblandning tea.

Nordic Knives 10 - 2
Our annual visit from knife expert George Lokken, with his great selection of knives from Finland, Sweden, and Norway.

Beings of Yggdrasil Book Signing 1 - 3
Author and artist Jordain Kinnander will sign and discuss his new book, an intriguing exploration of the origin and evolution of such ancient creatures as giants, elves, gods, and goddesses.


---

Friday, October 5

Orrefors Kosta Boda Day 11 - 1
Orrefors and Kosta Boda are two of Sweden's oldest and most revered glassworks. Our local rep Heather Hawthorne joins us to share her knowledge of their beautiful products, from serving pieces and drinkware to candleholders.
Special sale prices today, plus a drawing for a door prize!

Horredsmattan Rugs Trunk Show 11 - 2
Andrew Rasmussen brings us a variety of these superbly designed and crafted plastic rugs from Sweden.
Special prices today only!


---

Saturday, October 6

"Strut Your Sølje" Day: Repair & Refurbish Your Silver Jewelry 10 - 2
Award winning jewelry designer Liz Bucheit will share her deep knowledge of this delicate Norwegian silver jewelry. Bring your sølje in and Liz will help identify and provide information about it, and offer ideas on how to clean it and keep it glistening. She will also give a talk at noon about sølje and its history that is sure to be fascinating!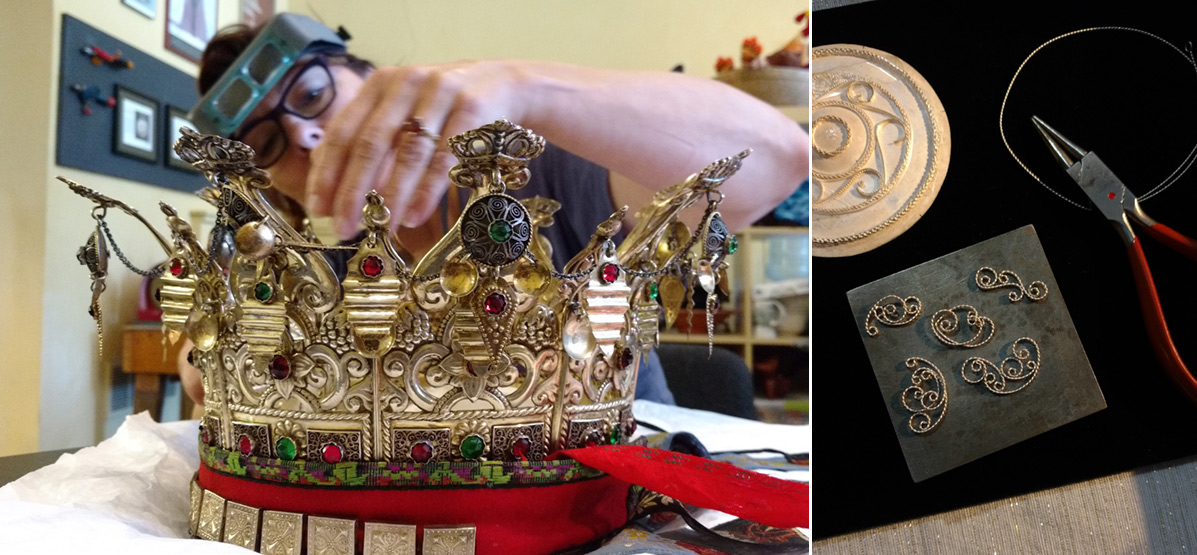 Viking Photo Snaps!
Take your photo in our fjord scene complete with Viking ship and gear.
Special sale on Viking Helmets today.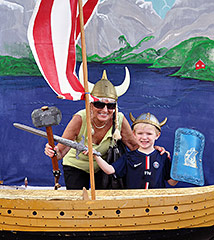 Print Ingebretsens Fall Flyer 2018

---
---