---
Ingebretsen's Shipping & Policies

Click the link below to see more information for:

General Shipping & Rates
Expedited Shipping
Shipping to Alaska, Hawaii or Canada
Shipping Perishable Items
Backordering Items
Return Policy
---
Privacy Policy
We never share our customers' information. Ever.
---
At this time, we are able to ship only to the U.S. and Canada.
Orders are normally shipped via UPS Ground Service and require a physical street address.
Orders sent to different addresses require separate shipping charges.
In some instances we may choose to ship via United States Postal Service.
Rates for Standard UPS Ground Delivery
$0 - $15 $6.00
$15.01 - $30 $7.50
$30.01 - $50 $9.50
$50.01 - $75 $11.50
$75.01 - $100 $13.50
$100.01 - $200 $15.50
$200 & over FREE*
*In the continental United States.
*Alaska, Hawaii and Canada: 35% off actual amount of postage.
Customer responsible for expedited surcharge, if chosen.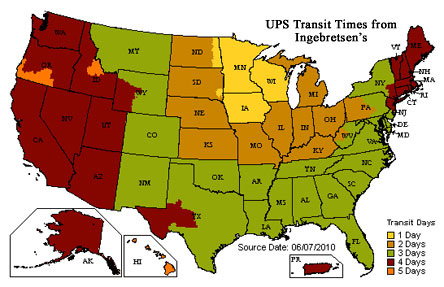 UPS delivers only Monday through Friday, and NOT weekends or holidays
(except at special request and an additional charge). Please call our mail order department
at 800 279 9333 or 612 729 9333 if you need these special shipping features.
Customers may request Expedited shipping for a surcharge of $20.
Most expedited shipments are shipped via UPS Second Day Air Service. If your order is placed
before noon, CST, Monday through Friday, we will make every effort to get your Expedited shipment out on the same day, but we cannot guarantee it.
Please note: Packages going Second Day Air arrive two days AFTER the day they are shipped.
An additional oversize surcharge of $10 may be added to Second Day Air charge.
Alaska, Hawaii and Canada Orders
Shipments to Alaska, Hawaii and Canada are sent by U.S Postal Service
and will be charged a $5.00 surcharge at the time of checkout.
The actual amount of postage will be charged at the time the order is ready to ship*
*Please see Rates for Standard UPS Ground Delivery above.
Back to Top
Shipping Perishable Items
Customers ordering perishable food items, especially during the summer months, are asked to consider how they would like their order to be shipped. Customers shipping perishable food items should choose (only) one of the following options:
* Standard Shipping with the addition of a freezer pack (adds $2.00)
* Standard Shipping with the addition of a re-usable insulated cooler box and freezer pack (adds $10.00)
* Expedited Shipping (adds $20.00)
* Standard Shipping without a freezer pack or cooler box.
Ingebretsen's is not responsible for any spoilage or damage.
Backordering Items
If an item is not available in the quantity you desire at the time you are placing an order, you will see a note under that item in your Shopping Cart, indicating how many of that item will be backordered, if you choose to go forward with that quantity of the item.
The cost of backordered items will be authorized and held at the time of checkout, but will not be finally charged (captured) until we receive those items and are ready to ship. We will hold your in-stock items, and ship them with your backordered items, if we are certain things will arrive within a week of the order being placed. If we are unsure we will send the in-stock items right away and the backordered items when they arrive. Your total shipping charges will not exceed the shipping cost of your original order.
If you do not wish to wait for an item on backorder, you may remove it from your order, or change the quantity you are ordering (make sure when you change the quantity that you click on the "Update Shopping Cart" button.
If you have any questions about backorders please email to info@ingebretsens.com or call us.
1 800 279 9333 (ask for the mail order department)
Return Policy
~ Please note that our return policy is 30 days.
~ Returns will be credited to your original payment method less shipping and handling charges.
~ Store credit will be issued for returns received after the 30 day period.


Do some of our shipping boxes appear to have been around the world several times?
Yes, because they may well have been!
In an effort to think green and keep our shipping fees as low as possible,
we re-use boxes and packing materials whenever possible.
---