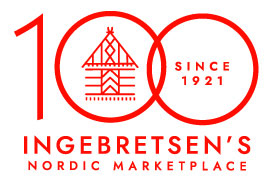 We are celebrating 100 years on Lake Street! Ingebretsen's Nordic Marketplace would not be here without our loyal customers. Our anniversary is about thanking you - our customers, our family, and our friends. For our anniversary celebration, we want to hear your Ingebretsen's stories. Do you have a fond memory of you or a family member visiting our store? Have you worked with us? Do you have a favorite item that you can only get from us? Why do you visit our store? We'd love to hear from you, in your own words, about what makes Ingebretsen's a one-of-a-kind place. Use this form to tell us your own story. If you give us permission, you may see your words on our website, social media, or in print! Thank you for your support!
FLAGSHIP STORE
Our flagship store has been operated by our family in the same location since 1921. Our East Lake Street home houses our original butcher shop, and an extensive retail shop that offers everything from housewares to toys to traditional craft tools & supplies. To learn more about the Scandinavian specialty foods we offer Click Here...
INGEBRETSEN'S AT NORWAY HOUSE
Visit our charming gift shop in Norway House- the National Norwegian Center in America. Learn more about Norway House programming here.
Phone : 612 870 5772
HOURS - Please call for current hours