INGEBRETSEN'S BUTCHER SHOP & DELI
---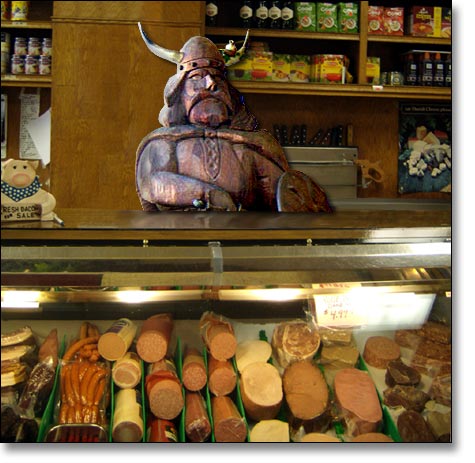 Picture an old-fashioned Butcher Shop laden with delicious homemade products:  a long refrigerated case filled with specialty Scandinavian deli items made daily from original recipes; rows of imported cheeses; and shelves lined with imported delicacies in boxes, cans and jars. Ingebretsen's also makes Nordic meat products that aren't available anywhere else in town (or some in the country!). Some of the butchers have worked behind the same counter for more than 40 years.  (Don't tell them we told you!)

Our Specialties...
Swedish Meatball Mix / Blood Sausage "Klub" / Swedish Herring / Medister Pølse
Sylte / Lefse / Middag Pølse / Danish Liver Pate / Rulle Pølse / Swedish Anchovies
Fresh Lutefisk / Spekekjøtt (dried meats) / Famous Home Smoked Ham & Bacon

For a pretty extensive list of our Butcher Shop & Deli's (in-store) specialty items, please see 
Ingebretsen's Scandinavian Market Specialties

For preparation instructions, please see
Preparation Suggestions for Ingebretsen's Specilaty Foods


Come visit us at Ingebretsen's!
Heritage, community and traditions... the ingredients that keep all of us bound to each other.


---
---


We have an extensive variety of Scandinavian foods available in-store & through our Mail Order Department.
Unfortunately, at present, we do not ship meat products.
Questions?  Contact us...


---
---