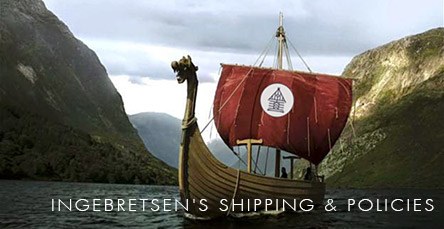 ---
Quick Links
Faster Shipping
Shipping to Canada
Shipping Perishable Items
Backordered Items
Return Policy
Privacy Policy
---
Standard Shipping Time  
-Orders placed January-September are shipped within 1-5 business days, unless there are backorders or perishable foods.
-Orders placed October-December usually ship within 3-8 business days but sometimes take longer.  You can see the current ETA in the Shipping Method when checking out.
-If your order contains backordered items or perishables, see below for more info.

-Most packages are delivered within 1-5 business days after leaving our store.
-Please note that no shipping times are guaranteed. If you need a package by a certain date and are unsure as to whether you need faster shipping, please call or email.


Shipping Rates   
-Shipping rates are calculated based on the destination, weight, size and cost of the order.
-Orders over $200 receive free shipping. Orders to HI or AK may be subject to additional charges.


Shipping Services
-We ship with US Mail, FedEx and UPS.


---
Expedited Shipping 
-Orders placed before 12:00 pm Central are guaranteed to ship the same day (Monday-Friday).
-Delivery scheduled in 1-3 business days.
-In-stock items only, of course! We will get in touch with an ETA for any backorders.
-Orders placed after 12:00 pm may not ship until the following day.
-Expedited orders ship FedEx Express, UPS 2nd Day Air, UPS Ground, or USPS Priority Express.

Expedited orders to HI or AK may be subject to additional charges. Expedited orders weighing over 10 lbs may be subject to additional charges. We will ALWAYS confirm with you if additional charges are needed.

---
-Orders to Canada are charged the actual amount of postage, plus a handling fee of $1.
-Shipping charges are usually calculated accurately, but sometimes an additional charge is needed.  We will ALWAYS confirm with you before making any additional charges.

All packages to Canada are sent by US Mail by one of the following services: 
~ First Class has no guaranteed delivery time (usually 2 - 4 weeks) and limited tracking. First Class packages MUST be under 4 lbs. 
~ Priority Mail has average delivery time of 6-18 business days and includes tracking.
~ Express Mail has average delivery time of 3-10 business days and includes tracking.

Canadian Shipping Charges
| | | | |
| --- | --- | --- | --- |
| Weight | First Class | Priority | Express |
| 0 - .5 | $16.50 | $30 |  $53 |
| .5 - 1 lb.  | $23.50 | $30 |  $54 |
| 1 - 2 lb | $23.50 | $44 |  $61.50 |
| 2 - 3 lb.  | $34 | $47 |  $66.50 |
| 3 - 4 lb.  | $39 | $50 |  $71.50 |
| 4 - 5 lb. | N/A | $53 |  $76 |
| 5 - 15 lb. | N/A | $56 - 85 |  $82 - 126 |
---
Many of our food items (such as lefse, breads, cheeses, certain fish products) are considered perishable and are labeled as such in their product description.  Some perishable food orders need to be shipped on Mondays to avoid delays in transit over the weekend.  Orders that are placed on a Monday or Tuesday may not be shipped until the following week, as they can take a couple days to process.  We offer freezer packs and insulated containers for an extra charge.  Please call or email  with any questions.

---
Most backordered items are back in-stock within 1-4 weeks, but some may take longer.
Our Backorder Policies:
~ We will hold any in-stock items and ship the order complete as soon as we are able to. We will get in touch if any backorders will take significantly longer than 4 weeks.
~ We are always able to send orders in multiple shipments, although this sometimes requires an additional charge. If you would like us to send the in-stock items right away you can let us know using the "Order Comment" box when checking out. If we need to charge more for shipping, we will ALWAYS confirm with you before doing so.
~ You will be charged in full when the order is placed.  We can refund for unshipped backordered items at any time if you'd prefer.

Any questions about any specific items? Please get in touch: orders@ingebretsens.com / 1-800-279-9333

---
Return Policy
~ Please note that our return policy is 30 days.
~ Returns will be credited to your original payment method less shipping and handling charges.
~ Store credit will be issued for returns received after the 30 day period.
~ We cannot accept returned food products.

---
Privacy Policy
We never share our customers' information. Ever.
---