---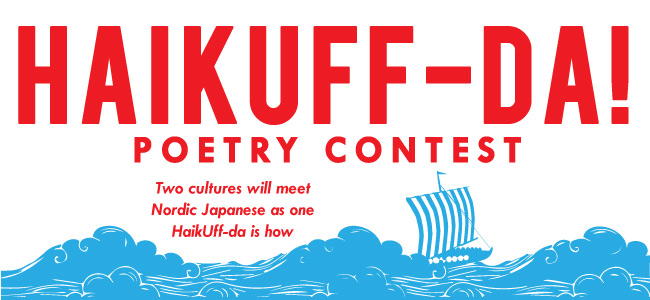 ---

In Honor of National Poetry Month
Ingebretsen's is sponsoring our own special contribution to American literature… our HaikUff-Da! Contest
We invite you to write a haiku on one or all of our 5 topics related to Nordic-American culture!
The contest runs from April 1 to April 30.
Winners will be announced on Monday, May 20, 2019
One entry, per topic, is allowed from the list below:

1. Lutefisk
2. Scandinavian foods other than Lutefisk
3. Scandinavian Holidays
4. Ole & Lena
5. Nordic Angst
6. Scandi-Miscellaneous


---

The Prizes

Besides bragging rights, first place winners in each category will receive a $50 gift certificate to Ingebretsen's, valid in the gift store or website. First, second, and third place winners in each category will be published on our web site, and will have an opportunity to read their haiku on stage at the Midtown Farmers' Market in Minneapolis (if local) in September, along with other live performers. If a winner is unable to attend, we will have a local celebrity read the haiku on the poet's behalf. The reading will be recorded and available on our website. All HaikUff-Das will be published in a downloadable e-booklet, celebrating the literary talents of our remarkable customers.


---

A Quick Review of What Constitutes a Haiku

The basics: A haiku is a non-rhyming poem of three lines. The first line is 5 syllables. The second is 7 syllables and the third is 5 syllables. This structure is the only poetic requirement we make for the contest. If you want to challenge yourself and write a haiku that is a careful observation about the topic you chose, great! If you signal the season in which the haiku takes place in the first line (e.g. "ice"), we will be truly impressed, but it is not required.

A fine example of a HaikUff-Da:
Everyone is gone
There is something in the air
Lutefisk is here

Don't be shy, but do be nice. Keep it clean, steer clear of politics, and no personal attacks. Sorry, family of Ingebretsen's employees, you're not eligible to enter.


---

How to Submit Your HaikUff-Da
You can submit your HaikUff-Da by email to: info@ingebretsens.com
or snail mail: Ingebretsen's, 1601 East Lake Street, Minneapolis, MN 55407
Whichever form you choose, please include your name, address, email address, and phone number.
And please enter into the email subject line or note on your envelope: HaikUff-Da + name of category. Example : HaikUff-Da Ole & Lena


---

Have Fun!
---
---