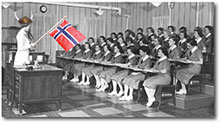 More Class Schedules... Cooking Crafts Knitting Needlework Tatting
Call or email to register and for more information... 612 729 9333 classes@ingebretsens.com
Reserve your place in a class with a credit card, check, or cash.
Cancellations must be made one week in advance of the class to receive a refund.
---
Culture Classes

---
Kari Tauring Story Hours



Nordic roots musician, story teller and rune scholar Kari Tauring brings Nordic seasonal stories to life for families, transmitting history, culture, and language. Children enjoy the story hour in the here and now, while parents and grandparents remember old favorites and learn new tales, songs, and games continuing old family traditions into the future.

Jan 21 - Rune Study

Your name in runes, runes in nature, rune stances, dances, and secret codes help you pass the last months of winter with letter magical fun!
Feb 4 - What Groundhog Said!
Sunna, Saule, Sowilo, the names, symbols and songs of the Sun goddess. Can we sing her back to us? Where does she hide?
Feb 18 - Charming the Plow
It's time to sort the seeds and get ready for the new growing season. Thor and his mother Jord are essential to waking the soil.
Mar 4 - One Last Ski
Skis can save your life! Birkebeiners and other skiing heroics.
Mar 18 - Inngard and Útgard
or, how to protect the new farm babies from trolls and other outside-the-gate creatures!
April 1 - Who's Fooling Who?
Gods, giants, trolls and others get tricked!
April 15 - Påskkärring & Blåkulla, Swedish traditions of the Easter witch.
Clean your chimney and stand back!

All of Kari's classes are from 10 to 11. $3 a person. Thank you for preregistering!

---
Swedish Genealogy for Complete Beginners
Join Janis McKay Babcock, a local genealogist, speaker, and contestant on Sweden's hit TV show Alt for Sverige (The Great Swedish Adventure) for an informative, but relaxed, introductory class on exploring your Swedish genealogy.



Janis will give you the basics on how to start your fascinating journey. But most important, she will help you avoid the common pitfalls that can cost you hours of wasted research time. You will learn how to navigate the basics of ancestry.com, exploring both the helpful and the misleading attributes. You will see how the ancestry DNA project has helped in the pursuit of genealogical knowledge. We will learn how to cross reference with other sources so you can build a well-sourced tree. You will also take an exciting peek into the fascinating Lund Archives, now fully accessible online.
Janis will alight your passion for genealogy, storytelling and mystery solving, so come find the magic in your family history!
Students are welcome to bring tablets or laptops with their own built in internet but connection, but Janis advises you to not start your free two-week membership at ancestry.com until right before class. $15 Saturday, April 5 1 to 3
---
Walking Tour of the Pioneers and Soldiers Cemetery


Minneapolis's oldest cemetery has a long and storied past. Susan Hunter-Weir has devoted years to researching the people buried there, learning how their stories reflect the times in which they lived, and how those stories influence the Minneapolis in which we now live. Susan will present a lecture in the classroom, then lead people to the cemetery (two blocks from Ingebretsen's to E. Lake Street and Cedar Avenue) for a one-hour walking tour. She will also show you how to access burial records if you want to do your own research.
Please wear comfortable shoes. The walk isn't strenuous, but the ground is uneven. $5
Saturday, June 7 10 to noon
---
---