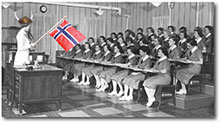 More Classes... Cooking Crafts Culture Knitting Needlework
Call or email to register and for more information... 612 729 9333 classes@ingebretsens.com
Reserve your place in a class with a credit card, check, or cash. Cancellations must be
made one week in advance of the class to receive a refund.
---
Tatting Classes
---
Beginnng Tatting



Learn the fundamentals of tatting.
Instructor Brenda Kruger will help you select your shuttles and thread on the first day of class, then teach you the knots and loops that form the basis of tatted lacemaking.
Four 2-hour classes. $50
Fridays, February 13, 20, 27 and March 6 4 to 6
---
Drop-In Tatting Workshop Cancelled. To be rescheduled...



Brenda Krueger will answer questions, teach new stitches and hitches, and help unknot knotty problems
with your tatting. Enjoy expert, individualized instruction and the company of other tatters. $15
Saturday, August 16 1 to 3

---
---