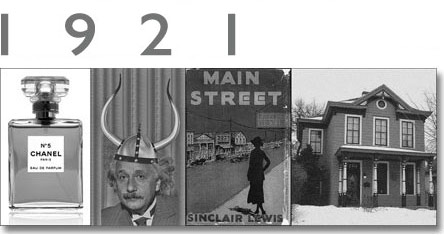 Coco Chanel introduces "Chanel No. 5" in Paris.
Albert Einstein receives the Nobel Prize in Physics in Stockholm, Sweden.
Minnesotan Sinclair Lewis's book Main Street becomes a national bestseller.
A seven-room house with gas, hot water, electric sells for $4,000 in the Midwest.

And most importantly, Charles (Bud) Ingebretsen Jr. was born. The same year his father, Charles Ingebretsen Sr. opens the Model Meat Market on East Lake Street in Minneapolis. 



Ingebretsen Sr. emigrated from Norway in the early 1900's, the only member of his family to leave the country. He went to Fargo, North Dakota and learned butchering. He then came to the Twin Cities where the Scandinavian-American community was flourishing in the Cedar-Riverside neighborhood.  His first business was at 1808 Riverside, a location close to both the Southern Theater, which had entertainment for Swedish immigrants and the railroad switchyards, which employed many Norwegians, Swedes, and Danes.  He soon expanded the business, opening several other meat markets serving the Norwegian community, including the Model Meat Market on East Lake St., strategically located on a streetcar line.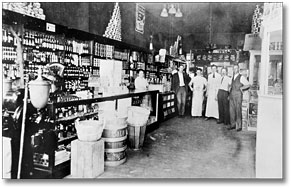 The East Lake location, in the words of granddaughter Julie Ingebretsen, "is the one that stuck."



Charles (Bud) Ingebretsen Jr. married Honore Adams and began managing the Lake Street store after the Second World War. By that time, the Scandinavian residents in the neighborhood were beginning to disperse to the suburbs and the intense loyalty to ethnic-specific grocery stores began to lessen. But Ingebretsen's stayed true to its origins. 



Bud took on a partner, Warren Dahl.  Dahl brought with him his recipes for Swedish meatballs and other traditional foods that have since become signature items in the butcher shop.

More change came with the 1960s and 1970s; the grandchildren and great-grandchildren of immigrants wanted to explore their ancestry and felt the need to know more about where they came from.  Since food is one of the more accessible and enjoyable ways to explore ethnicity a new generation of customers started coming to the store. This seemed like a good time to expand the Meat Market's offerings, so the family changed the business name to Ingebretsen's Scandinavian Center and opened a gift shop.
Julie Ingebretsen, granddaughter of the founder, was between jobs in 1974 when her family suggested that she manage this new gift store. Julie accepted, thinking that she would take the job "for a while."  (As Julie is manager to this day, she admits her definition of "for a while" is very fluid.)  Warren's son Steve, who has been working in the store since 1965, has taken over the management of the meat market.
Subsequent decades were difficult for the Powderhorn neighborhood in which Ingebretsen's is located. Many stores closed and the reputation that street crime was filling the void kept shoppers away. Ingebretsen's, along with local community members and businesses, worked hard to stay during that difficult time. They succeeded, in part, because of our customers' fierce devotion to Christmas traditions. "If it weren't for Christmas, we wouldn't be here. I mean, it's huge in the general marketplace, but it's especially huge, I think, for Scandinavians. It's a very traditional time. Our big focus is on traditions, keeping the traditions alive, and teaching people about them."

Christmas is the time when you can drive past Ingebretsen's to see a line of customers waiting to fit into the store and others struggling to carry out bags and coolers stuffed with lutefisk, lefse, and Swedish meatball mix. During the height of the Christmas season, the butcher shop sells a ton (quite literally) each of Swedish sausage and meatball mix daily. These days, East Lake is once again filled with businesses and the once-empty Sears complex down the street is now the bustling Midtown Global Market. Ingebretsen's has seen an increase in people returning to the area and the demand for our Swedish meatball mix is year-round.


 
The store has expanded into 1605 East Lake Street, where we have needlework, a children's section, and a classroom for year-round classes in Nordic crafts and culture. 
Click for Classes Schedules...

Ingebretsen's has been at 1601 East Lake for 100 years.
We are now online, a thriving mail order department, and a presence on  Facebook. 
But fundamentally, nothing has changed.



"I think it's important neighborhoods have some stability, whatever that may be.  I think that's true for individuals too. People come in here and they love what they see and how they feel. They love the atmosphere and they like being treated personally and we at Ingebretsen's are very proud of that."
- Julie ingebretsen